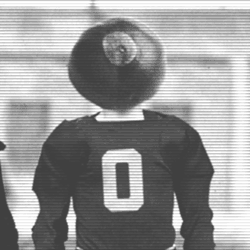 Nutinpa
---
MEMBER SINCE July 17, 2012
Favorites
SPORTS MOMENT: Final play of 2003 National Championship game vs. Miami
COLLEGE FOOTBALL PLAYER: Archie Griffin
NFL TEAM: Philadelphia Eagles
NHL TEAM: Flyers
NBA TEAM: Sixers
MLB TEAM: Phillies
Recent Activity
I agree. Damn, she's adorable.
The scribes of the college football world may be expecting and even forgiving a significant drop-off in OSU football success this year considering new coach, staff and QB. Then again, Lincoln Riley replaced Bob Stoopes and took his team to the final 4 in the first two years of his tenure -- and had 2 Heisman-winning QBs. Call it as you see it, but that is the standard, and it's been proven possible. Enough with the modest expectations bull shit.
"Eldrick Tiger Woods, Eldrick Tiger Woods, THE WHOLE WORLD IS WATCHING.....Eldrick Tiger Woods"!!!!
Agree. And the sad thing is, for as bad as the 2013 Defense was, it seems in hindsight, like a steel curtain compared to last year's.
Maybe I am stating the obvious, but the only context I can possibly think of for the people on that list is.....how well they played in college and how dull or ineffective their careers were in the NFL. K'Jana Carter come to mind, anyone? Again, that is the only "logic" I can see on that list. College heroes.....NFL...."zeroes" or something like that. Still...a dumbass list -- kind of wish I didn't devote any time to it, but if Ramzy writes it - I read it!
It's Jake Stoneburner's breakout season!
Put the pass to Berry in OT of the Maryland game on a continuous loop in the WHAC - and that'll show we use the TEs in passing situations. That one was with the game on the line. People have been snickering at our TE play for over decade and yet we still put players in the NFL from that position.
Not that I am excusing the performance by any means, kmp, but I think Grinch felt he was sold a bill of goods.
The minute Schiano was "fired" from consideration at Tennessee, it meant he was coming back to Columbus and Grinch was relegated to his role as a position coach. Despite Grinch's "coming home" to Columbus, he sure mailed in the season and started looking elsewhere probably in September. The only thing I can surmise in his defense.....is that he had a 180 degree disagreement with how Schiano wanted to run the defense and moreover, run the secondary. Honestly, I think it will be ten years before we really understand what happened to last year's defense in terms of an honest, "so that explains it" realization.
I can forgive or "put in context" a lot of polls and rankings when it comes to college football. But under no scenario can I forgive or explain away the omission of LJ from a list of best coordinators or position coaches in college football. I can better accept the Buckeyes being out of the preseason top 15 this coming season than leaving LJ off of any lists.
I see your point, but in 2002, they were one play away from ruining a perfect season of ours. I'll be damned if I will take them lightly. UC is also arguably better -- or at least competitive, than half of the teams in the Big Ten.
With the only exception being TTUN, no team will be more jacked up to beat the Buckeyes than UC this year. Certainly doesn't mean they will, but I expect them to be "TCU-amped" in the first quarter of the game, regardless of the Noon start.
If all goes according to plan, Gunnar Hoak won't play a competitive snap for the Buckeyes.
While we know what you meant by that comment, I hope Gunnar Hoak plays a lot of "competitive snaps" for the Buckeyes, even it it is "mop up" duty in the fourth quarter. I think these kids consider every snap a competitive one, even if the game has already been decided. I hope he does more than just take a knee in the last 10 seconds of a game .....as long as Fields is delivering as we expect him to do.
Regarding the White Out atmosphere....be careful what you wish for. I was stupid enough to wear Buckeye colors to the 2009 white out game and eh.....it wasn't the most fun I have ever had with my clothes on. Electrifying? Yes. And to be fair, most PSU fans are pretty cool and nice. The vocal minority, however, are another thing. If you go to one on an east coast road trip, make sure you tailgate in the camping lot (it really is awesome) and attend a white out against say..........Michigan instead.
I agree. I was going to post the same thing.
When our writer pokes fun at Michigan ..."cough, cough as a team with no Offense" ....when the same Michigan team puts up 39 on your D (please don't give me garbage time excuses) you've thrown a rock from a glass house.
And yes, Cincinnati will be more motivated and have more talent than a number of Big Ten teams we will play this season.
Yes. New Bruns. You'll read about "Piscataway" being the home to Rutgers, but, eh.....only for the zip code description of the stadium.
Downtown New Brunswick is the bar scene. Start with Old Man Rafferty's......then work the town on foot.
If you get a great deal at the New Brunswick Hyatt, take it! I would be surprised if the team wasn't staying there. It's a corporate scene. Still, I would take it if the price was right..... unless you are looking for something more funky.
But regardless, as you are reading, you'll have options. To be honest, my friends who are Rutgers grads, are paying for their golf trips to Ireland on their ticket sales to OSU, Michigan, and Penn State fans. So....be choosy.
Have fun, 57. Maybe my wife and I will see you there!
I don't live too far from Rutgers. (better yet, ask Ramzy -- I think he lives there or nearby)
Pretty good bar scene (I don't know about the tailgating scene) since it is a college -- and also corporate (J&J) town of New Brunswick.
Yes, Newark would be your closest major airport. If you have a lot of United points, it is one of their hubs.
From New Brunswick, you can also take the train to NYC and be there in less than 45 minutes.
Great area, but it's also an urban melting pot. I would not be staggering the surrounds of New Brunswick (or Piscataway) alone, late at night, just FWIW.
Agree with you on all counts, 18. Hope you are right. But I just see closer games in the coming season (including MD) than many of my fellow posters. We'll know in 93 + days how it will go!
That's cool. I hope you are right! Simply put, where you have assumptions, I have questions.
Maybe. Then again, on that first half run for a TD by Northwestern (the run that told the Committee they had seen all they needed to see) that RB ran right by all that speedy talent Urban Meyer recruited -- and it wasn't even close.
I'll nitpick on this, but the lopsided score prediction vs. Maryland is not likely to occur. Maryland has some elite speed and talent -- at least on Offense. They let last year's game get away from them and will come into the Shoe ready to play. I see another close game. For whatever reason, of all the teams in the B1G East they will face, I see the Terps playing the Buckeyes tougher than anyone else.
That's what everyone said about the 95 Buckeyes before getting "Biakabatuka'd on that fateful day. For this team to suffer only 1 loss with so many question marks entering the year would be pretty remarkable. Of course, as others have posted, it depends on what that 1 loss looks like.
Yeah, now that I think about it, you're right. It was Nate Williams who had the DE drop back INT against Miami.
How many does Dan Marino have? Do I think McNabb was as good as Marino? No. But I think he is a HOFer.
A lot of comparisons to Aikman. If # 5 had the weapons Aikman had, he'd be a 1st ballot HOFer. Period.
Was - and is.....McNabb a flawed QB and perhaps, human being? Absolutely. So are many QBs in the HOF.