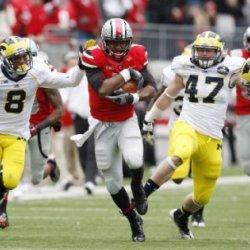 NutBuckz
---
Member since 01 February 2015 | Blog
Recent Activity
yeah i keep asking too, nobody seems to know anything. Next time coach has a presser someone needs to ask him
any word on Kam Williams?
i agree. for me,, i get it that he was pissed at being criticized so much and publicly for tweeting his opinion on the OSU QB choice,
but if he really thinks clemson is any different and dabo would tolerate him publicly questioning coaching decisions, he's gonna have a rude awakening
that's a fact. truth is the resources to succeed are enormous if you use them, also the potential to do nothing is also there.
yeah, they don't have a clue, never have. I read through a good part of that thread on Mgoblob and maybe the most common theme was how 'ohio is a shithole how do they get recruits to go there'.. Maybe theyve never left AA to see detroit, flint, benton harbor. People in glass houses.........
that one was good, my fav was this> (i shortened it)
.... the Buckeyes are our Daddy.... Harbaugh was hired to correct this dynamic and thus far he has failed just as spectactularly as the other coaches. That is the truth...and the truth sucks. Im gonna go drink some more bourbon and chew on some clonapin.
yep. wait til he starts giving his public opinion on clemson, see how much love he gets down there then
any word on kam and when he's gettign reinstated?
to anyone who wasn't around during cooper years, and/or didn't personally interact with scUM fans at that time, I wish I could put my personal encounters with them up on a jumbotron for you to watch. You would wish scUM was good again....NEVER!!!!
i mean they have a "QB whisperer" that regresses all his QBs. Maybe one day they'll realize this. Till then, I'm happy to witness the implosion
yea same for me, but i tell them to just see for themselves, and they want to know exactly what time that was, i tell them then they never respond. Not to mention questionable PIs went both ways in that game. That should have ended in regulation with same result
ahh well, maybe you'll survive to get over it
I'm Irish too but we've gone too far with PC ness
probably needed a way to up his income on par with titans offer
i used to take pride in not DVing anyone but you jt haters got me embracing the dv.
not that it will make you any more intelligent but whatever
Go JT!!! edit, yeah, DO look at his carreer at OSU
buckeyes tearing it up now
don't think they'll get much traction calling him stingy.
Guy who gave 1M $ to children's hospital. Locals probably shaking their heads.
exactly tresselball, we didnt have to. 3 score lead, protect the football and play field position
absolutely right, i would UV thsi but it wont let me