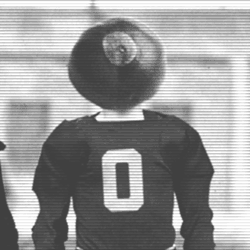 nuke
---
Member since 26 December 2012 | Blog
Recent Activity
Who watches espn? Who cares what they think?
Tyreke had better be considering life after football and the connections that he can make at Ohio St.
Grandchildren are the Greatest!!
This clown probably thinks that the Russians are helping us recruit!
Some recruits don't have the confidence that it takes to accept the challenge of playing for OSU. Thats why they go to a Kentucky or elsewhere. Blue Smith may be one of them.
L'Christian had better consider life after college. Which school offers more "Real Life" connections.
I wish Jason and Mom the very best. I lost my Wife to the disease. It is absolutely devastating.
We couldn't have hired a better OC! Welcome to Columbus!
Beau Bishop would be the first to criticize Urban if the head coach didn't make an effort to vastly improve the offense. What would Beau suggest if no one was in a hurry to hire Warinner as an OC?
This would be a great hire! Bring him in!
EGW is electric with the ball. Another "O" weapon.
No one ever said that it takes much between the ears to play at FSU.
Massillon has several other recruits on this years team that weren't mentioned. They only got caught for the Cincy kid.
Who cares about Butt? We didn't recruit him heavily so he went to SCUM.
Welcome to the Buckeye family!!!
Danny had better reconsider his future and move on. Lots of great talent at the QB position.
The effect on Clark is tremendous. I've seen Clark play several times and just the video of Martell is much more impressive. Sorry Danny but it's true.
Green was a dirty player at MSU and nothing has changed.
Nick Weatherspoon? The name brings back memories of one of Ohio's greatest. Nick from Canton McKinley went on to Illinois in the 70's. He set all-time records there and was a first round NBA draft pick. He was the greatest player I ever saw in Ohio outside of Jerry Lucas. Head to head with Luke Witte he scored 36 pts. and had 21 rebounds. Just a great player every week and a great person on top of that.
I can't imagine the family's pain. My heart goes out to them. Where is the fairness in this world? God bless Addy.
There is no leader on this team. Recruiting needs to improve immensely.
It is not unusual for Mount to have around 200 players including walk-ons.
As usual ESPN is a joke. Never watch them unless the Bucks are on.
As a Navy Subvet I love the wide receiver helmet!