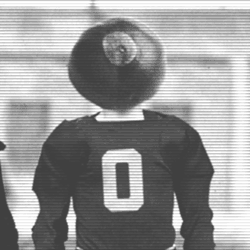 nrobinsonpe
---
Member since 24 July 2013 | Blog
Favorites
COLLEGE FOOTBALL PLAYER: The D Line
COLLEGE BASKETBALL PLAYER: Titus
NFL TEAM: The Browns
NHL TEAM: :P
NBA TEAM: The Cavs
Recent Activity
DJ, where's the tattoo tweet to fave?
3rd thing. That ain't a 10-0 sheet. I say BC wins outright bc FSU is a friggin' dumpster fire, I think TTUN covers but their defense gives them the 24 points, I think VaTech and UGA cover and I don't think UK or Tenn could score on a $2 hooker.
DJ, sounds like you need to start a fight promotion based out of Temecula.
Now that I know he's the completion percentage record holder, I don't feel at all bad saying, someone post his passing chart.
I believe you have to accept the hardship, at which point you retain your scholarship for academic purposes. If you don't, you transfer to another school that will medically clear you.
Can someone Google me why TCU's hand sign is so imaginative (looks like the hand version of The Tick) and why Baylor's isn't. Well, Baylor's isn't because they just suck.
I was sad after reading even more coverage of 132 yards of total ineptitude, I mean offense, but this totally made me smile today.
This is news? C'mon, it's Bo F#$%&#$ Pelini we're talking about!
Proud to say I'm one of the 0.6% of ESPN fantasy league teams to have Pryor. I just don't have the balls to start him...
Percy who?
My crazy prediction: the starting QB is Braxton Miller in the BuckWild formation. A nod to the elder statesman. Oh, he's taking it to the house, too.
I'm putting the over/under for margin of victory for a Hawaii moral victory at about 70.
Is Earl O'Bannon related to Ed in the same way Cliff Paul is related to Chris?
I think all my cards would have some scratch on the back that was supposed to read, "BAR".
Sounds like it was played in Columbus. Maybe they're heading back to Des Moines because they won't be welcome in Iowa City.
Unless you're going to make the NCG a day game, it doesn't make sense on a weekend. The die hards will always show up/tune in (i.e. giving up weekend plans.) The Monday decision is about ratings. Who has anything else to do on a Monday night? That being said, the semis on NYE is complete idiocy.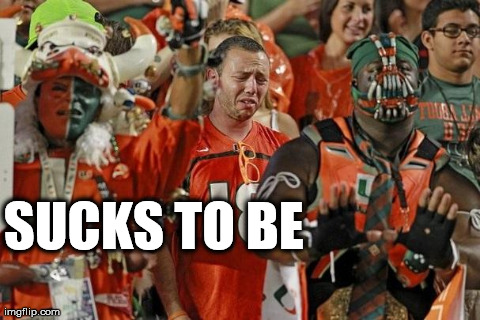 I logged in just to upvote this.
Know why UW would win? Because tOSU wouldn't be there. We beat them the first time by enough points to win two games.
100% correct statement.
EXCELLENT HIRE, JUST ONE QUICK QUESTION WHO IS MIKE RILEY

— Fake Bo Pelini (@FauxPelini) December 4, 2014
Like the Kirk Ferentz coach contract of the year award?
Fixed that for you.
If we beat Minnesota convincingly on the road, does that lend us any favor over TCU beating them 30-7 at home?
You'd think with that transcription spelling of "demeanour" that we'd be talking a different brand of football...