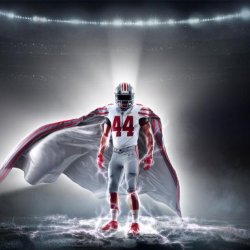 npilolli
Akron, OH (via Akon, OH)
MEMBER SINCE August 14, 2014
Life long Buckeye and Bengal fan. Crazy about sports in general!!!
Favorites
SPORTS MOMENT: Playing on a winless team my whole junior year until winning our last game at Fawcett Stadium. We then went on to have a winning record my senior year.
COLLEGE FOOTBALL PLAYER: Eddie George
COLLEGE BASKETBALL PLAYER: David Lighty
NFL TEAM: Cincinnati Benagls
NBA TEAM: Detroit Pistons
MLB TEAM: Oakland A's
SOCCER TEAM: Italia!!! Forza Azzurri!!
Recent Activity
Wow! WTF is wrong with people?
Condolences to the family!
Always great to get over on Saban and Bama, weather on the field or the recruiting trail!
I made the exact same comment during the game to my buddy. This dude is supposed to be a top NFL draft pick but couldn't catch JT from behind? http://www.espn.com/video/clip?id=18142022
Even on the kickoff return, he had a couple of nice moves but didn't show that top end speed I was expecting.
Out of state there are so many but some of my fav breweries that I always look for
Stone
Sierra Nevada
Bells
Founders
Samuel Smith
Great Divide
Dogfish
Odell
Brooklyn
Victory
Troegs

As far as Ohio beers go these 5(well 6, LOL!) are fantastic IMO.
Great Lakes Edmund Fitzgerald Porter - just an all around great porter! Full flavored, nice body, easy drinking. World class IMO!
Columbus IPA - A top 5 IPA for me and my favorite Ohio IPA. Its usually my go to if Im in the mood for an IPA.
Willoughby Nut Smasher - Although limited in distribution this is a phenomenal Imperial Stout that is a must have whenever available! I have had the pleasure of volunteering at the Willoughby booth at a couple events recently and had my fill of this!
Thirsty Dog Wulver - BA Scotch Ale that clocks in at 12%! A great sipper with a stogie! I have 2 of these that have been stashed away for a few years! Cant wait to open them and see how this ages!
Great Lakes Holy Moses and Great Lakes The Wright Pils - Both were great summer seasonal beers that GLBC has unfortunately stopped bottling individually(although Moses can still be found in the Summer Sampler I believe) in favor of cashing in on the IPA trend(they now have 4 different IPAs or DIPAs available throughout the year).
Such a great show!
I too was very impressed by Eddie and his acting ability! And dude is still yoked!
This was my first thought as well. A play I will never forget!
Wow! Best of luck to you and thank you for your service! You and your family are in my thoughts and prayers.
Very smart move! 9/7/15 cant get here soon enough!!!
That really stinks for him as well as the team. I was looking forward to seeing him get on the field and really contribute this season. Hopefully he heals up completely and have a productive career in S&G!
Ive tried so many but a few that stand out and I will never turn down if offered are:
Columbus Bohdi
Bells Two Hearted Ale
Heavy Seas Loose Cannon
Columbus IPA
Ballast Point Sculpin
Brew Kettle White Rajah
Fat Heads Head Hunter
Odell IPA
Great Lakes Chillwave
Great Lake Lake Erie Monster
Founders Centennial IPA
Stone IPA
Stone Ruination
Odell Myrcenary
Sierra Nevada Celebration
Ninkasi Total Domination IPA
No surprise on Brew Kettle. White Rajah is a fantastic beer that people are finally starting to realize just how good it is! Really want to get my hands on some Firestone Walker stuff sometime soon.
Congrats to him!! Way to make Buckeye Nation proud! I think he will get his shot in the league sooner rather than later!!
Him too!! I was referring to Braxton who also wears #5 and was wearing it before Raekwon was a Buckeye!
I'm glad all you pessimists and Negative Nancies decided to visit a thread you didn't deem worth of being a thread! LOL!! Thanks for the negativity!
I/m sure I'll get some down-vote but so be it! I am proud of getting to 500 HS and just thought some members would like to know I have been contributing consistently over an extended period of time since joining last summer.
No Surprise. They will reload and Calipari will do what Calipari does with a bunch of new potential one-and-done players.
Good news all the way around. Can't wait to see #5, regardless of what role he plays, back on the field again this season!!
I am expecting big things out of Mr. Vannett. I think he has the ability to play himself into a 1st or 2nd round draft grade if he excels as the full time starter this season.
Sorry about your loss. My thoughts, prayers, and a big Go Bucks going out to you and yours.

Damn...that is sucks for him as well as the program. I wish him he best of luck in his future endeavours.
Hopefully he has a quick recovery and gets back in the mix! I for one want as many play-making options as possible on this football team!!