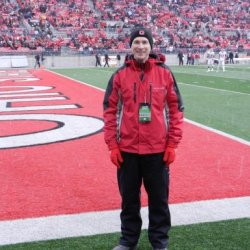 novabuckeye
---
from Fremont, OH
MEMBER SINCE February 15, 2014
Favorites
SPORTS MOMENT: Watching in person as the Buckeyes won the first ever College Football Playoff Championship!
NFL TEAM: Green Bay Packers
Recent Activity
Go Marine Corps! Beat Army and Navy!
Antifa is a specific organization that doesn't want you to have a point of view they don't like. Not the same as being opposed to fascism as a general principle.
Beat me to it. The wolverines are dead.
In the wrong direction, especially against our defense.
Chesty Puller would beg to differ with that asshat CO. As he once put it, the best fighter was "a man with a flag in his pack and a desire to put it on an enemy strong point." There;s a good reason why the Marine flag raising at Iwo Jima became the iconic image of that war and of the Marines in general.
That explains everything--their playbook went down with the ship and they have never recovered!!
No, Woody was a Navy guy--would have been Admiral Halsey for sure!
But just like worrying about 1969, this team is an entirely different animal and I don't see them getting surprised or playing poorly enough to lose. They are focused on winning a natty, and aren't going to forget that they need to win every game to ensure they get there. The coaches obviously are doing a great job getting them up for every game, and that's only got to be easier now that they are so close to the end and all their goals.
A telling decision by the coaching staff--we didn't need to put all of our best players on the field against that team up north; we could reserve him for a more important game to come.
Actually I bet Buckeye fans far outnumber Wisky fans and it will seem almost like a home game. After the beat down we gave them the first time this year, I don't think many of their fans want to spend a lot of money to see what will likely be another bad loss.
Born in 1955, so I lived through the Ten Year War and the Cooper years. Give me NOW every time. I want to beat them down so mercilessly that they have nightmares in their sleep and cry every day of the year. It's not that they were a more worthy foe back then, it's that we are a far better program than we were even in the Woody years. Tressel, Meyer, and Day have built a machine that is relentlessly focused on winning in every facet of the program, and is well-rounded enough to win in any conditions against anyone. It won't continue forever, but I'm enjoying it as long as it lasts.
I guess Chugs clap sounds the same as Fields!
Fields is definitely much better than Chugunov, but if Chugs had been the starter all season, he would be much better due to all the realtime reps with the other starters. They say the game slows down the more you play, so he still lacks enough experience to see the field better and see the open guy further down field. But when Fields went out, Chugs did move the chains and keep the drive going, which put Fields in a position to cap it with a TD. Give him some credit.
If LSU beats Georgia, there will be only one SEC team in the playoffs for sure, which will be a good thing.
Day has proven that he belongs there with Tressel and Meyer. He is a wolverine slayer. Now he just has to add a bunch more over the coming years and finally put the overall win column on Ohio State's side. He's definitely the man for the job.
The Harbaugh khaki pants commercials were delicious--that's about the only thing he has going for him now.
I agree, no reason at all for him to field that. Rookie mistake--he'll learn.
He's channeling JT Barrett!
Yep when the ball bounced right back into JK's hands without him having to break stride, it was like--God is smiling on the Buckeyes today. Reminds me of my favorite joke. It's a close game with Ohio State and Harbaugh asks God to give him a play to score on 4th and 1 to win the game. He suddenly hears God tell him, fullback up the middle. Harbaugh calls it, and it is promptly stuffed by the Buckeyes. Harbaugh looks up to heaven and says "God, why did you give me THAT play?" God's voice comes down: "Woody, why did we call that play?" :)
Having lived through everything from the Ten Year War, I heartily agree that you can't take the Game for granted. But I also think last week was as much a factor of the team already starting to look forward to the team up north as it was having a bad game. Just like the Maryland game last year. I do think this team is completely focused and hyped to plaster the team up north, and I think it will do just that. The xaize and blue have built up a false bravado about their improved team, but they will run into a buzz saw the likes of which they haven't experienced for a year. And they'll wonder which fleet of buses hit them. Harbaugh has yet to show that he can get his team sufficiently prepared for this game. Frankly Day hasn't yet, either, but I'm absolutely confident he'll do that today and start an unbeaten string of his own against them. It's time for war. The team up north still thinks its tiddleywinks, though.
Maybe it's a plan like they had at the start of the 2013 game, where they'll group around Chase and someone rips his helmet off and then he gets tossed from the game when he retaliates? That assumes any one of them is capable of ripping his helmet off without losing their arm in the process.
"Guessing they will end up throwing more to the Bucks" you mean?
:)
I celebrated the win over Penn State there Saturday evening, minus the bourbon. Great place!
Oops, my mistake. He would be the second.
No, it wouldn't, because that would mean Maryland and Rutgers were better than us when that happens. God forbid we should EVER get to THAT point!!