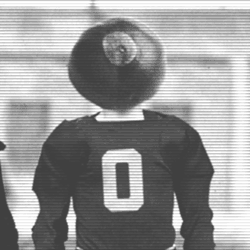 NoVA Buckeye
---
THE Ohio State University (via Washington, DC (Northern Virginia))
Member since 19 December 2010 | Blog
Northern Virginia born, Buckeye bred, Ohio State Class of 2016
Favorites
SPORTS MOMENT: My first live Michigan game in 2012 for the unbeaten season.
COLLEGE FOOTBALL PLAYER: El Guapo
COLLEGE BASKETBALL PLAYER: Evan Turner
NFL TEAM: The Factory of Sadness
NHL TEAM: The one on Nationwide
NBA TEAM: The laughingstock known as the Cleveland Cavaliers
MLB TEAM: Cleveland TRIBE
SOCCER TEAM: USMNT
Recent Activity
Heard him give this story in person twice, still a good one
My high school had jail food. OSU's dining is a drastic improvement
They don't care about attendance, they only care about maximizing profits and if they feel they can make more money with high ticket prices and low attendance, they'll do it
The big news is that the Buckeyes are in the same quad as UF while Florida's arena is under construction, so Buckeyes have home court through first two rounds
Lyle looks awkward every time he brings up the ball and doesn't have a good feel for his surroundings. I think he'd look like a future NBA all-star if he was off the ball
Haven't looked at the schedule lately, but do we even play a road game against an unranked team?
Chase Williams is nothing more than a whining and unfulfilled troll. We beat his team in high school my sophomore year and he did nothing but complain on twitter about how they "should have won" on twitter if it wasn't raining. I don't think he got the memo that we had to play in the rain, too.
Glad to see nothing's changed.
I would pay at least $200 to watch LeBron go out tomorrow with pads on and play football
In Franklin's defense, I have an old teammate who was a 5'9" lineman. Our coaches told him he wasn't allowed to weigh more than 265 unless he wanted knee problems for the rest of his life.
Can you imagine a 265 lb DI offensive lineman in this day and age of football?
Been following this team all season and it's been an emotional rollercoaster as far as it's been for each game, between the lows of Detroit and Notre Dame and the highs of Denver and Hopkins, then a low of Maryland, a high of beating them, a low of losing to Hopkins, and then back high by beating Duke, and I just hope we never come down again! Go Bucks!
Men's lacrosse also upset UMD to make the Big Ten title game yesterday. On UMD's turf, no less. Big weekend for Ohio State lacrosse and a chance to take the 1st ever B1G tourney titles this weekend
Sounds to me like Grant may have a future in coaching based on the way he was able to lead this group of LBs back to prominence. Good on you, Curtis, and keep the great states of Virginia and Ohio proud.
It takes a special kind of stupid to rob the same place 3 times in 6 hours
It takes an even more special kind of stupid to allow someone to rob the same place 3 times in 6 hours
I think I finally know what happened to the Intercontinental Championship.
With all the shuffling that was going on, it was a matter of time until Daniel Bryan lost it again. And unfortunately for him, this time it was to Nick Saban. Good luck getting that one back, Goat Man.
Don't you dare hate on Jobu.
Jobu > Slider
So, based on some of these comments, I guess we're not allowed to wear Scarlet and Gray in the Big House. There needs to be a double standard. Let the man do his thing.
This was my first OSU hockey game and the result couldn't have been any sweeter. Go Bucks!
It also started a week later. Finals ended on the 17th of December, compared to the 11th last year (I believe)
It's actually more of a power back, since flexbone FBs aren't traditional fullbacks and actually get touches regularly
And coaching extraordinaire Kirk Ferentz waiting on the other side of the conference.
I'll never forget how butthurt it made BERT
Nothing'll ever beat wearing the Scarlet and Gray
Either tackle spot is equally difficult. People say the blindside is the most important to protect, but nowadays teams are starting to put their best DE against the RT and protection packages have changed to be more lineman-friendly than they have been in the past. Not to mention it's mentally one of the easiest positions in the game.
He's doing a few games like the Orange Bowl. We do get Nessler and Blackledge on the call for the Bama game
In fact, Todd Graham just took the Michigan job! And he's reportedly going to take the Colorado State job afterwards!