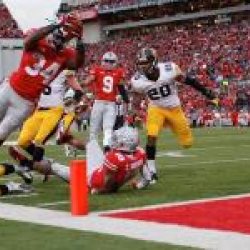 Notthatguy
---
MEMBER SINCE October 21, 2013
Favorites
SPORTS MOMENT: OSU - 2002 COTDAMMMMIT!
COLLEGE FOOTBALL PLAYER: Eddie George
COLLEGE BASKETBALL PLAYER: Too many to count
NFL TEAM: Steelers
NHL TEAM: CBJ
NBA TEAM: Lakers
MLB TEAM: Reds
SOCCER TEAM: They play soccer professionally? Where the hell ha
Recent Activity
All praises due to Big Will. Still cannot believe what happened to him.
Has anybody noticed Mike Tomlin hasn't said a cotdamned thing? Tells me all I need to know.
They graded out as champions, eh?
<side-eye>
Not crushed he didn't win the starting job, but not rejoicing in it either.
Hope things work out for him.
Ol' boy is a sucker for punishment, no?
Security guard was looking for a payday and didn't get it...poor thing
Heard this getting off if work yesterday. WLW made it seem as if Garyn was on scholarship. Had to come here and verify it. Boy the sports talk shows down there are something else.
Punishment sounds about right. Next time, tell the truth and accept responsibility when asked, young man.
I shudder to think what McMurphy would have drug up if Washington had came here. I want to believe the coaching staff reviewed his social media status at the time of his recruitment. Wonder if ESPIN will do a big story on THIS....
I would want to have Evan Turner's shot on there just to hear the "OOOOH NOOOOO" comment form the Michigan radio sportscaster.
So what is Brett Murphy's take on this?
Not unexpected...Godspeed young fella. Make us proud.
My man Day's not effing around, is he????
Yup. MGO blog poster just put a post featuring some strange tweets from former players....
The conversation would have been like this: "Dude, just go..."
Hey Bret, I have the story of a lifetime that will nail Urban for good- PM me man. It's about how he passed gas and blamed it on his kid, but that's just the beginning.
Next Brett McMurphy report: in a cafeteria in middle school, Zach Smith was given an extra carton of milk and did not pay the 25 cents for it. Urban Meyer knew of this information and did not report it to the authorities or media. Full story at 6...
Just found out Urban tipped only 13% instead of 15% at a restaurant. Get on it, Brett...
Brett,
I'd tell you how I really feel, but I wasn't born with enough middle fingers to express myself in this case.
Fella looks like somebody just told him they were out of soy lattes and avocado toast.
...because it is easier to express "outrage" than it is for them to get off their "outraged" asses and help the women they are so passionate about. Just saying.