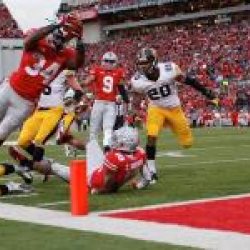 Notthatguy
---
Member since 21 October 2013 | Blog
Favorites
SPORTS MOMENT: OSU - 2002 COTDAMMMMIT!
COLLEGE FOOTBALL PLAYER: Eddie George
COLLEGE BASKETBALL PLAYER: Too many to count
NFL TEAM: Steelers
NHL TEAM: CBJ
NBA TEAM: Lakers
MLB TEAM: Reds
SOCCER TEAM: They play soccer professionally? Where the hell ha
Recent Activity
Not holding my breath
Scoonie's son is the higher priority. Just saying
Ok, I'll take the bait... First of all, I guess you missed the fact his father left his other child (whom I would presume needed him more than adult child) to move here with him...odd, no? I thought it was the first time I saw it in the Dispatch. I wasn't the only one either. Second, you've heard from other posters on this site that there were issues with him while he was here, right? ISSUES, not issue. A pattern of behavior was established right under his father's nose. Lastly, being a father involves being your child's life, through the good times and the bad. So I guess staying in Columbus and not going to see how your son is doing is great parenting, right? Lastly, I am all about having fun and having a girlfriend, but there are certain lines you don't cross under any circumstances. It is apparent to me that Zeke is a habitual line stepper. Didn't MoC show you that? Come on man, take your scarlet and gray glasses off. He's lucky six games is all he got.
Let me just say this, and I'm done with all of it:
Really disappointed in you, Zeke. Should have never put yourself in this position to begin with, you're smarter than this.
Oh...
...and Dad, hightail to Dallas. Your son NEEDS you. You should have been there for him when he was here, but it is painfully apparent you were NOT. Stop being an enabler.
Ok...enough with this week. Done.
Glad to see the criminal charges dropped, but as sure as night follows day, the civil lawsuit (which was the reason for all of the drama in the first place) is coming next.
Whew....
Boy oh boy, some of you guys are in your feelings today...it's not even that big
I don't have a problem with what he said...he's entitled to speak his mind. That was his coach while he was here. He'll get over it. He is experiencing the business side of sports this year, just hope he takes everything that has happened to heart and learn from it.
Got mixed feelings about this...glad they are showing effort, but makes it look as if they quit on Thad.
Got mixed feelings about this...makes it look as if th
Never forget, it's a business decision at that level. Take that to heart DRuss, and use it for motivational purposes.
Red Bull had better jump on this opportunity for promotional purposes...
Kind of goes hand in hand with the SEC not wanting to play up north, too...
Unless you were within those walls, you don't know what really happened. ESPN totally shitted on themselves with this story. And that's been happening a lot for them lately. Look how badly they drummed up Tatoogate. Almost none of their speculation was right, and yet everybody went HAM on OSU when they (and SI) came out with the story.
Ok, I know I am gonna take criticism for this, but I am going to say it...this post is way way way too long. Too much speculation going here.
Laced with too many cupcakes.
No more Walsh, North Carolina Central, Western Carolina, etc...
Beef up that non-conference schedule, coach...
LMAO, yup. Somebody definitely peed in his cornflakes this morning.
Probably saw the writing on the wall...or maybe OSU gave him a not-so-subtle hint
Just a thought... The current players have to worried. The new coach owes them NOTHING.
Why would you leave out Sparty? And they're here this year...
1993 vs. Michigan. I threw up in my mouth at least a dozen times.