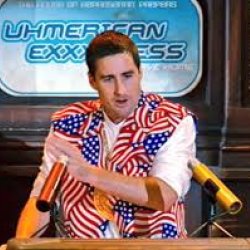 Not_Sure
---
MEMBER SINCE June 14, 2017
Recent Activity
Well, mentally, he's out of this world.
I like the Buckeyes, so I know I still have some taste.
I'm sure it helps to be 6'7", but I really like how he is not afraid to shoot with someone in his face.
So sorry to hear that. Are you able to get back at it after recovery?
I just purchased a Weider Pro 8500 an hour ago. What weight machine did you get?
I have currently lost 18 pounds since last Monday. I was in the process of ordering a smith press home gym and weights to help even more, but so many businesses are shutting down for a while.
That steak looks boiled!
A co-worker and I have just started a weight loss competition so I have been eating much different than the past. I would have been scarfing down a ton of Donato's pizza, wings, soda, and beer/bourbon. But, I have been eating a lot of raw veggies and other much healthier food options. It's been pretty nice to feel better and I actually lost about 10 pounds this week. At the end of the month the person with the highest percentage of weight loss gets a steak dinner compliments of the loser. I hope that I win, but more than that, I hope to keep the healthier lifestyle going.

It's a joke referring to my user name from the movie Idiocracy.

Anything to cover this thing up.
AC/DC, Nirvana, Aerosmith from 80s on, Bruce Springsteen, Bob Dylan, Van Halen (post DLR departure), the Doors, Motley Crüe
Alex Smith was probably his best NFL quarterback.
I have a customer that is heavily involved with salt water tanks, corals, etc...
I did an electrical job for him and I accepted a salt water tank/setup as payment. He also referred me to a Facebook page called: Club Melevsreef. There are a ton of members with a ton of advice and knowledge. They would be able to help with any questions or concerns if you're interested. Not sure if you can just ask to join or if you have to be invited.
My first R-rated movie was Motel Hell. I was 7 years old and just moved to a new town when my mom married my stepdad. Have no recollection of how or why I ended up a some other kid's house a few miles away, but there I was watching people get turned into the best sausage in the world.
Don't worry, nobody's listening anyway.
I'm still pissed about that call and even more so now.
As long as they don't say that they are 110% committed. /s
I fell for that once.............once.
I'll be in Columbia this Christmas season for the game. I will do my part.
Michigan week is a major recruiting tool.
FIFY