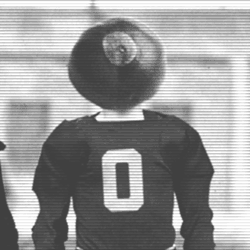 NorthwestOhioBuck
Edgerton, Ohio (via Auburn, Indiana)
Member since 06 February 2013 | Blog
Favorites
SPORTS MOMENT: Being at the Ohio State vs. Wisconsin game 2011.
COLLEGE FOOTBALL PLAYER: Malik Hooker
COLLEGE BASKETBALL PLAYER: Keita Bates-Diop
NFL TEAM: Pittsburgh Steelers
NBA TEAM: Indiana Pacers
MLB TEAM: Chicago Cubs
SOCCER TEAM: Columbus Crew
Recent Activity
Jordan Fuller and Keandre Jones will both be freshman next season still?
NO. As much as JT struggled, whether it be with inaccurate deep balls or poor play calling JT was still the heart and sole and leader of this years team. Right now JT is Ohio State football. And for as much as i was irritated by the play against Clemson I couldn't help but admire JT's leadership at the end of the game. Standing in the pocket throwing deep balls and getting wrecked every other throw he easily could have just stayed down losing 31-0. But he continuously got back up and he is the leader of this team. No QB controversy. JT will be our undisputed leader for next season.
It's a nice campus. Most of the buildings and dorms have recently been renovated and the scenery is legit. Student center and the REC are really nice. Food and parking is sub-par. Then the city itself is kind of boom or bust. Definitely nice parts of the community and depot town is sweet but there's also definitely some not so nice parts to town.
Game is getting interesting, as a current EMU student I have seen most of the games this year. Offense is finally clicking for the first time today. Roback (Toledo St. Johns) has the ability to drop some dimes. Lots of depth at running back and the receiver positions. Might be a fun finish in the Bahamas.
Not one mention of Paul Rhoads? Graduate assistant at tOSU in '91. Spent six years as the head coach of Iowa State. Don't know if it's realistic but taking someone from Bert Bielema would be fun and the last coach we got from Iowa State wasn't that bad...
Can we wait until the end of the season for this argument?
For real though, last week everyone was excited for this team after the performance at UVA. We have two upcoming games against UCONN and UCLA, let's see how the team reacts. Throwing in the season after one loss that may have been just an upset seems a little early in my obviously not so popular opinion. Thad Matta is a good coach, are we at the standards we expect right now? No. But I personally am still curious to see how this team does now with KBD back. So in my unpopular opinion let's give this at least another week before we jump to conclusions.
They do, so not a terrible situation if Kizer goes pro. If Urban wanted Wimbush then I'm sure he could atleast be average at a place like Notre Dame.
Good stuff Curt, always enjoy the wrestling articles! Also I had no idea you were from Napoleon, I am from Edgerton so I was able to see Seth wrestle a couple times as well!
Lebron James.
Joe Flacco.
Tom Brady.
Ash should just give Powell another deal. No pick against Bama, no starting spot next year. That should solve things right?
Pelini comes in and wins, brings YSU up to a fbs program and Tressel and Pelini set the world on fire.
No chance with Beckner Jr. then? Seems to be the most quiet recruit ever but has announced he will visit tOSU.
John Simon, doesn't get better than him. Under the radar choice? Vernon Gholston. Dude could flat out play in college, surprised he has got no love.
Tall and lanky 3☆ safety? Sounds like Tyvis Powell, who only started for us as a fresman last year. Offers> Rankings.
My only question because I don't know of the track, how far away could the drivers see that Ward was out of his car? Was it a quick oh crap he's right there! Or could he be seen down the straightaway?
Malik Hooker, it's always someone you don't expect. Be wise young padowans.
Living an hour and a half from Toledo really shows the panic going on there. Local WalMart is almost sold out of water and we are an hour and a half away! Crazy.
Jordan Cronkite taken off? And the same Sam Bruce that committed elsewhere last week will be attending? Anything there?
Anything on Malik Jefferson, Terry Becker Jr., or Lawrence Cager?
Don't forget the always quiet Terry Beckner Jr., quiet kid but a big talent and Ohio State is a contender, correct?
Any story to Tim Settle visiting again? Seemed to be high on us but then we stopped recruiting him? Now he is visiting with Burrel? What gives?
Kenny G to Buffalo! According to the Ohio State website, heres to hoping he makes backup and starts when Manuel gets hurt!
Okay I know I am young but A. Were these guys really faster than Dontre Wilson? B. Forget question A if you don't consider him a running back and therefore I am sorry you wasted 20 seconds of your life reading this.
1. Terry Beckner Jr. 2. Tim Settle 3. Torrance Gibson 4. Josh Sweat 5. Damien Harris