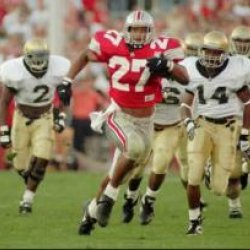 northwest_buckeye
---
from Wauseon, Ohio
MEMBER SINCE July 22, 2013
Lifelong Buckeye back in Ohio. Spent 4 years in the heart of SEC country. It was awful. But the women were beautiful.
Favorites
SPORTS MOMENT: January 3rd, 2003
COLLEGE FOOTBALL PLAYER: Eddie George
NFL TEAM: Pittsburgh Steelers
NBA TEAM: Detroit Pistons
MLB TEAM: Detroit Tigers
Recent Activity
Great, so this guy is gonna fuck us twice.
So far these answers are basically my thoughts as well. Tate needs someone to give him some good advice for the first time in maybe ever. Use your skills in the most valuable manner, keep your head down, and work harder than the next guy.
Ego aside, I'd love to see what he could do as an H-back/slot receiver. Shame we won't, though.
Can't say I hate this hire. Seems like a guy on the rise.
The NCAA is not about to attempt to refute hardship claims of racism in the court of public opinion.
No. Fucking. Way.
If Tate is patrolling OSU message boards and getting his feelings hurt, the real world will eat this kid alive. I seriously hope he's better than that.
Tate is so scared of Fields that he wouldn't even back his shit talking up and try to compete for the starting job. That tells me he's an entitled brat that doesn't even believe his own hype.
What a clown. See ya, Tathan.
Get paid while you can, young man. Thanks for a great season and best of luck in the league.
Hmm. Interesting. Just picking Michigan's best or eating their table scraps?
Thanks for keeping the cupboard stocked, Urban.
I don't care. Anywhere but Columbus.
Completely agree. Spent 4 years as an ATLien. Love that city, but man, UGA fans are the most delusional fan base I've ever met. You'll be hard pressed to find a UGA fan that doesn't seriously believe they're a top 3 program in the country. Like Alabama is only a hair above them historically and currently. These people call into local sports talk radio shows and weep when Georgia loses. I've heard it.
I'll never forget Nate Bosa.
Arnette? Why couldn't he have sat out earlier?
He is, quite literally, not on this team. Why would he interrupt his busy rehab and prep time to spend time with a team that he left because he felt his time would be better spent elsewhere?
Gilbert Gottfried has a great joke about being one of Hitler's relatives in the modern day.
Link here.
Something doesn't add up about Bolden... dude gets booted from the University for over 2 years, but there's no cops or prosecutors involved? Not to jump to conclusions, but it sounds like he was moving in on the chick of some USC booster's son (or something ridiculous like that).
As long as OSU can review all available docs related to the incident and there's nothing criminal in there, any help the secondary can get is welcomed.
Would love to see Dobbins and Weber each go for a hundred to build some confidence in the running game... But I don't know if Haskins and the WR's will be slowed down enough to let that happen. Hoping to see the D put some points on the board, too. This is game can be a real building block in terms of getting things right.
55-14, men of scarlet and gray.
Big plays. That was the first topic here and I agree... But Urban talking about "bend don't break - we don't do that," I disagree with. The D definitely bent last week, but they never broke (save for that 94 yarder to KJ Hamler). I think that's the mark of a great defense. Make mistakes, learn from them, and clamp down when absolutely necessary. The first quarter of the PSU game would've broken other teams... But our boys held strong and made them chase field goals. Could've very well been a 14-0 hole instead of 6-0.

Ramsey, from what limited footage I've seen, looks to be a gamer... But let's face it, he's no Trace McSorely yet (or for IU, Antwan Randle-El). D line should be able to force enough pressure that a young QB on the road, in front of 110,000, will make some mistakes. As long as the back 7 can capitalize on those mistakes, he shouldn't be a big problem. IU does have a lot of WR's in the mix, but really don't have a stud that will cause any matchup problems. I would think multiple zone blitz looks should be enough to confuse Ramsey and their O line and lead to 2-3 turnovers.
But most importantly - NO BIG PLAYS. FOR THE LOVE OF GOD, NO MORE BIG PLAYS.
Considering the fact that Jesse James lost his starting gig to Vance McDonald, the soul-banisher, this is minor.

"Hi, I'm the guy that backs up the guy who threw a DB so hard he left the game, and possibly this entire realm of being. Nice to meet you."
Early season struggles? Hell, they don't drop more than 1-2 spots for a loss.

See Auburn after the LSU loss.
Duuuuuude... That PA announcer was as bad as the halftime show. He was off on like 25% of the distance calls, and they kept screwing up the game clock.

My buddy's dad, a Penn State alum that has 6 season tickets (and is the reason I got to go to the game), looked over during the halftime show and said "I bet this sounded a lot better during rehearsal..." I almost pissed myself. All their fans in my section were cringing the entire time.
Also, PSU folk were overwhelmingly good people. I can back you up on that.
Nah. "Livin on a Prayer" is a big Penn State song, same with Lion King. "Livin on a Prayer" is their big song for THON, their Dance Marathon where they raise money for cancer... Thus, the living on a prayer reference. And the Lion King theme is typically always played as well... Because, you know, they are the Nittany Lions.
Nothing mocking, and nothing that they don't play every home game. For the most part, their fans were great. 5-10% assholes, but I had way more people say good luck, thanks for coming to State College, etc. Some even went out of their way to ask if we were having a good time while tailgating. Most of the assholes were students anyway, and I think the students are supposed to be that way because they don't know any better.
Another article where a I scrolled right past the author, but within a few paragraphs, I knew it was Ramzy.
Just a beautiful write-up, as usual.