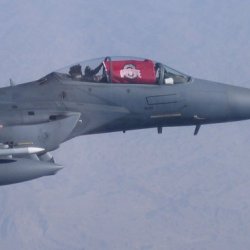 Northwest buckeye
---
from Seattle
MEMBER SINCE August 23, 2015
Recent Activity
Hopefully he lives up to all of this.
Congrats Chase; you were a joy to watch!
We did finish one drive with a touchdown that JK caught and dove in with the ball clearly secured throughout. That was a complete bullshit call and cost us 4 points: combined with the scoop and score that was called back horrendous. We lost to the refs
'
Ugh....so nervous! On the bright side we did have a fabulous season for a first year coach replacing a legend and we beat those bastards up north. No matter what happens I am happy and consider the 2019 season a great success:)
Go Bucks!
Every single year from Mike Hart to Winnovich to Karen the running back to this d bag they say or guarantee something completely stupid. At least they are consistent.
Great pics of Bosa and Johnson.
Is it wrong that I almost obtain more joy from ttun losing than OSU winning?
I read Doss ate some fiesta chips every day, all season long leading up to the Fiesta Bowl as it reminded him where he wanted to go at year's end.
I was at OSU during the 4 year stretch where the basketball team with Jimmy Jackson was far better than the football team. I would have honestly been happy with the football team losing every single game every year with the exception of beating those skunk bastards up north.
I would much rather see our quarterback overthrow than under throw a ball; especially deep balls. It is frustrating to see a wide open receiver flying down the field who has to slow down drastically or even stop to catch the ball which then eliminates the possibility for a big gain or even a touchdown since the defenders usually catch up while the receiver is slowing or waiting for the ball. Plus less chance of an interception.
Fingers crossed that the prudent approach is being taken.
She's not in that league.
Agreed! Too bad Herbie can't switch.
Nice that he is honest with his emotions and not trying to "play it cool" and be reserved!
I noticed that too; I love that man!
Where do I get one of those?!?!?!?!
Agreed; that was AWESOME!
Freaking awesome hit! Bullshot on the targeting call as it wasn't.
Agreed; crazy video game move!
I didn't know Fickell was such a wrestling stud; VERY impressive!