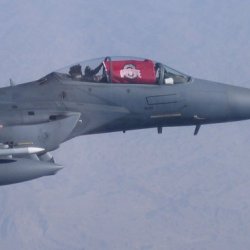 Northwest buckeye
---
from Seattle
MEMBER SINCE August 23, 2015
Recent Activity
Great pics of Bosa and Johnson.
Is it wrong that I almost obtain more joy from ttun losing than OSU winning?
I read Doss ate some fiesta chips every day, all season long leading up to the Fiesta Bowl as it reminded him where he wanted to go at year's end.
I was at OSU during the 4 year stretch where the basketball team with Jimmy Jackson was far better than the football team. I would have honestly been happy with the football team losing every single game every year with the exception of beating those skunk bastards up north.
I would much rather see our quarterback overthrow than under throw a ball; especially deep balls. It is frustrating to see a wide open receiver flying down the field who has to slow down drastically or even stop to catch the ball which then eliminates the possibility for a big gain or even a touchdown since the defenders usually catch up while the receiver is slowing or waiting for the ball. Plus less chance of an interception.
Fingers crossed that the prudent approach is being taken.
She's not in that league.
Agreed! Too bad Herbie can't switch.
Nice that he is honest with his emotions and not trying to "play it cool" and be reserved!
I noticed that too; I love that man!
Where do I get one of those?!?!?!?!
Agreed; that was AWESOME!
Freaking awesome hit! Bullshot on the targeting call as it wasn't.
Agreed; crazy video game move!
I didn't know Fickell was such a wrestling stud; VERY impressive!
When I lived on Chittenden a gal visiting me had her car hooked up by Shamrock; she ran outside and hopped in the car while the front wheels were up but before he towed the car away. He couldn't tow it with her in it and she would not get out. We all brought her blankets (it was winter) hot chocolate and food as she was there for 2 hours before the cops finally showed up. The cop told the driver he had to drop the car and leave; we all cheered wildly as he drove off with no car in tow!
Rotating them in also diminishes the chances that they transfer out due to lack of playing time. Also let's not forget to focus on blocking at the wide receiver position; so important but underrated. Who threw that block in the PSU game and took out 3 blockers?
Ugh the Cooper years scarred me forever! I literally burned my OSU gear on the deck and then pissed on it to put it out after losing to them yet again as they crushed another undefeated season and national title hopes. Break their friggin necks AGAIN AND AGAIN; NO MERCY; DO NOT GET COMPLACENT!
Awesome; home grown talent!
I LOVE in his highlight reel the second play; he levels that receiver! That toughness is what we need.
Agreed! Someone please post that GIF of Franklin cussing.