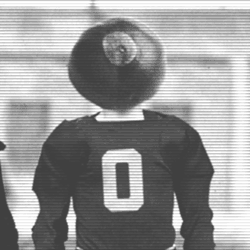 NorthPoleBuckeye
---
MEMBER SINCE July 12, 2015
Recent Activity
That is a hilarious clip, I love it!
They should have been out a couple of weeks ago, but whatever.
Anyway, how about those Dayton Flyers coming in at #7!
After doing some research, it seems Foggy Mountain Breakdown was recorded at Herzog Studios, located at 811 Race Street in Cincinnati. King Records was located at 1540 Brewster Ave. in Cincinnati.
does this match your info Slickity?
If the score were 31-3 I would lay money on who gave up the 3 and I would win the bet.
I would rather get a flag than give up a TD.
I thought he was more honky-tonk.
thanks for the play by play Buck61, appreciate the updates!
I just started watching and noticed he had a kid, so if anything he may have been bi-sexual.
I didn't know that, that is one of my all-time favorites!
He was confirmed dead in Oak Hill, West Virginia but could have died in Tennessee on the way to Canton.
The article makes it sound like Hank's initial introduction to the Opry was after Lovesick Blues became a hit in 1949, but actually he auditioned in 1946 for the Opry but was rejected.
Thanks for the info, I wonder how they fared for 2019.
At least we won the second half!
maybe they are the island of misfit toys.
Turn out the lights...the party's over....
Hopefully he becomes a "Can't Guard Julian" for us.
I am glad these guys have a chance to advance their careers, but there must be other schools to poach from.
Actually thinking more about it, I went to Palmer Elementary and then South School, which went up to 6th grade. Palmer and South shared playground areas as they were on opposite sides of the block.
send me a message at musictriviaman@gmail.com
Even if no one was getting paid under the table, it is almost impossible for Ohio State to finish with the #1 class as a very high percentage of the top ranked players are from the south, and the southern kids tend to stay near home and not venture north.
Awesome! Thanks for the info Buck61.
looks like the scum player pulls Dane down
You have any individual results Buck61?
I went to South Elementary, then Five Points Junior High and finished up at Park Hills, class of 1977.
I think I have gotten to the point where I count the 125lb match as an automatic win for the other team. On paper, there are a lot of matches that could go either way so it should be a great meet.
Yep, and Alford can't be blamed for that.