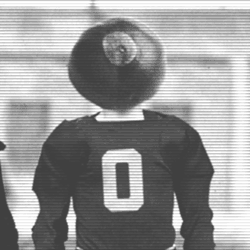 NorthPoleBuckeye
---
MEMBER SINCE July 12, 2015
Recent Activity
what is going on in this thread?
even though the school admin's knew about it and continued to let it happen?
I guess he got drafted right out of high school. Wiki says he graduated in 1982 and was drafted by the Braves the same year.
Marcus Allen, although I can't remember why.
They are if you have cowardly beliefs.
Didn't Meyer play for UC?
I wouldn't be upset if someone gave me some theater style seats with the OSU logo on it, and some free weights also!
Ohio State squeaked by scum 42-39, so we didn't beat everyone by multiple scores. I knew then that the team would be in trouble.
unless he is committed to UGA.
He would always get Carol or Harvey Korman to crack up during the skits.
Holy smokes, that guy was roasted!
He didn't state it as fact, he asked a question, hence the question mark at the end of the sentence.
I'll never understand why Troy insisted on staying in the pocket as if to prove he was a pro-style qb. He could run and he had some speed, but it was never utilized in that game.
That's the one Lou, thanks for the assist!
[Image result for jack nicholson nodding his head gif]
Well, as usual I can't figure out how to post gif's. This was supposed to be Jack Nicholson nodding his head.
No roids, just a big heart.
My point was that it was not easy to skip college and go directly to the NBA as per your statement.
1998 MSU. I was bummed for a whole week after.
I wonder if he is going for the music program? :)
Ricky Bell had a good year in 75 also.
I think Secretariat knew exactly what he was doing in the Belmont Stakes.
I think Fleming's relationship with Hartline wins it for the good guys.
Why would I hate on Harbaugh, he is worth 1 Ohio State victory a year.