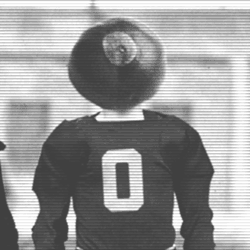 NorthPoleBuckeye
---
MEMBER SINCE July 12, 2015
Recent Activity
yes, very much appreciated!
This was a depressing read.
That doesn't explain Illinois at home or Rutgers on the road.
Ohio State lost to Rutgers, Illinois and Northwestern, what makes you think they would play a few in the NIT? They have the potential of playing a few in the dance just as well as in the NIT.
Maybe sitting behind Flacco in Denver for a year or two would be his best landing spot.
My favorite Eagles song - Already Gone.
Has Ahrens scored a point since his 29 point outburst, seems like he dropped off the edge of the earth?
It looks like he only played one minute and attempted one shot. Hard to get into a rhythm and the flow of the game in just a minute.
Just read a Jay Bilas article on espin where he ranks the top 68 teams heading into the championship weekend and he ranks Ohio State at number 51 fwiw.
Ohio State killed their chance to get in if they don't make it. Losing to Rutgers, Illinois and Northwestern doesn't look good on anyone's resume.
He is just a youngin'. Happy Birthday Coach!
Did they take Feder after they missed on others or was he a first option, I don't remember much about his recruitment?
Birm reporting that Trey Leroux has committed to OSU!
Kyle Snyder and Orlando Pace.
I think every team not named Penn St is wrestling for second. I will be glad to see some of their guys graduate.
Hyde to KC is a done deal. 1 year @ 2.8 million, 1.6 million guaranteed.
you are expecting logic on here?
Awesome accomplishment Antwuan!
I would think that a team would have a clause in his contract about repaying the bonus if he bolts for baseball.
I believe Fields has thrown a pass in a season game.
Maybe being taught to look around for the ball will eliminate some of those PI calls.
I wonder if Bob Lorimer was made aware of the transaction.
Maybe it's a week to week suspension in that coach is waiting to see improvement in what ever area Wesson screwed up. If he didn't improve during the week, they announce the suspension is still in place. When he does improve, they will say he is available. Just guessing on my part.
Sounds like a perfect job for Senator James Patrick Tressel.