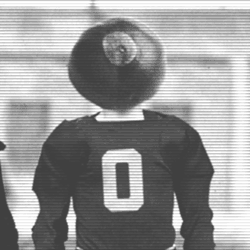 NorthernOhioBuckeye
---
Member since 15 May 2012 | Blog
Recent Activity
It's a great time to be a Buckeye!
I too was at the meet and it was a pleasure to watch the Buckeyes in an intimate setting like Wadsworth High School. It was also really classy of Coach Ryan and the Northwestern coach to allow the match to be played in that venue.

However, I am disappointed in the article not explaining why Snyder was not in attendance. I understand he may be wrestling over seas, but as he is the most decorated wrestler in the nation, it would be appropriate for the writer to at least address why he is not at a meet.
I was playing DII ball in Iowa that year. Of the 22 starters on our team, more than half were from Ohio, so were always following the Buckeyes during the season and cheering for them in the face of unrelenting ridicule from our Iowa teammates.

I remember this game specifically as we played a late start game that day ourselves. Therefore, we did not get to watch any of the OSU game save for the last few seconds. It was awesome.

However, some probably are not aware of something that Haden Fry did to his team that didn't help them much. When their plane landed in Columbus, Fry took the team from the airport straight to the stadium. He made the team walk around the field and into the stands. When one of the players asked what the purpose of the walk thru was, Fry remarked, "To pay tribute to all of the teams that had been buried there." That is still one of my favorite quotes from any coach in the Big Ten.

Also, I had a knee injury that year and the doctor I was seeing was one of the doctors that traveled with the Hawkeye team. He was telling me that Spielman came up to Chuck Long during warm ups and told him he was personally going to hit him so hard that he would need to be carried back to Iowa. The doctor said that after that, Chuck Long's eyes were as big as saucers and that he was almost scared to go out onto the field. I don't know how true that may or may not be, but that doctor always had a lot of inside scope of the Hawkeyes that would lead me to believe him.
He'll have to compete for the Heisman with Cardel and Elliot.
"Lighten up Francis"

I don't think anyone was intentionally disparaging women that are raped or making light of the act. They were simply pointing out that Kobe was accused of it and that puts his behavior in question.
Gotta go with Mark May in this one.
I want ttun to win every game until the last one, then loose 100-0.
How many 75 year olds make the Sportscenter Top 10? Jack is the Man!
Kyle Snyder just won by decision giving the Buckeyes a sweep of the quarter final round. They are now 20 pts up as a team in first place. Keep rolling guys. A Natty in wrestling will make for great icing on the cake of the Natty in Football.
I'm not sure about this game as I have not seen it. However, usually the officials stand directly below the uprights watching the ball cross over. If ANY PART of the ball would have hit the upright (had the upright been tall enough), then the kick is deemed to be missed. The ball must cross completely to the inside of the upright. I have seen a lot of fans complain about these types of kicks no knowing the rule.
And it was played by some serious grown ass men, namely Pace and George. That was such a great team. DAMN MSU!

Edit: Wrong year. DAMN TSUN!
To me, AJ Hawk should be a no brainer. He was the most instinctive linebacker I'd seen since Spielman. There was a play in the bowl game against ND where just before the snap, he took off from his LB position and sprinted towards the sideline. Just he got there, the ball was snapped and they threw a screen pass that way and AJ was there to blow it up. I loved watched the Bucks then JUST to watch AJ. I now tune into GB Packer games sometimes just for the memories.
I don't remember much about his recruitment, but I officiated one of his HS games his senior year, and god he was an ASS. He was a great player and he knew it. He seemed the perfect fit for tsun. I also did a Sandusky HS game that year with O.Pace. He was a complete opposite of Woodson, very humble and plesant to be around. Oh yea, and he could block. He OWNED the his side of the line.
Unfortunately, my daughter has a volleyball tournament in Ada at Ohio Northern Univ. otherwise, I would be in attendance. Oh well, will try to catch it on the tube.
My guess is that you will get your wish.
While Gen. Sherman may not have been the most moral Ohioan to be on this list, he is definitely a warrior and understood what it takes to win wars. Had Sherman been a General in the Revolutionary war, it would have been over in half the time, not to knock Washington as I believe he did the best he could with the resources and training he had at the time. However Sherman most likely would have employed more guerilla tactics instead of trying to go toe to toe with the British in the European style battles.
+1,000,000.

You said everything I was thinking on this subject.
That was a tough pick, but I have to agree with you. Paul Brown is probably the single most important football person of all time. He basically revolutionized the sport.

Archie was a great college back and one heck of an ambassador's for tOSU. However, his accomplishments pale in comparison the Paul Brown.
This is a very tough region. Bob Hope, Dean Martin, Clark Gable and the list goes on. Bob Hope will be a tough out in this bracket. The man was such a good person and had a long career. He made millions laugh and always kept the armed forces at the fore front. I would probably vote for Bob Hope as one of the most influential Americans in the field of Arts.
Typical.

It's now football season.
I don't feel good about this one.
Will Matta play for the last shot or will he take his chances by going for the quick basket?
Stupid foul. Sometimes they don't use their heads.