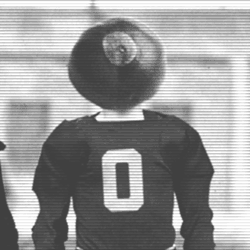 NorthCoastBias
---
from Brecksville, OH
MEMBER SINCE June 05, 2017
Favorites
COLLEGE FOOTBALL PLAYER: Troy Smith
COLLEGE BASKETBALL PLAYER: David Lighty
NFL TEAM: Cleveland Browns
MLB TEAM: Cleveland Indians
Recent Activity
Cool story, bro. No one cares.
Not just an ACL tear.
MRI revealed more damage than anticipated: Bengals QB Joe Burrow tore his ACL, MCL, and suffered other structural issues in his knee as well, per @Ben_Baby and me.

— Adam Schefter (@AdamSchefter) November 23, 2020
Maybe he's just really excited for Thanksgiving food ¯\_(ツ)_/¯
He posts a bunch over at BuckeyePlanet too, under the username Buckaroo213. Same MO over there as here.
Did someone say teats?
If you live in a state where shipment and delivery of alcohol is legal, Seelbach's carries 750 ml bottles of PRCF.
https://seelbachs.com/products/penelope-bourbon-rose-cask-finish?_pos=4&_sid=b8278607b&_ss=r
Don't really care about this one way or the other. Quite frankly, I think consistency across the board is a good thing. This is already a weird, truncated season anyway.
Always been a big fan of Swensons Galley Boy.
Two thin patties with a really well melted slice of American cheese between them, two special sauces (white sauce, similar to tartar sauce, on the top and red sauce, a bbq sauce mixed with relish, on the bottom) on a toasted bakery bun. Wrap it up in foil and skewer it with a pimento stuffed olive. It's the platonic ideal of a drive-in burger and so damn good.
It's Jamarcus Russell, you knob.
Woof.
Not only is Dwayne Haskins not starting for the Washington Football Team on Sunday, he's not even No. 2. Alex Smith will back up Kyle Allen against the #Rams.

— Tom Pelissero (@TomPelissero) October 7, 2020
Don't forget they got Nick Chubb via a pick from the Texans as well. LOL BOB.
Indians are really two out of first place, by virtue of their head-to-head record with the Twins. They'll need to win out and the Twins to lose out for any chance at a division title.
Shouldn't be an issue with rapid testing across the conference.
It's pathetic. Bunch of middle aged men crying like babies.
Pretty sure Harry Miller was penciled in as the starting LG before all this went down.
Here we go Brownies! Here we go!
Definitely not doing a fast that requires me to drink butt water.
FEW's Rye kicks ass. Need to pick up another bottle next time I'm in Chicago (their products don't ship to Ohio, unfortunately).
One month later and this take has aged about as well as a gallon of milk left out in the desert.
Huh. It's almost as if he was full of shit the whole time. Who could have guessed?!
You're thinking of Jamel Dean.