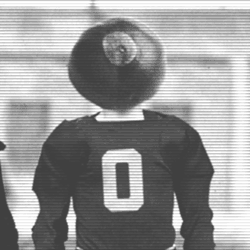 NorthCoastBias
---
from Brecksville, OH
MEMBER SINCE June 05, 2017
Favorites
COLLEGE FOOTBALL PLAYER: Troy Smith
COLLEGE BASKETBALL PLAYER: David Lighty
NFL TEAM: Cleveland Browns
NBA TEAM: Cleveland Cavaliers
MLB TEAM: Cleveland Indians
Recent Activity
Start times are announced on Tuesdays.
Good for him! That's awesome.
Looks like Beaux Collins will be visiting this weekend. That seems like pretty big news.
You can all watch OSU and Wisconsin play at night on December 7th.
Rivals had an article regarding the five QBs with the most interesting recruitments that mentioned Stroud and, a name I hadn't seen tied to OSU yet, Hawaiian QB Jayden de Laura. Apparently de Laura told a Rivals recruiting analyst recently that he has been in touch with OSU, along with Georgia and Washington State.
https://n.rivals.com/news/five-2020-qbs-with-the-most-interesting-recruitment
https://247sports.com/Player/Jayden-de-Laura-46053193/
Comment removed for violating the site's commenting policy.
Tough one to lose but everyone knew this was going to be a difficult stretch. The next six games against the Royals and Tigers are going to be just what the doctor ordered.
Likely just a camp body. Highly doubt he makes the final 53.
"Lack of integrity" lmao. We're rooting for people playing a game.
So many "get off my lawn" types getting big mad about this. That's my quarterback.
Northwestern Matchup to Watch should be amended to Ohio State's players vs. the Ryan Field grass lol
I'd give this more than one upvote if I could. No doubt the Tribe are still positioned nicely for the foreseeable future. Some fans will never be happy.
Last one out, turn off the lights.
He would absolutely deserve one.
Officially tied for first in the division. Guess you could say they're just getting started.
I hope so too. Royals have been one of the hottest teams in baseball recently, however, and the Twins get the scuffling White Sox.
They're not "about to lose Bauer and Hand," despite what the basketball writer said in The Athletic yesterday.
Three best I've had in the Cleveland area:
Il Rione - Detroit-Shoreway neighborhood
Geraci's - University Heights & Pepper Pike locations
Vero - Cleveland Heights
Left the 2012 Purdue game early. Could hear the stadium erupt when they scored the TD and two point conversion. Felt especially bad because I convinced my one roommate to leave with me. I am dumb.
They have a numbering system for specific position groups:
quarterbacks, punters, and placekickers: 1–19;
running backs and defensive backs: 20–49;
centers: 50–79;
offensive guards and tackles: 60–79;
wide receivers: 10–19 and 80–89;
tight ends and H-backs: 40–49 and 80–89;
defensive linemen: 50–79 and 90–99;
linebackers: 40–59 and 90–99.
https://operations.nfl.com/the-rules/2018-nfl-rulebook/#article-2.-players-numbered-by-position
Ramzy, it looks like you have the wrong Stillhouse Whiskey website linked in the article. I was taken to a site for some ghastly moonshine-like product sold in a can.
Here's the homepage for the bourbon you were sent - https://www.vanbruntstillhouse.com/
Anything that makes the Steelers worse is good by me.