NorCal Buckeye
---
Member since 06 March 2011 | Blog
2006 alumnus from Ohio State College of Engineering.
Favorites
SPORTS MOMENT: Witnessing the Buckeyes win the National Championship in 2002 as a student.
COLLEGE FOOTBALL PLAYER: JT Barrett
Recent Activity
Ah, the ole "just the coronal tip" game.
[¤¬P)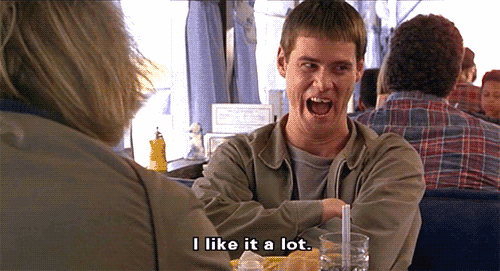 Good ole Bay Area fog/clouds getting us here in Oakland. Left sunny Solano County for work right as it was starting. It just peeked through the clouds a bit and everyone got excited for a minute. I saw a gal in professional attire walking to her office holding a cereal box viewer like I made in Cub Scouts. Funny stuff. Good thing we'll have around 100 million photos of the same thing posted to social media or id feel like I missed it.
I appreciate the site and the community you've built. Love to see how it's developed since I started reading way back in 2006 (from the old days of the Big Ten Blog Network).
80% here. I don't need to look directly at it but I plan to head across the street to a park and just be outside for the erie magic. Already had 9a-1p blocked out so it'll work well for the 9a-11:30a window.
Nice
What the fot are you talking about?
If she's cool she'll enjoy a few laughs too. Unless you guys went for a traditional delivery....
Had to make up for that chili debacle.
Yeah Linga, it was a bit of a "ehhhh" moment but it mixed OK with the OJ. Actually, as I reflect back it was Budweiser. Always had a cold case or three in my full sized fridge in my bedroom. It was the step up from Natty cause I was "cool". Don't get me wrong, I had already started enjoying ales and other beer types by that time but lager by volume is how it's done on all campuses. When 98% of the crowd packed in there was pretty inebriated, the "rules" were altered quite a bit. The staff was just happy if you weren't swearing too loudly.
You'd be surprised, Mountain Swait. There are a lot of retired fans mixing it up on here. Many more than "5" that are very regular banterers.
You can. Some dude named Andrew keeps calling and emailing me to buy tickets for this season after just making one purchase last year. To the note above about parking, the stadium is just a couple blocks from the Berkeley BART station. Easy as hell. We also had no trouble in one of the many nearby parking garages for the epic OSU-Cal game in 2013. Parking was not an issue.
Tickets, count of how many each has had, all irrelevant. What's relevant: is she hot?
I remember my move in day into Park Hall. I was giddy with the freedom and being surrounded by hundreds and hundreds of gorgeous 18-19 year old girls. "Thanks for the ride Mom and Dad, see ya!"
Wonder if they still do the monthly breakfast at the church on Indianola. May or may not have brought an entire case of Bud Light to help wash down the bacon, eggs and pancakes.
Guess I ain't skipping leg day today then, Taylor.
Ha, my wife works in labor and delivery and she uses the term "roast beef hangar" when seeing a patient who's had a few too many natural childbirths.
Yep, all part of the game (literally and figuratively). Doesn't mean we can't smuggle in some airline sized liquor bottles (physically that is).
Man, that one took a few loops before I figured out what was funny with that GIF.
Ha, +1 you tool. Careful now, they may think you know this from a direct perspective.
Lazy people, lazy people everywhere. These are the same people that will circle the lot for 20 minutes for the closest parking spot, then walk 2 miles inside Costco.
Amateur tip: if for some reason your Ho-Ho's were in the freezer, make sure you take them out if the foil before microwaving them.
I used to eat Dickies out here in Cali quite a bit as they have a "Kids eat free Sundays" and discounted gift cards at Costco. Was my go-to on weekends with my little guy when Mrs NC worked weekends. Then I ate some real smokehouse BBQ and got my own smoker. Haven't been back since.