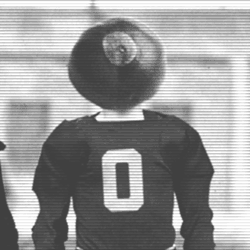 NoMad Buck
---
MEMBER SINCE January 10, 2015
Recent Activity
The real travesty is that they called a block on the pole.
Man, I missed those hash tags.
This is assuming that if we had a spot, Gibbs would come here. All of the insiders seem to think otherwise and I'm sure the coaches have a better idea then everyone. I certainly wouldn't want to boot guys that want to be here and have contributed for 3-4 years for a longshot recruit who, by all accounts, doesn't want to leave the south.
Or maybe the RB talk wasn't coach speak and we are in denial about having anything but a slim chance to land Gibbs?
What's the bigger NCAA sin? The players taking the cash or the school trying to cover it up by claiming it was "fake money"?
I don't believe the whole "media hates us" conspiracy but it is odd that this is not getting more airplay.
Not watching, don't care. I'll wait for good football on April 11.
Lot of Coombs references in that Transfer Portal section...
I agree, this jumped out to me. Great news!
Wade is coming back, book it.
Who needs a running game when you can throw to the perimeter with Gee and JSN?
I think he gets a natty and is a sure fire 1st rder if he comes back. If not, best of luck to him. I enjoyed watching him and he's super talented; missed him a ton when he wasn't in the lineup.
Don't give a shite. I'm an OSU fan, could care less about whatever else happens.. Better things to do then watch a subjective mess of a sport.
I bet this is an ACC officiating crew.
Man, I loved watching this 2019 team. One of my more enjoyable experiences as a fan. I did, and still do, think we can beat anyone in the country. Will just have to wait until next season to prove it.
No JK, thank you. It's been a pleasure.
I'm so over this. Every post about the officials just rips the scab off. It was a piss poor call, took momentum from us, and took 6 pts from us. But it's time to let it go. No amount of mea culpas are going to change the outcome.
If I never have to think about that game again, it will be too soon. Continuing to harp on the crap officiating doesn't help.
What happened with our recruitment of Lingard? I know we were in on him at one point. Did we back off or did he?
Proud of the way we fought. JK was a warrior. I thought they needed help to be the better team tonight.
Wade is 6"1', Lawrence is 6'6"; how does Wade target without Lawrence ducking?
I was at 2006 Fiesta. Still scarred, better if I just stay away.