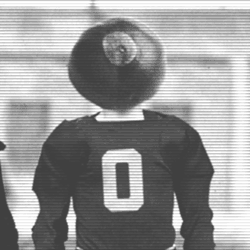 NoMad Buck
---
MEMBER SINCE January 10, 2015
Recent Activity
What cost us the 1 seed is not having sec next to our name.
Did the committee take into account the fact that LSU played 8 conference games as opposed to OSUs 9? Or that LSU played an FCS team? Did the committee factor in the fact that OSU played and beat 3 top 15 teams in a row? You mentioned that LSU's defense got healthy but did the committee factor in that OSU played without a 1st rd DB against UM and had its dual threat QB playing on a bum leg the last 3 weeks while beating those 3 top 15 teams?
These aren't tough questions to ask, unless having them answered would hurt your narrative.
ESPN doesn't hate us per se, but I don't know how you couldn't watch that selection show and say there wasn't an agenda. For example, how can you talk about LSU defense getting healthy and make no mention of Fields playing on a sprained MCL. Or how they cited metrics that favored LSU but no mention of the many metrics that had OSU as 1.
There isn't a bias but there is an agenda. It got LSU 1 and probably UGA 5.
So LSU got 1 because their defense got healthy. Meanwhile, nary a mention of our injuries down the stretch...while still winning by double digits.
With their QB playing on 1 leg the whole time.
The only thing that matters is us getting healthy. OK will be no pushover, neither will Clemson. Frankly, not beating Clemson would be like winning a natty without beating ttun; it's imperative, not optional.
This. Will. Never. Get. Old!
So proud of this group. As a fan, this has been one of the most entertaining seasons I've seen.
Lets grab that natty!
Just stay healthy for chrissakes
With the way their defenders are diving low on Fields, I agree!
Jfc nice hold. This is absurd. If you are going to let them play, don't call personal fouls on dbs when wrs taunt them.
I'll give you that false start, you give me all the other BS calls/noncalls and I'm pretty sure this game isn't close.
The lack of officiating integrity in our games is alarming.
Looks like a team heavily distracted, players and coaches alike. Time to circle the wagons.
I agree. This is going to be a fun team to watch indoors.
What a novel concept: using the truth to troll.
Jimmy Lake is no slouch though, and likely has relationships with a lot of those guys. The blueprint for this type of successful transition is out there...
I'll take Wisconsin on turf again, please
explains why he (smartly) handed off on a ton of those options with clear running lanes. The injury this game seemed to be a fluke play.

so impressed with his toughness. True leader. If I had a vote, today was a big time heisman moment.
These refs should be ashamed.
Heismanesque performance.
I see we've reached the "painful to read" portion of the game day chat. Players need to execute, that's all.
Big offensive possession here. Absolutely cannot go 3 and out.
Another banner day for big 10 officials