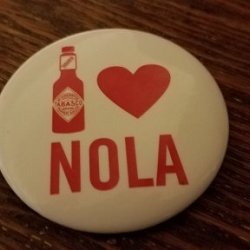 NOLABuckeye
New Orleans (via Upper Arlington)
MEMBER SINCE August 19, 2014
Favorites
SPORTS MOMENT: Sitting in the Super Dome watching the Buckeyes take down Bama.
NFL TEAM: Saints, Steelers
NHL TEAM: Penguins
NBA TEAM: Pelicans
MLB TEAM: Red Sox, Pirates
Recent Activity
I dunno... sounds like a link and go...
It was good to read it again.
Whoever DV'ed this must've missed Earle's black serval thread that he linked to above.
Annnnndd... I have a new favorite.
Weird. I've been having acorn issues down here too.
I saw a post of his a few days ago on Letterman Row.
But if they are picking off the spread, is it Vegas that is biased?
This thread needs an enema.
Over.
Lord knows they need a homer on that Gameday stage.
Wow. Just, wow. So excited I am coming up for this game.
I'm on board for these. Thanks Rox.
The pain in the ass that is MSU made that the easiest trivia time for me yet.
There will be a number of tears shed in the Dome on Sunday. RIP big Will.
Justin Fields tossed a 6-yard touchdown pass to Garrett Wilson.
I love how the stat is 6 yards when JF actually tossed it at least 22 yards.
I'm currently of the belief that Wisconsin is our toughest test remaining. Without overlooking PSU or TTUN. Agree?
Those white claws work great once you become bloated with too much beer.
I saw that replay later Knar and it sure as hell looked like a horse collar to me.
Possibly one of my favorite 11W articles ever right here.
Nope. I definitely don't hate to see it. I would love to see UNC pull this one out.
No way I'd have eaten that thing.
Agreed. 52-14.
SP, have you had a chance to go to a game yet or at least tailgate?