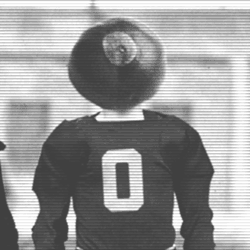 NOBLUE
---
MEMBER SINCE August 03, 2015
Recent Activity
i think this writer should have this article on Mgoblog.....
Franklin should be a politician he says a whole lot of words but at the same time says nothing....i think the only people asking these questions about realignment is the journalists...as usual trying to make a story out of something that does not exist...yes as said by many without those two blowouts the BIG would have gone to the CFP it has nothing to do with how the divisions are....
this is the time of year when the sports media's love affair with ttun is in full bloom....every year picking at best an average team to take it all in the BIG...but then is it true love or just HATE for OSU?.....
AS far as SHITHEAD from up north ...really makes you think what the fans and the school is thinking to keep such a FUCKING IDIOT to coach their football team....but hey we sure benefit from it....
Hairball is as stupid as his players...what he said is excellent bulletin board material..there are still alot of players and staff around that love and played and worked for Urban.....thanks ASSHOLE from up north....
these predictions are.....BORING ......
good mean kick ass Slobs = Dobbins, Fields excelling....
be careful you people critisizng this article ..i did that once and got banned for a couple weeks ...long live freedom of speech...haha not on this site
who's expecting him to start ?? I wasn't ..nothing personal but it seems like with all the talent we have at LB there would be someone better....oh well.....
have to disagree about looking over Days shoulder...Meyer is enough of a professional to not do that...unless asked i don't think Meyer will interfere at all
10.5 wins...hmmmm i wonder who we're playing for only one half......
i never knew you could score points like that ...2.38 ..4.99..2.61..3.55 ..and all his time i've been following football i thought you could only score 6,3,2 or 1 point at a time....WOW you learn something new all the time about this game.....
i would really like to see what those .3 .2 and .4 recruits we got from Cincy looked like...i guess i forgot ..
i'm kinda tired of hearing that" you cant teach speed"...don't tell that to strength and conditioning coaches or sprinters..with proper training you can get faster...don't believe me?...just ask Mariotti...true you can't make awkward Joe Average Olympic fast but can most assuredly train him to be faster...
first iowa then purdue and not just losses but BLOWOUTS....
Gee that shitty Maryland team you talk about almost beat osu last season....thats not saying much for osu
Fishagain ...high acedemics ?? well i guess they don't teach they're football players or any of their fans...they're a bunch of idiots....
i know there are two Bosa's but i didn't know there were more than one Clowney or Lawrence ???
Meyer produced Joey Bosa ?? I say L.J. produced Joey Bosa..
Well damn isn't this something to get excited about...i know i'll sleep alot better at night knowing this most important thing ...what would we have done if 11W didn't report this