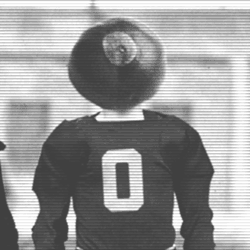 NOBLUE
---
MEMBER SINCE August 03, 2015
Recent Activity
J.K.will get 1600 yrds easily
never belonged here with a name like that
is this site becoming a gossip column who gives a flying F**c who's buying what car and why the F**c someone transferred ...lets talk about current things going on with this team....GO BUCKEYES ...JUST WIN !!
i have to disagree about the first year jitters...were not talking about a boy here this is a man that knows whats expected of him and knows his business and how to get it done
show one QB that was ranked highly (and there were a few) that Shitigan got that they developed ....Hairball seems to ruin them once they get there
very nice ...what all men should do on Mother's Day
it's ok if nobody breaks any records but the "TEAM" wins the Natty
who's Maffew Bildwon ?..did he ever have one rep in a game ? ....
i still worry about the coaches we have that we hung 62 on....
Fuck Drake he shrank from a fight when he gave in to political pressure and political correctness ...instead of defending and backing his football coach...he sold him down the river....F*** Asswipe
LJ.... by far the most valuable coach on this staff
there was a guy in my high school that finally graduated when he was 21...in the days when schools actually flunked people
who the f*** wrote this article...Debbie Downer ?? talk about a f*** pessimistic outlook...these coaches get paid well to figure all the scenarios that can happen..the writer and anybody with this outlook go put some dry panties on and go watch your drama soap opera's and reality tv and shut the f*** up....HAHA..what a pointless atrticle
flag football or touch is the answer to ensure total safety
Mr Urban Meyer should sit down with The Senator and have a long talk about how to live a stress free life....
that Tony guy...get a life ..and be sure you don't miss any of the soap opera's you watch all day.....haha
testimoiny to Joe Burrow testimoney to Martell and to Baldwin
Joey B ? ...i didn't know Joey Bosa showed up
After giving his heart and soul to OSU and being screwed by the "politics' at OSU i believe Meyer is done with all that BULL**** ....he is a much happier man now
yes all good teams LOSE ...but good all teams do not lose like we lost to IOWA and PURDUE..
oh oh are we becoming an Big 12 team all offense and no defense?? was last year the beginning...
Yes and don't forget the writers on 11W are all QB experts .....
OK all you "the sky is falling" fans can come out from your basements or from under your beds now ....
HAHA thats funny trying to compare Jordan and Pace in any capacity
well all i got to say about all these important questions is.....zzzzzzzzzzzzzzz