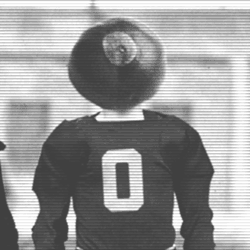 NOBLUE
---
MEMBER SINCE August 03, 2015
Recent Activity
wake me when spring practice starts ....zzzzzzz
why even write the article ...??
i love Aranda i'll never forget ...59-0....and this year am really not impressed with LSU's D ...i think Clumpson pick's it apart .....hope i'm wrong ...
Booooooo!!
i differ with one comment above ...you can train for being more twitchy and i'm sure coach Mick knows that ...
just like in a fight, mma or boxing you never want the judges determining the outcome ..ref's are human they make mistakes in every game ...lets say OSU scored a TD each time when they were in the redzone instead of those 3 FG's we wouldn't be talking about the shitty officiating then would we ...
Not th8nk o make anyone mad but i read a comment here about making Werner a DB...you gotta be shitting me he's way to slow to do that ....
So the fix was in ...no surprise let's all get over it everybody knows the power's that be favored the cheaters from Slemson or whatever that team was called ..
unfortunately all those things listed are part of the game somethings go your way some don't ...that post game stat of winning is RIDICULOUS especially when they already lost the game ..i say the the percentage is 100 % THEY THEY LOST haha ...OSU is a VERY good team but not yet elite ...maybe next year ....
Yes the officiating was terrible but there were plenty of other opportunities to score ...lets not sound like the team up north and blame the officials for the outcome of the game...
let's remember there are more important things in life than football ...it's just a game some of you are taking this much to seriously ..it's was a great season and look forward to next year ...GO BUCKS !!
can't leave the results of the game in the officials hands to many mistakes alot of opportunities to score ...a very good team but not elite not yet maybe next year ....
whatever they got going up there i hope it goes on for a very long time ....totally AMAZING ....
and i'm sure the Clemson fans are saying the same thing...but i do agree ....
Utah ?? ....wheres that ...that not one of those shit teams in the PAC that have no defenses is it ?? .....
Who's Phillips ??.....
someone asked about that shirt he's wearing ? maybe Brady Hoke knows where to get it ....
the only reason we as fans don't hear or read where credit is due ( Mattison Washinton Barnes) is because you 11w writers were in love with Hafley and thats all you gave us to read .....
a better opportunity? i'm not so sure ....whatever he do ?? ....haha
Always makes me laugh when people comment about so and so being hired to teach so and so to be he next D or O Coordinator ....that hasn't happened once for as long as i can remember ....haha
don't get your panties in a knot you over achieving worriers Day is a genius and will have a homerun hire ...who the fuck said Dave Aranda come on down ..are you shitting me the guy we put 59 up on and the guy running that LSU sieve of a defense ....haha
Why the writers and in alot of cases fans on this site even talk about eSECpn is beyond me we should all just ignore them and give them the attention they deserve which is ....NONE ...
all these awards and up for all these are really great but i'm sure the coaches and players want only one ...the Natty ...
i was rooting for Joey all season but now i hope the Okies take LSU to the woodshed if not i guess OSU will have to ...the CFP committee is a f**king joke almost as bad as the NCAA ....
i think this team isn't afraid to play anybody ...it's everybody else especially fans saying they're afraid of Clemson haha good thing you people aren't really playing you'd probably shit your pants ..also you kind of contradict yourselves first you say Clemson hasn't played anyone but then you say you don't want them in the first round...make up your minds you sissy worry warts ...