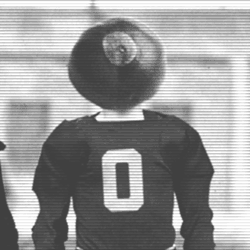 NOBLUE
---
MEMBER SINCE August 03, 2015
Recent Activity
i hope Hairball is there forever...i love what he's done to that team up north ....
Please give Crazy Jim a lifetime contract .....
Jimmy totally loses it in Madison and the Idiots up north aren't ever the same the rest of the season ( well thats not saying much because i think he;s already lose it )
i see some people are still drinking the ass's up north Koolaid...or should i say piss ....
i believe Wisky will destroy the dumpster fire up north this Saturday
i hope Wisky does one of their things where they play their first stringers the whole game to pad Taylors numbers and run up the score to 70 - 0
is Dantonio Pepperonio taking lessons from his buddy in Ann Whorebor and blaming his shitty team on the officiating......
will OSU start their 2nd and 3rd stringers against Miami ..haha they could and still beat them convincingly ...
i hope the Badgers win 100-0 they do have a way of piling it on inferior opponents in my opinion not to their credit but in this case i'll make an exception
even if a team has the best strength of schedule in the country when you get BLOWN OUT by a unranked team that will probably keep you out of the CFP ....
to wish Suckagain to do well is totally 100 % against the rivalry itself...how can you wish someone you hate to do well ...anybody who want the assholes up north to do well is absolutely not a Buckeye fan ...true fans get much pleasure and satisfaction when the idiots up north lose ..as far as strength of conference goes there are plenty of other teams in the BIG that can do well besides ttun ....
damn what a relief i was really worried that i might slip up in conversation and use the word 'THE" and be sued by OSU...Whew.....
all those other OSU QB's you're comparing Fields to were in the system at least 2 years or more before they started...even more impressive about Fields....
i disagree BucksHave7 footballs already being feminized enough ...so that coach said that ...big F**CKING deal....some ppl are very sensitive.....
this isn't Tressel's or Meyer's team ...i agree Hoosier's won't know what hit em.....
if you record a game you can watch it in about an hour if you fast forward all the talking bullshit and the commercials.....
yes i noticed too that LSU's D has issues as does Texas's ...u too believe OSU's offense would shred them up ....
WOW !! only 2 penalties...hell we used to have a certain O lineman last year that averaged that many each quarter...haha ...
LSU's D has issues they will not run the table...i think our offense would shred that D.....
Wisky is very one dimensional ..if yiou stop Taylor you stop their offense ....
i think LSU has defensive issues..their offense and Joe were great but i think our offense would have shredded their defense ....
oh oh are we going to get a slew of tight end articles this coming week......
of course...it's always Urbans fault...
GO BUCKEYES !! ...GO ARMY !!
if we only score 27 with our talent there is something wrong......