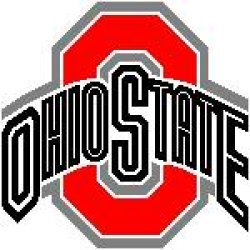 nm_buck
---
MEMBER SINCE July 22, 2013
Favorites
SPORTS MOMENT: Zeke's 85 yarder
COLLEGE FOOTBALL PLAYER: 2014 - Evan Spencer
NFL TEAM: Chiefs
MLB TEAM: Reds
Recent Activity
Cardizzle is forever a Buckeye hero.
Archie was tough... I was amazed at the beating he took game after game after game... avg 21 carries per game... #8 on all-time rushing attempts in the B1G... he was small but Woody used his best weapons.
This is JK's year. Last year without the benefit of a mobile QB it was easier for defenses to key on him... this year he should have better opportunities... and I sure hope he takes full advantage.
more people with phones in their faces
is there an app that tells you when to cheer?
Looks like Tyvis loves the high cheese...
Seeing Schlegel's guns reminds me of this:
So a QB named Gunnar gets 12-Gauge's number. Appropriate segue.
So these teams I'm assuming are composed of athletes and celebs...
if the catcher happens to be a safety, and Diz is rounding third, God help the catcher if there's a play at the plate
If I'm a top recruit, I might want to go to a top-notch school that has an immediate need for me, where I could have a better chance of making a difference and improving along side my teammates. It's more about the coaching IMO...
Moe Berg might not have been an offensive terror in the bigs, but history shows he went 2-2 in two at-bats in Zurich. Amazing story.
The damage they do is real. There aren't enough recreational hunters... in some states there are open seasons all year long but it still isn't enough. Going out a weekend a month won't cut it. People have jobs and families... not enough free time. In states where there are huge problems, they should incentivize... put a bounty on ferals to motivate people to spend more time on it. It's always going to cost money to get a handle on these types of problems, but property owners are motivated to invest, and local governments could offer some form of tax credits to offset. They could turn a negative into a positive by using the meat... which is delicious by the way... to help feed the area's less-fortunate. I was helping a buddy of mine on his parents' ranch in NE NM. We were fixing water lines feeding a network of drinkers. That weekend his brother killed a feral boar and brought it back to the house. Filthy, stinky, loaded with ticks... skinned and butchered it. His mom started cooking some of the meat in her oven... at first it smelled just awful... came back later that afternoon and the entire house smelled amazing... that meat was top quality. Would make for a hell of a tailgate...
3 stars..... Gonna trust that you're above the average with potential that 3 stars implies.
Lighten up francis
ask James Laurinaitis and AJ Hawk what they think about 3 star rankings
Wonder what Cornhustlers magazine looks like?!!
It's in the cornography section.
I'm thinking the driver had one of those brain cramps and thought he could actually make it
They do it all the time in the movies, so....
"Moisturize with Shea Butter body wash has me feeling fresh all day no matter what." This just cracks me up for some reason. Joe T has nothing on my man D-Train. Go get those endorsements and enjoy life as a pro.
wish he would have stayed one more year at OSU
could have benefited from another year
Wouldn't be fair... tyreek's running FROM something, as opposed to for something
How do you determine someone is overpaid? Having an opinion is one thing, but the reality is the market drives those salaries. The market doesn't have a conscience, but it is self-regulating through competition. People have every right to earn whatever someone is willing to pay for their services. Urban and Tress were worth every penny, just for beating michigan year after year. Of course, that's just my opinion... which is only an opinion. But I had no problem with however much they or their coaches earned. In fact, upon looking at the above salaries, my first thought was they need to give coach Johnson a significant raise.
Don't blame the earners for their high salaries. If anyone is to blame, it's the fans. I haven't been to a game at the Shoe since the 1970's... I can only imagine how expensive it is. But they sell out... which means there is demand for the product. I know there are plenty who are willing to fork out 40 bucks for a regular-season MLB ticket, 9 bucks for a pint of beer, 4 bucks for a 10oz bag of peanuts and 4 bucks for a bottle of water. The fans vote with their wallets. They're the ultimate arbiters of athletic contracts.
With a QB named Gunnar, we need a wideout named Targit
we have an amazing and motivated running back in JKD, some VERY talented receivers... AAAAND some TEs whose talent screams 'throw to me for crying out loud'
fields will not need to run like JT... they'll have too many options
big-league catchers don't usually pitch... and Parris is a big-league catcher
Stoneburner is an awesome GOT name.
It's hard to imagine the work and commitment it takes to recover from a torn ACL let alone both. God bless the kid... go get 'em.
Too bad Sheff didn't get an opportunity
Coach Day, please continue this legacy