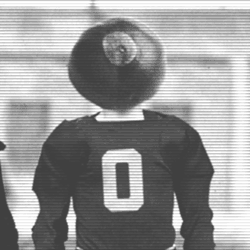 nltemple
---
Member since 10 December 2011 | Blog
Favorites
SPORTS MOMENT: 1950 Ohio State vs the Team up North, I am eight years old and it's snowing like everything took my dad and uncle two days to get home.
COLLEGE FOOTBALL PLAYER: Archie Griffin
COLLEGE BASKETBALL PLAYER: John Havlicek
Recent Activity
Hello! what you are speaking to is the recruiting of this coaching staff.
Matta is a good coach however he is not in the top 10 nationally if you were to rank the coaches.
Looking at Amir realisticaly it is evident that it is not just his skill set that is anemic but also he is weak and not physically able to play at this level.
Well some time back we spoke of the upcoming team and season, there were many who defended the team and the season the recruits and rightfully so, however those defenders vision was clouded by the reality that this years edition of Buckeye Basketball was going to have trouble scoring the basketball and was going to be weak inside. So where does this season at currently the Buckeyes are the fourth or fifth best team in the BIG behind Michigan, Indiana, Michigan State, Minnesota and arguably Illinois. Will make the tounament if the NCAA takes 6 or 7 out of the BIG and will be dispatched round 1 or 2 in the Big Dance. When you can't score the ball and you are weak on the inside your future is bleek.
It appears to this reader that 2012 Buckeye roundballers will have a tough time without some real strong help inside. How good Amir Williams is an unknown and we can only hope Evan Ravenal gets a lot better over the summer. If not we will get killed inside and with some suspect shooting outside we may be in for a long season of hoops in Buckeye Land.
If the Buckeye basketball team doesn't add some inside tuffness they will hard press to be competitive in the Big 10. Where is Matta with recruiting the one and done guys to be competitive? Has Matta lost his will to recruit the best?
You play defense with passion; we had no passion. You win games from the free throw line we were anemic. And what can you say about Deshaun that had to rank up there with so of the biggest blunders of century (Chris Webber time out call). Go figure, is there a reason why Trey Burke went to Michigan? Think about it he had to play 3 year with JS and he'd had enough of the spoiled brat.