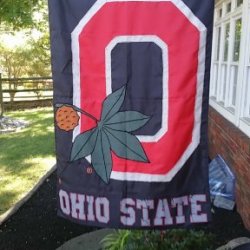 NJ Buckeye
---
Area code 732 (via Garden State )
Member since 06 September 2014 | Blog
Born in N.Y.
Raised in N.J.
Cousin teaches Botany at Ohio State
Buckeye football Fan til the death of me.. O.H.
BTW.. Eddie George is the greatest RB(period) (I am a Tennessee Titans Fan)
GO OKC Thunder
Favorites
SPORTS MOMENT: Watching Troy Smith escape a sack against TTUN and throw the ball was the most magical moment of my life
COLLEGE FOOTBALL PLAYER: Troy Smith, Chris Beanie Wells
COLLEGE BASKETBALL PLAYER: Ehh, Im soo disappointed in Evan Turner.. so I'll go with Steph Curry
NFL TEAM: Titans!
NHL TEAM: Penguins
NBA TEAM: OKC Thunder
MLB TEAM: Yankees
SOCCER TEAM: C'mon now
Recent Activity
TG-6 FOR SIX !! #zone6 2016 is our year. Go Bucks.
Malcolm Jenkins needs to be on the list somewhere in that top 5. Just my opinion.
We really could use the kid on our line. Imagine him with Cooper and Bosa on that defensive front. This kid has Warren Sapp like potential !!
Honestly. I am 50-50 on the juice. Let the hitters juice, its not like HGH/Roids helps improve hand-eye coordination or reaction to a 98+ mph fastball. But on the other hand, its sad that these cheaters are contributing to the degradation of the game and benefiting off of breaking records of guys who did it clean like Aaron, Ruth, Mantle, Williams, etc.
Yes I have man, please don't remind me of the nightmares he gave me while watching him on an NBA court. Can he level a guy? absolutely but he has feet like a paraplegic and hands of stone. I doubt he'd even be able to pull of a Bynum on Barea like hit anyway.
Good luck to the kid and all of his endeavors, but from what I hear, he was ALL the way locked in with the program anyway. Should not have signed that LOI kid..
Really brother.. No disrespect, but as an OKC fan I know Kendrick Perkins is as useful as a pack of Trojan's in a monastery
*cough* INCLUDING LeBron.. I know, I know. To my Cavs fan brothers in this forum I am sorry BUT Kevin Durant is the greatest scorer I've seen since #8 Kobe
BIRM ! your prediction please, because I am from NJ (all hail the Garden State): Do you think Ahmir Mitchell will end up in our recruiting class?
Draymond Green is the loudest most brash role player I have ever seen. Golden State is just lucky Kevin Durant's foot died otherwise they wouldnt have even been in the finals
@ Kareem: I could not help the choice in music brother, but whether muted or speaker on sonic boom watching the Buckeyes highlights are amazing
@ Seattle: Anytime brethren, I cannot lie my favorite play has to be Devin Smith's Touchdown catch from 12 Gauge at the 4:35 mark it is EPIC!
..Of course if you have not seen this video already, but if you have enjoy it again and bask in our GREATNESS !!
nothing to do with the Hurry-Up but...
MARK MAY DRINKS WALMART TOILET WATER !
that is all
When I see Baker I see loads of talent. He can play where ever he wishes to. Hopefully we use him like UCLA uses Myles Jack or Washington used Shaq Thompson.
I truly believe Gibson has the tools and potential to be a Buckeye great. It would be phenomenal if we can grab Beckner and Hill.
I like the Beck hire. This team is at its best when we are a united and inspired cohesive unit!!
JERSEY STAND UP !!!! O-H !!!