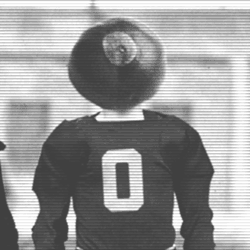 NiekampPayton
from Versailles Ohio
MEMBER SINCE February 02, 2018
Favorites
COLLEGE FOOTBALL PLAYER: Darron Lee
COLLEGE BASKETBALL PLAYER: D'Angelo Russel
NFL TEAM: Browns
NBA TEAM: Cavaliers
MLB TEAM: Reds
Recent Activity
That was Dwight McGlothern, I wouldn't take him too seriously either.
FWIW, Tathan's girlfriend Alli is saying that Ohio State didn't acknowledge his skill set:
Tate Martell is all talk. I've been saying it since he was in high school.
I have no official title so everyone has been quick to refute but I've called some of the last major commitments to and away from Ohio State, a text just came over from a rivals insider that read "Harrison is in."
Angel Has Fallen, it's the third movie following Olympus Has Fallen and London Has Fallen.
Yes, good hire. Controlled this team in a time of chaos and took down a very good TCU team at the time. Looking forward to seeing what he brings to this program. Thank you Coach Meyer.
TOMMY TOGIAI
TOMMY TOGIAI
TOMMY TOGIAI
I said this on a thread a while back and got a plethora of down votes. I do designs for a twitter page that is in contact with a rivals insider group and they notified me on November 5th that he was commited to TTUN. On Tuesday after the beatdown however I got a text saying that he was embarresed by the outcome of the Game and that his commitment was up in the air yet again. 50/50 between Ohio State and TTUN. Penn State is out of the picture.
Dre'Mont Jones has remained loyal to Ohio State through his whole career here, he said "We'll see" but I have a feeling that he will stick with the team and take on Washington.
Most people picked Michigan to win, many people went with Ohio State, few people picked the Buckeyes to blow out the Wolverines and not one person forecasted the Wolverines allowing more points in the rivalry game than ever before. But that's exactly what happened. And because of it, morale in Ann Arbor is as low as any prior point in Jim Harbaugh's tenure at Michigan.
"and not one person forecasted the Wolverines allowing more points in the rivalry game than ever before."
52-24, Good guys.
https://www.elevenwarriors.com/forum/ohio-state-football/2018/11/99044/who-has-the-stones-to-xake-a-xichigan-prediction-right-now#comments
Not trying to brag or anything but uh, the record of points scored against TTUN for Ohio State is 50, I predicted Ohio State to drop 52, in a blowout. Go Bucks.
Haha just got back on here to see if there were any more, I was cautiously optomistic about The Game and turns out I was pretty close.
He's a silent commit to TTUN.
How does one get their hands on a season ticket? I started looking into it this year and never fully understood what all was required and how to get a hold of one. Can anyone clear this up?
I know from my profile my accountability is probably minimal, however I've gotten word hes a silent commit to TTUN. Source is rivals for anyone wondering.
We cut the cord and got a Roku with Sling. We play a little over $50 a month for sling and enjoy using that. We bought an antenna for a one time payment of like $27 which we can get some games with. As for Big Ten Network we have to use Hulu's services of live TV, which we get for free with our plan on Sprint, maybe check your phone plan, ours has a lot of incentives.
Must've, just been that kind of a day.
It's impossible not to like the Saints now seeing how their secondary contributes of almost all Buckeyes, Lattimore, Bell and now Apple. Not to mention already have Michael Thomas and Ted Ginn Jr.
Don't know if it as much of a recruiting boom as just a nice pickup. I have a feeling we'll be in the running for Bubba Bolden. Before committing to USC, Ohio State made a late push that made it a difficult decision between the two schools. With former teammates Tate Martell and Haskell Garrett I have a feeling we could be seeing Bolden suiting up for Scarlet and Grey within the next two years.
Any word on what time the Minnesota game will be? Or any idea of when it will be announced?