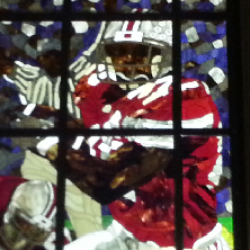 Nick
---
from Columbus, Ohio
MEMBER SINCE August 30, 2010
Favorites
COLLEGE FOOTBALL PLAYER: Ted Ginn
COLLEGE BASKETBALL PLAYER: Ron Lewis
Recent Activity
The story that keeps on giving
I like HoosierBuck's comment. Get rid of plastic helmets, but I'd also take away plastic pads and cleats
All players have to sit 1 yr after transferring, unless they have more than 48 credit hours and 3.2+ GPA at their current school, but no other limitations
All players have 5 years of eligibility automatically
All Power 5 scholarships must be valid until the student graduates. Schools accepting a graduate transfer must honor a full scholarship for their master's degree
All Power 5 schools must transition to semesters so schools can have a BYE week for finals in all sports
Games must be at least 6 days apart and no more than 4 weeks in a row
Let the NBA pay them, college shouldn't be a free minor league for pro sports. Most players in college don't go on to play in the NBA so no reason to change the whole system for less than 0.1% of players.
Seems to me Haskins Sr was concerned about fake news/hit stories and wanted to see what it was about before he said anything. Just in the future, don't talk to reporters, they are as slimy as politicians.
This is what Purdue has to do to have any chance of keeping a good coach so not surprised. We are not in the same position.
Who are you to say Nick Bosa didn't dedicate himself to the team? I'm sure everyone on the team would laugh at you.
That could be put into advertising / promotions
Let's remember it isn't an NCAA rule that makes guys go to college for one year. They can also go overseas to play for money as well.
He will be fine, technique and leverage.
Looks like rent/stipend money to me. Players DO get paid money its just to pay for their expenses (which can be a lot at OSU). So not smart to carry it around in cash, but that is their choice.
Wasn't even the best safety taken in that draft
Most of the players we grow to love and cheer for never go to the NFL, so no, this won't change much for college football.
We really needed that speed this year too with Borland getting outrun on many many plays
That's because the reality is that turning college into a free minor league for the NFL would be bad for the vast majority of schools that already have to take student fees to operate and female and non revenue generating sports like gymnastics etc would all have to be eliminated.
And you are spot on that most of the value of college players is the college brand they play for. I'm sure some could market themselves and make some money but we are probably talking about a handful of players every 5-10yrs or so that would be able to do so.
But with all that, a player should be able to create and sell their own merchandise, stream online content and receive compensation, and engage in other commercial activities like any other student at the school would be able to do. That costs the school nothing and it lets the market decide if their brand has value. Obviously schools would be forbidden to assist in these activities or promote these activities and the universities' logos and trademarks would also be off limits for use as well.
He was Assistant Head Coach
I would love for McCall to finally get a lot of touches, but regardless of who it is, there will be a rotation.
And I'd bet the majority of high school players are taking HGH.
Because 4-6 is pushing who belong in the national championship hunt, 7-8 never belong.
I wouldn't go more than 6... All power five champions plus the highest rated non-champion unless a group of five champion is undefeated. No independent teams allowed.
Group of five champion or the highest rated non champion is always the 6th seed. First two seeds get a BYE, the first round is on the higher seed campus. All conferences have no more than 2 OOC games and all games must be vs a power five or group of five team.

The committee would be abolished and the old BCS rank would be used to determine the highest rated non champion if there isn't an undefeated group of five team.
This year it would have been,
(6) UCF @ (3) Oklahoma
(5) Washington @ (4) Ohio State
(1) Alabama vs (4)/(5) Winner
(2) Clemson vs (3)/(6) Winner
I wouldn't be too upset if I was the Temple AD, that 4 million buyout will be nice.
How I would see past playoffs in this model

2014 Playoff:

(6) TCU @ (3) Florida St
(5) Baylor @ (4) Ohio St
(1) Alabama
(2) Oregon

2015 Playoff:
(6) Ohio St @ (3) Michigan St
(5) Stanford @ (4) Oklahoma
(1) Clemson
(2) Alabama

2016 Playoff:
(6) Western Michigan @ (3) Penn St
(5) Oklahoma @ (4) Washington
(1) Alabama
(2) Clemson
2017 Playoff:
(6) USC @ (3) Clemson
(5) UCF @ (4) Ohio St
(1) Alabama
(2) Oklahoma


I don't think you can seriously say this would be worse than what we had/have.
I think you can make a case for a 6 team playoff. It's not a real playoff if it doesn't include the champions of the various conferences. So have the power 5 conferences get an auto bid and the 6th seed goes to the highest rated non champion OR undefeated G5 champion if there is one. Leave ND out completely, unless they join a conference. 1st "play-in" at home. Top 2 seeds get a BYE. 9 Game conference schedule, 2 OOC Games per year. National Champion plays 14 games per year or 15 games if they are in the play in.

This year it would have been,

(6) UCF @ (3) Oklahoma
(5) Washington @ (4) Ohio State

(1) Alabama vs (3)/(6) Winner
(2) Clemson vs (4)/(5) Winner