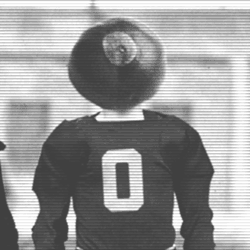 NewYorkBUCKEYE
---
Member since 11 November 2010 | Blog
Favorites
SPORTS MOMENT: 42-39
COLLEGE FOOTBALL PLAYER: Beanie
COLLEGE BASKETBALL PLAYER: The Villan
NFL TEAM: Giants
NHL TEAM: Rangers
NBA TEAM: Knocks
MLB TEAM: Yankees
Recent Activity
They did just huddle and decide to over turn the original call and count the basket
I was at the game . . . I coach a girls team, we played in that arena in the semi finals two nights before. I decided to go back with my family to watch the boys championship . . . It was an amazing experience. Really cool to see it getting so much press.
Well said - as always Alex - maybe I just REALLY can't stand Alabama
Sorry to bring this up, but did anyone happen to catch Cris Carter wearing an Alabama shirt on ESPN during one of their segments yeterday on off season WR lock out workouts? Did anyone else catch this and make them mad as well? What, so your son can't cut it at tOSU, fails out (your alma matter) jumps on at an SEC school where they'll take anybody regardless of grades and you're wearing the emblem on national television as a sign of support for all that is wrong? Granted we haven't been shown in the best light recently either - but come on, where's the loyalty?
Off to the Arm Pit of America - also the Carjack capital of the USA! (I'm taking the train to Newark) GO BUCKS!
Hightower is a disaster - he wants to make the call that will put attention on him as opposed to doing what is right - I also dont' care if it says Michigan across a basketball jersey - I still hate them.
I haven't had a smile on my face like this since the Sugar Bowl (sorry to bring football into this)
I think I'm about to pass out
I thought the same thing - as much as I hate to admit it - I love that someone else thought that too
I love stuff like this - being from NY and having moved back since, I am always reminded of how truly a place like OSU is. I run into alumni all the time here - and everyone speaks the same way. We played Hang on Sloopy at my wedding - not one person was from Ohio, but everyone got involved with the O-H-I-O dance. When I go on vacation and wear and OSU t-shirt, I always get an O-H. I still remember the first time the band took the field and having every hair on my body stand straight up. I'm proud every day to be apart of the best university in the world
Is anyone concerned about how many offensive rebounds we give up?