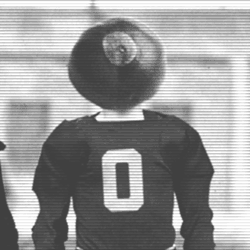 NewEraBuckeyes
---
Member since 20 December 2012 | Blog
Favorites
SPORTS MOMENT: Watching OSU win the National Championship!!
COLLEGE FOOTBALL PLAYER: Braxton Miller
COLLEGE BASKETBALL PLAYER: Aaron Craft
Recent Activity
I thought I heard it was tib/fib?
But from the player reactions it just sounds like a bad break in general, so I would guess red shirt. Assuming OSU makes the playoffs, IF he has made a full recovery I would guess it be his choice. My gut says we won't see him play until next season.
Just another reason for Alabama's players to run out of bounds!
I agree with all the points you made Cosmo, and for the longest time I thought JT should be starter. Lately I've been 2nd guessing myself. As good as JT is, this isn't about stats, reading defenses, presence.... It's really about who makes OSU the best team they can be. This is where Cardale has an argument. There is 1 major thing Cardale does that IMO affects the games more than anything: the deep ball. At any given moment, Cardale can sling it 60+ yards downfield and defenses were forced to defend it. That REALLY opened up the offense because the defenses were so stressed in the secondary.
Agreed! 3 Floyds is VERY good!
I searched for the link and its Mekka don, but yes, this was posted a few days ago.
The deep tissue massage is a great idea, however I will mention one thing. As someone who has had moderate to severe back pain for over 20 years, I can honestly say my best relief outside of shots/surgery was a combination of chiropractor and massage. If you have a lot of tight muscles and go to the chiropractor to get adjusted.....those muscles can pull your right back out of place. I always found it best to get a massage first to loosen the muscles and then get adjusted. Just my 2 cents! Good Luck.
Agreed! LOVE stadium mustard!
Just had an alert from the Score that Spence was declared permanently ineligible by the Big Ten. Anyone else heard this?
Beat me to it! Why was C. smith even still in the game at that point? The WR depth is good enough to take him out! And why in the hell didn't Curtis Samuel play more? He was great on a couple plays, so they took him out....
You?!? I remember knowing all the players from the 94-95 seasons! Man time really flies!