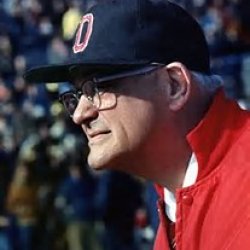 NEWCOMERSTOWN
---
from Newcomerstown, Ohio
Member since 04 September 2014 | Blog
Favorites
SPORTS MOMENT: In the Shoe for the 1972 win over TTUN. Gradishar and Middleton were on fire.
Recent Activity
I think the Clown Show of 2015 was sitting upstairs. I wonder what the plan is to deal with that? Continue to put two up there?
Maybe there's something to be gained by all of our QB uncertainly and lackluster performances (pre-PSU). Many of the poll voters have lost confidence in us. Maybe the Committee will see it that way, too. If they leave us out of their first top four, wow, what a locker room motivator. Then, win all of our games and emerge in the end. I see value in being snubbed early. Let's embrace it.
I'm with you. I think UFM is trying so hard to get so many talented players engaged that the offense hasn't been able to establish any consistent chain-moving rhythm. This might just be an early season problem, but by the time we get to Minnesota on Nov 7, we'd better have decided who the top guys are and let them play ball.
I was born and raised in Newcomerstown, and have been back there twice in the past three weeks. I've been in Atlanta for 35 years.
I have a different take on the selection of JT as a captain. I think it makes it more likely that Cardale will be the QB starter. JT's leadership and team-first attitude has now been recognized through his pick as captain. Sure, he'd prefer to start, but he's already been honored in a huge way. With his longer career horizon as a Buckeye, he can handle the disappointment better. I think it's Cardale at VT. JT sees a lot of duty, but he's the guy for next year.
Play ball there under Ron Hurst?
I agree. Tuscarawas County is only three counties south of Cleveland/Cuyahoga. I always felt we were in the outer orbit of Cleveland.
In view of my screen name, I figured I'd better weigh into this discussion. I grew up in Newcomerstown and lived there pretty much until I moved to Atlanta in 1980. I would take issue with the idea that everyone in Newcomerstown knew Woody Hayes and that he hung out there so often. I did see him in action there on several occasions, but he wasn't there often. I saw him more often as a student at tOSU, which I was in 1971-75 and again from 1977-1980. Most notably for me, he stopped by my brother's hospital room at the Ohio State University Hospital. (It wasn't the James Center back then.) My brother was a good football player, seriously injured in our homecoming game against Ridgewood in 1973. Coach Hayes came by to visit him and our family twice, once leaving a signed edition of "You Win with People." Shortly after the Clemson debacle, I spotted Woody walking through the McDonald's area in the old Student Union. I called out to him and he stopped. When I told him I was from Newcomerstown and that we were behind him, he paused to chat with me about people we knew in common and asked how they were. He was always a gentleman in my presence, and expressed a real interest in life back home. He'll always be a hero to me.
What's the take on Finotti's ability to pull talent to TTUN? Will Lombardo be able to stop it? Is Lombardo inclined to feed talent to the Buckeyes? Anyone know where his allegiance is likely to lie?
The 2014 Silver Bullets were only 5th and 6th in the conference? Incredible. That's certainly not what we were seeing in those last three games. Can't wait to get the season started.
What I like the most is to see a Duke grad choosing tOSU for his graduate studies.
We have an all around great university!
Woody Hayes, from my home town.
I'm tired of the drama. Pining after Guarantano must send a terrible message to Wallace. Lock down Wallace and be done with it.
This is my favorite list, too. We must be Buckeye contemporaries.
I agree. I'm tired of the high school theatrics with Guarantano. Let's be thrilled we might have a JT clone on the way.
It worries me when I read that someone thinks we will waltz into Blacksburg and blow away VT in game one. I do expect to win handily, but VT is very well coached. They and their fans will be sky high. And we will be battling the over-confidence that comes with being the defending NCs. Makes me lose sleep already. And it's only April 6.
For so long as we have UFM at the helm, we can afford to let other teams flood the market with early offers and not follow down that path. He and his coaches have an uncanny knack for flipping the kids we want the most. Without UFM, I'd be much more concerned. Hopefully before we have to worry about that scenario, the rules will have changed to get this under control.
My family phone number growing up was 498-6686.
Reminds me of the discussion surrounding Curtis Grant this time last year. Would the former top recruit turn it around in time not to be overtaken by the new kid on campus? Grant turned it around and produced.