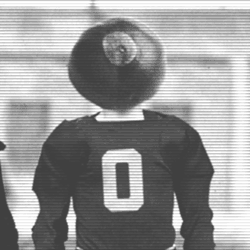 Netbuck
---
MEMBER SINCE November 25, 2017
Recent Activity
Must be cloud based.
Agree, when Payton Manning went to Denver he pretty much installed his own system.
Kyle Kalis part II
I think this Blueprint thing is a smart move for them. It's an excuse with multi year potential. This year is the blue print, next year the construction, year after that the inspection, and so on. It can always be 'just wait till next year!'
I honestly feel bad for Dylan McCaffrey. He seems like a QB that could have flourished in another program. Between Harbaugh's loyalty to Shea and potentially being passed over now for another QB who has more eligibility left, he may not even get a chance to start.
They said TTUN couldn't lose for the 17th time in 19 years. Their team had the dedication, hard work, and relentless focus to pull it off. Hats off gentlemen, hats off!
Reloaded?
If they add Buckeyes, they'll become good teams. Just ask the Saints!
Agree. I think the receivers will be faster overall this season than they were last season.
I'm hoping William's is ready. If he has his routes down and hands ready the speed he flashed last year will be deadly.
Thought I'd leave this here. A good look at how preventative measures by younger, healthier people can have a huge impact for the health of older or more vulnerable populations and the healthcare system overall. https://www.livescience.com/preparing-for-coronavirus-is-civic-duty.html
Because those people leave the game and go to their home, work, school, etc.
For me, the key point is that coronavirus deaths will be additional to other causes. There will still be flu, pneumonia, etc. but now there will be another, additional set of deaths attributable to this that are largely preventable. It's worth taking steps now if it can save millions of lives just in the US. The other concern is the scale. Our healthcare system today is superior to most other countries. But it still relies on having available beds and medicine. You don't design the system for pandemic. This is another reason to take serious preventive steps early. As long as the number of critical cases are low, it should be manageable within the healthcare infrastructure in place in the US.
Lots of major business conferences being cancelled right now. High budget, high profile events not happening due to coronavirus.
Guess that means Burrow should stick to the non-bayou spelling of his name /s
I think they are shooting for 2nd place with a chance for first if we have a bad year. Wasnt long ago that was who they were. I'll take MSU beating TTUN and PSU on a semi-regular basis. Besides, they're at least spending money and trying (looking at you Rutgers and Maryland).
No comparison. MSU is much more committed to football. There have been times when the CU administration acted like they didn't even want a football program. Plus B1G money, facilities, recruiting all much better.
+1. And colorado is in a weak recruiting area compounded by the fact that the few top recruits they do produce leave the state to play elsewhere - Christian McCaffrey being the an example. The Alabama punter in 2014 was another.
Tom doesn't want that life.
Agree. Pre-CFP the big bowl games stiff felt meaningful. For a program like tOSU the Rose, Fiesta, cotton, Sugar, etc. were big time games. You were disappointed when you got to the second tier like the gator, citrus, etc. Now anything not in the CFP feels like a consolation prize. I'm sure its the same for the players. Look at all the comments in this thread on the bowls being meaningless exibition games. 10-15 years ago they were a huge deal, a chance to put school and conference pride on the line and show midwest vs. south, or midwest vs. west.
I think people like the playoffs but I think that, overall, they're bad for college football. They're bad for the teams that won't make the playoffs, they're bad for the post season. Obviously they're increasing the gap between the haves and the have nots which reduces parity. People used to complain about split championships and debate the 'true' national champion every year, but they watched all the games including the bowls. I don't think that trying to make college football more like pro football has been good for the sport.
I dont get going from the #2 school in a talent rich state to the #2 school in a poor recruiting state. I know money, P5. But it seems like there are lots of places where you could succeed more easily. Even a G5 job in Florida or TX would be easier recruiting than MSU. If he stays at Cinci and does well he could have a shot at ND in a year or 2.
So ... you called what he did for the MSU offense last season 'coaching'? /s
Chris Ash hopes you're right.
Still Kentucky.