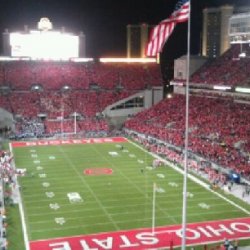 NeilAve
---
Member since 31 October 2013 | Blog
Favorites
COLLEGE FOOTBALL PLAYER: Malcolm Jenkins
NFL TEAM: Peyton Manning
Recent Activity
i'm like kid on christmas eve full of excitement
Brady is thinking 'Life comes at you fast' while standing next to Mattison lol
I'm ok with this. Get rid of some of our garbage out of conference games... sheesh..
This kid just can't catch a break....
couldn't agree more. thats what college football is all about.
thats a shit load of mulch to spread by wheel barrels... gives me a little anxiety lol
I would stand up and applaud good sir.
I'm dead just watching....
How TF are we favored by 2?
sometimes it's better to be lucky than good :)
'Like running from a dog man'
Meyer could his Natty Champ rings on and use them as knuckles lol
If we wouldn't have missed on Watson we may of never gotten JT and I'm pretty happy with JT and what he's done for this university and this football team over the years.
I'd hate to see what Alabama would do to Penn st if they actually got in
I see what you did here +1
What'd I've give to go through the 5 star OSU recruiting experience ...
Easy there sunshine. Pump the brakes a little bit.
the ugly head of the Buckeyes growing pains is showing itself right now. we'll get past this.
I'm glad I read this this morning instead of last night, I would have been riddled with nightmares!
Completely agree .... Let's move on
Buckeye fans stake burning reactions are funny. Urbans Nat Champ teams all had one loss in the past.
Side note: Hunts Brothers pizza is not thattttt bad
why can't we have both? early for kegs and eggs and 3:30 kick off. sounds great to me!