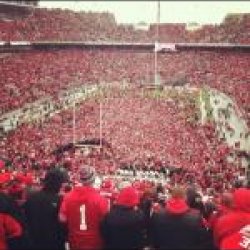 NCBuckeye2011
North Carolina (via Toledo, Ohio)
Member since 17 September 2013 | Blog
Favorites
SPORTS MOMENT: High School Football Senior season (13-2)
Every Ohio State victory over Michigan
COLLEGE FOOTBALL PLAYER: Braxton Miller, Ryan Damn Shazier, Troy Smith, Teddy Ginn Jr, Aj Hawk, James Laurinitis, Malcolm Jen
COLLEGE BASKETBALL PLAYER: Aaron Craft, Mike Conley Jr, Greg Oden, Doug McDermott (went to middle school with him), Sam Thompso
NFL TEAM: Cleveland Browns
NBA TEAM: Cleveland Cavs
MLB TEAM: Cleveland Indians
Recent Activity
Oh come on, you would really take 40 over 80? Sunny and 78 is ideal
I applied for mine 9/28/16 and was told expect 4-6 weeks. It came in the mail much sooner though, sometime mid October, about 2-3 weeks.
He finished the regular season with 3 INTs but 2 of which came in the playoffs?
Solid year but Ramsey and Hargreaves were outstanding as rooks.
I'm actually a huge fan of the 4th coast. Which is clearly superior to the 3rd coast.
Yes obviously he's a seminole. Just pointing out that the Panthers would have some exciting receivers.
The Panthers may as well continue their trend and keep adding Buckeyes to roster. Tedd Ginn, Kelvin Benjamin, Philly Brown.....Braxton Miller? I know it's unlikely but man that WR corps would be fun to watch.
I live in Greenville and attend ECU, hail from the Glass City though. Love seeing B's getting that publicity they're like a folk legend here. That's quite a hike from Boone to Greenville, if you need a few pointers on where to stay/drink let me know. I'm that guy who was talking about outkast last week. 100 fire emoji
It was McNeil's like...5th season at ECU. No way he compiled that record with in only two years!
Perplexing indeed, so much for an unbiased jury.
Great point about the defenses loading the box. IIRC Peterson had his knee injury near the end of the 2011 season and subsequently ripped off a 2,000+ yard season while winning MVP in 2012. Played the 2013 season with no knee problems and then we all know what happened in 2014. I don't necessarily like the guy but he's a freak human being, and with a year off his legs/body might be fresher.
I'm only 22, fall Saturdays were always sacred in my household and I watched a lot of games while I was young. I remember the national title game as a 9 year old but was still too young to understand the full complexity of the sport. Guys like Mo Clarret, Chris Gamble, Michael Jenkins, Krenzel stood out to me early. I did not start watching religiously until about age 13, my favorite players to watch were:
Offense - 1. Ted Ginn 2. Troy Smith 3. Beanie Wells 4. Santonio Holmes
Defense - 1. AJ Hawk 2. Donte Whitner
Best- Bojangles, Cookout, Chic Fil A
Worst- Mcdonalds, Taco Bell
My condolences, that layup made, and lost people some today. I wanted so badly to pull the trigger on bucks -3.5 but had cold feet. I ended up taking VCU +2 1st half cause these bucks usually start slow, and that "havoc" D could have messed with them. Got greedy and doubled down on OSU -3 2nd half and boy did I get lucky.
Lost on E. Washington vs Georgetown though, can't win em all. *inserts bosa shrug*
Valentine hits the game winner on Valetine's Day
True, but they won't be on campus until summer
I really enjoyed 2009, mainly because I had a good group of real life friends and we played kickass online dynasties with 10+ players. Recruiting against your buddies for top rated prospects was awesome. We made it so there were 2 teams in each major conference (ACC, PAC10, Big10, Big12, SEC) and the team had to be on opposite divisions for CCG purposes. Luck of the draw screwed me and I had to choose an ACC team so I went with Miami. Broke a controller losing to the Ohio State guy one season in the national title when he converted a Brady Hoke-esque 2PT conversion to win it at the end of regulation.
XB1: xMassacre_011x (corny but hey I was 15 and it sounded awesome) I play FIFA15, GTA, and Halo
Nice seeing Ginn going up and using his hands, making a play as a WR. Nice catch
I'm actually studying there now, it's up to 51K and like you said, it's always packed
East Carolina is 2-0 in ACC play with wins overs Virginia Tech and North Carolina. They just happen to play in the AAC
ECU played South Carolina tough this past weekend. They also have a stellar quick passing game, it could definitely happen.
Played high school ball in the Raleigh area and every year Garner had the athletes. Solid RTP area school to pluck some players from, along with Hillside and Southern Durham.