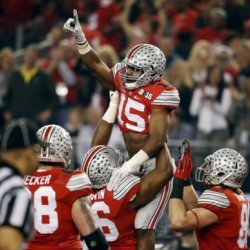 nburns18
---
Columbus, Ohio (via Tiffin, Ohio)
Member since 10 January 2014 | Blog
Favorites
SPORTS MOMENT: Watching Ohio State win the 2002 and 2014 national championship.
COLLEGE FOOTBALL PLAYER: Troy Smith
COLLEGE BASKETBALL PLAYER: Jon Diebler
NFL TEAM: Cleveland Browns
NHL TEAM: Columbus Blue Jackets
NBA TEAM: Cleveland Cavaliers
MLB TEAM: Cleveland Indians
SOCCER TEAM: USA
Recent Activity
The helmets are matte black with the neon green buckeye stickers (same ones they wore on the alternate helmets the past few years)
Motsag.com getting some love.
From my hometown in Tiffin. Best chips in the world
David Blatt says although he is in the building, Urban Meyer won't be giving the team a pregame speech tonight. #Cavs #Buckeyes

— ESPN Cleveland (@ESPNCleveland) June 16, 2015
His presence should still be enough
Did he speak to the team before Game 3? I knew he was there but didn't think he would be in the locker room at this stage.
Minnesota will beat Wisconsin
LeBron has been by far the most valuable player in this series. Without him, Golden State cruises to 4 straight blowout victories. He is averaging nearly a 40 point triple double in the NBA Finals. This performance will go down as one of the greatest in Finals history. It is not his fault the rest of his team is hurt or sucks. Giving that trophy to anyone else would be a slap in the face.
One of my favorite parts of game week is when the 11W game poster is released.
Michigan is actually a beautiful state. I went on vacation there a few years ago and Lake Michigan was crystal clear water. It was honestly like being in the Caribbean. Aside from being around there fans all the time, I would enjoy living there.
I am excited to see how Harbaugh does this season with Michigan. I will tune into as many games of his as possible. It's always more fun for the Big Ten and us if Michigan is good.
Agree. Block O is very underwhelming.
I think we can all agree the OH-IO chant is awful. Being a student at Ohio State a few years ago, every single speech or moment on campus had to start with it. Gag.
I agree that Dontre Wilson has underachieved significantly and hope he can make something of his time here. Jalin Marshall is everything Dontre was supposed to be.
I feel bad for Brady Hoke. Yes, i really do. The guy got his dream job and sucked at it and will always be looked at in Ann Arbor as a failure. I hope he lands on his feet.
I fear that Cardale has let success get a little too much into his head. He's been everywhere these past few months and I hope that he understands what is still in front of him before the NFL and competing against 2 other great QB's. Speaking of that, J.T. will be the starter with Braxton and Cardale rotating in a lot. Write it down.
I pray that we use the playoff jerseys for this season's uniforms. And i am not at all excited about all black unis. That will be terrible.
The confessional is one of my favorite parts of 11W.
35% of Buckeye fans say Woody Hayes is Ohio State's best coach, while 30% say Meyer
Woody won 5 titles, Urban has 1 for the Buckeyes and 3 total. I love Urban but how we soon forget. Woody is still by far the greatest.
Almost as bad as when LeBron told his mom to "sit yo ass down"
Cincinnati has always felt like the weird step-child in the state. Cleveland teams have been historically very good (expect they can never win the big one) Browns in the '60s and '80s, Indians in the '90s and Cavs in the '00s and '10s. Columbus is home to the Buckeyes who are always dominant. But Cincy just seems like that other city. They should just go join kentucky. They root for them over ohio state anyways.
The crowd at The Q will be epic. Urban will be in the crowd as well. Gonna be a great night for the city of Cleveland.
I will say this is a great looking place and would love to have something like it. But i had to laugh when i saw the huge fitness room with a lone treadmill in it. That thing probably still has the tags and stickers on it. I just imagine it smells like sausage and bratwurst farts in there.
13 helmets, 0 National titles
Exactly what I was going to say. Was huge for our program as was the Sugar Bowl win over Arkansas.
I expect their to be at least 5 ohio state QB accounts within the next week.