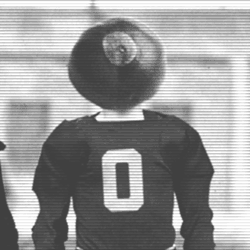 navybucknut
---
Navy (via Columbus)
MEMBER SINCE February 28, 2019
Favorites
COLLEGE FOOTBALL PLAYER: Ryan Shazier
COLLEGE BASKETBALL PLAYER: Aaron Craft
NFL TEAM: Browns
Recent Activity
This literally made me LOL at work!!!
Dude, I agree. It was so egregious it's not even funny....
Let's get a good start and keep that momentum until the end of the 13th of Jan!!!
Merry Christmas y'all!!
Great research and good write up! I just want to see out Buckeyes do what they've done all season, and that's win!! Go Bucks!!!
If we/they didn't win their conference, it would have at least given another team a shot. You win your conference and you're in. Won't have another Bama or Us getting in unless at large if you don't play well enough to win your conference. I like it!
Let me tell you, my coworker and I had that same foreboding going into that Purdue game. I figured it would be hell, and it was. I don't have that kind of feeling this week. I just want to see a clean game by our "O" and the Predator get after Patterson. It'll be a good game, but based on watching how we play versus the teams they've played, we SHOULD be able to win this going away.
That book is amazing!!
So, anybody hear of defense??? I played better in pickup today than our boys on the wood have played tonight... I am pretty sure Holtman is going to have some words to our guys about hustling back on D. First half grades out as a F.
That to me is quite a negative take. I believe we should give Day a chance before saying that. You can have a run game and have a pro passer. Your scheme just needs to take it into account. We did not play well on the O-line last year for run blocking, therefore, we struggled to run the ball.
I agree, Dinich doesn't know shit, but if it is good things about The Ohio State, I will take it, lol!
Litterally just finished this read. I love how we all came together and did what we did. I really do wonder why Anderson left Wiscy the way he did, made no sense. Hope we do the same thing again this weekend!! Go Bucks!!
I know an article earlier in the day had some bits drop that the hurry up tonight would delve into the RB recruiting, so maybe we'll find out soon!
He definitely has speed. He is a freak of an athlete and will be awesome for the next two years. He is a three and done player for sure!
So, reading the 2020 recruiting page, it seems that Bradford had a less than pleasant visit. Did it seem to you that it was the staff or was it him? Thanks for the hurry up Zack!
Same issue and I am on android. I try to close the ad and it gives a report ad instead...
With how well we are running and how well the backs have been performing, why are we all "the sky is falling"... If the staff feels a RB will perform well in our offense, then so be it. We won't hit every recruit we want. The culture is important as well as the fit with our coaches. Not to mention, if we are doing it the right way and still doing as well as we are, then I think we have no room to complain.
Jesus Werner hit that RB like a train!!!
I agree. He did what he could based on what was available. He wasn't recruited to be the starting QB, he was the depth that got exposed. Go Buckeyes!!!
Thank you for getting the hurry up going again!! Welcome aboard and I look forward to your insight! Go Buckeyes!!
Thanks guys for the response! I am definitely not for punishing kids for their decisions either, and these are big decisions. I was just going off of what others had said about how he kicked us to the curb and such. If the coaches want him and he wants to be a Buckeye, then awesome!
With how Knighton committed to them over us, why would we keep kicking along his street? Based on the threads I've read, it seems we would have better options and guys that want to be buckeyes...
Really enjoy seeing Teague run hard. He doesn't just run hard, he runs with purpose and isn't slowed by attempts to "arm tackle" him. Another note, Dobbins, while ran hard, did have an "almost" fumble. I hope he isn't losing focus to try and hit home runs and not thinking about ball security. I am excited to see how we perform against a spread offense that Indiana will provide. The side line to side line speed we are seeing now will have to be on full display this week to prevent the big plays.
I'd agree, but they are still kids and can change their mind at the drop of a dime. Again, I think we are out unless something happens to Texas that would make him think twice.
Bijan!? With how empty the Texas stable is and the supposed family push, I think that ship has sailed.