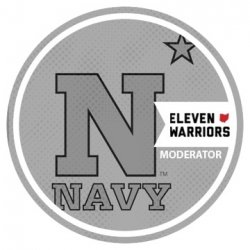 NavyBuckeye91
Moderator
---
Dayton (via Columbus)
MEMBER SINCE August 27, 2014
Born and raised in Columbus, OH. Grew up on campus at tOSU (father was faculty), went to my first game when I was six, and I have loved the Buckeyes ever since. Graduated from the US Naval Academy and served on active duty for 26 years.
Favorites
SPORTS MOMENT: Watching JT Barrett lead the biggest comeback of Coach Meyer's career to beat Penn State in the Shoe.
COLLEGE FOOTBALL PLAYER: Archie Griffin
COLLEGE BASKETBALL PLAYER: John 'Hondo' Havlicek
NFL TEAM: It hurts too much to be an NFL fan in Ohio.
NHL TEAM: Blue Jackets
NBA TEAM: Cavaliers
MLB TEAM: Reds
SOCCER TEAM: None - I'd rather watch lacrosse.
Recent Activity
Loved the Outside article about the Russian Arctic expedition. Nothing like leaving civilization behind for a few weeks, and facing some hardship to ground yourself. I doubt most Americans would be willing to ditch their phones for 4 weeks living at home, let alone board a 60-foot sail boat in the Arctic.
But does he have to stones to chase that third pitch and go down swinging, or stay put and go out like a frozen pizza?
Urban ran his teams much like he ran himself. Hard. It generally burned him out every so often as well.
Your logic is impeccable. Which is why, I believe, the lawyers at the NCAA eligibility office will find a way to F it up.
one in northern Michigan
I wouldn't pay one dime of property tax to that state.
Minnesota or Maine? No problem.
I was just going to post the Lawrence gif.
Are we not doing phrasing?
Didn't realize that Archer was working for the CDC.
Agree with your point about basketball. Obviously the NFL is the best comparison for CFB.
That being said, I still believe the amateur vs pro issues will be the overriding concern. Too many, expensive hurdles for most colleges and universities to expend the effort. The juice won't be worth the squeeze in the end
Baseball is nothing like football in terms of opponents breathing in each others' faces.
Pro is nothing like college in terms of resources that can be spent, and measures that can be taken to isolate players/coaches from everyone else. 32 teams vs 130 teams. 53 player rosters vs 100 player rosters. For profit vs not for profit. Paid athletes vs scholarship student athletes.
I don't think the success of MLB is going to matter at all to CFB or university presidents.
I thought Tressel's show cause was up in 2016.
If no one is playing sports, expenses go down considerably. No travel, no employees for games, etc.
They have a choice to play. Schools won't stop operating if they lose sports.
The same could be said for John Gagliardi. Wo first coach in CFB history with 489 wins. Multiple NCs at the DIII level.
https://en.m.wikipedia.org/wiki/John_Gagliardi
He was offered the BYU job when Mindenhall left a few years ago. Turned it down to stay at Navy.
I'm looking forward to seeing it.
That was my sole mission for most of my career. Sub hunting is fun but hard.
I wouldn't say Eddie Robinson is "underrated," though.
Ken Niamatulolo, Navy, 2007-present. https://en.m.wikipedia.org/wiki/Ken_Niumatalolo
Accumulated a 98-60 record, played in a bowl game all but two seasons with a 6-5 record, beat Army his first 9 attempts before losing and holds a 10-3 record over the rival, won six Commander in Chief's trophies, beat ND in consecutive years ('07-'08) for the first time since the 1960's, three seasons of 10 wins or more, three 1st place finishes in the American West division.
I don't think Coach Ken's brand of Spreadbone offense would translate well to other schools, but to accomplish that without a single 4 or 5-star recruit, at a service academy is pretty amazing. Iowa says Ferentz does more with less, but Coach Ken says, "Kirk, hold my chocolate milk" (he doesn't drink beer).
Florida's issue is the higher number of older inhabitants.
Those graphs are a week or more time late because they only use death certificates which can take a 1-2 weeks to be processed by various municipalities. If the CDC is still able to publish this data in the future, the recent upswing in daily total deaths (about 1000 per day, seven-day moving average) won't appear on this paricular graph until next week.
So, they should test on Monday and again on Wednesday. Unless these players are sequestered from the world all week, a negative test on a Wednesday might as well be meaningless.
And if a player tests positive on Wed, does that mean the team they played last Sat must also quarantine for 14 days, seeing as how they would also have had close contact with that player?