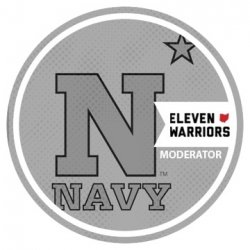 NavyBuckeye91
Moderator
---
Dayton (via Columbus)
MEMBER SINCE August 27, 2014
Born and raised in Columbus, OH. Grew up on campus at tOSU (father was faculty), went to my first game when I was six, and I have loved the Buckeyes ever since. Graduated from the US Naval Academy and served on active duty for 26 years.
Favorites
SPORTS MOMENT: Watching JT Barrett lead the biggest comeback of Coach Meyer's career to beat Penn State in the Shoe.
COLLEGE FOOTBALL PLAYER: Archie Griffin
COLLEGE BASKETBALL PLAYER: John 'Hondo' Havlicek
NFL TEAM: It hurts too much to be an NFL fan in Ohio.
NHL TEAM: Blue Jackets
NBA TEAM: Cavaliers
MLB TEAM: Reds
SOCCER TEAM: None - I'd rather watch lacrosse.
Recent Activity
Thanks for the rec! I've been looking for something new to read.
I'm thinking Brutus as the Grim Reaper would be appropriate this season.
I think Meyer tightened up in some of those big games, and it rubbed off on his players.
Yep. My mistake. Thanks for the correction
That may depend on what happens with Wilson. If he's offered a HC job somewhere, would he take it and would Day offer the OC position to Hartline?
If We find a back that can give us 120 yards a game
You do realize that in a normal season, that would make this RB one of the the Top 10 Single Season Rushers of all time at OSU. Hyde is currently #10 with 1521 yards. Those kind of guys don't exactly grow on trees
Wrong again. The plural possessive requires an apostrophe.
Thus, "of all the games belonging to last Saturday, Ohio State versus Nebraska was the most watched" = "OSU versus Nebraska was Saturday's most watched game."
I think part of it is that OSU does not prepare for PSU the way it does for UM.
And, because PSU tends to view Ohio State as their primary rival, they focus on this game more than any other every year.
Giving an athlete information and allowing him or her to make a decision is not giving everyone a trophy. You want to dictate a specific behavior that is beyond the scope of a coach, teacher, mentor or leader. Why should a coach dictate that a player wear a knee brace? It's not a coach's position. Tell him what reps to take? Yes. Tell him how you want him to run the offense? Absolutely. Discipline him when he doesn't meet your expectations? Damn right.
But you've got this idea that needs to extend to whether or not he wears a knee brace. Please.
That's exactly how I felt about it.
Looks at 2016, 2017, and 2018 OSU schedules. Sees Clemson, Iowa and Purdue scores.
Site's still alive and kicking.
I just laugh that football still uses two guys with sticks connected by a chain to measure first downs, but will then spend 10 minutes reviewing a dozen camera angles on a fourth down spot. We live in an age where they use lasers to measure your glass shower doors, and football still has two dudes running up and down the field with two sticks and a chain.
I'm sure no one wants to spend the money, or trusts a sensor in the football (they go through a few balls in a game). But I agree there is likely a more sophisticated technological solution to this problem.
Meyer saw the writing on the wall and the type of player coming in.
Yeah, it probably had nothing to do with a significant health issue, which doctors informed him was made worse by the intensity of his coaching. I'm sure he was just fed up with the type of player coming in.
Kids need to be taught and told what to do
That is the very definition of being an authoritarian. And, as a coach and former military officer, I can tell you that you won't get very far with today's 20-somethings with that mindset. They'll respect you more as a coach and mentor, and ultimately stick with your program longer if you treat them like adults and not kids.
Why is it too early? It's never too early to score points that matter in a football game. And I'd take the percentages on a 25 yard field goal over a pass to the TE every day of the week. A game isn't decided in the fourth quarter. It's the compilation of plays and decisions made over the entire hour of playing time. Any decent coach will tell you that.
I wouldn't say that's the reason he missed, but rather what gave him the opportunity to miss it.
And if that's the route we're taking, the only reason IU had the opportunity to kill the clock is because PSU fumbled the ball on the 7 yard line with 0:55 on the clock. Otherwise, they likely end the half with either a TD or a FG. Either way, the game never goes to OT.
Sure, you can play that game all day. But, the OP is pointing to a dropped pass as the reason PSU lost, which happens more frequently than a missed 25-yard field goal. The point is PSU missed on an easy scoring opportunity that could've decided the game. Even if the TE catches that pass, Clifford could've bobbled a snap, thrown an interception, etc. Points don't come off the board.
Fitzgerald and the Cats pull off an upset versus Iowa (-3.5 points) and improve to 2-0.
(BTW, Northwestern has won three of the last four meetings with the Hawkeyes.)
It's hard to win in the Big Ten.
There is no way to be 100% sure because you would need simultaneous cameras looking at ground level for out of bounds (when it hits) and a camera 100% down the goal line to see if it broke plane.
TV broadcasts have figured out how to suspend a camera over the field during games that doesn't interrupt play. Why not have a camera high above the goal line on a cable that slides from sideline to sideline, specifically for viewing directly down at the ball carrier?
Penn State missed a 25 yard FG to end the first half. Make that chip shot and we aren't talking about the fantastic OT ending to this game.
The game never goes to OT if Jake Pinegar (PSU's placekicker) makes a 25 yard FG to end the first half. Or, if he makes a 47 yard FG in the 3rd quarter.
I'm glad you aren't teaching my kids and aren't the OSU football coach. I want independent thinkers, who can evaluate information and make an informed decision with conviction, without some authoritarian telling them what to do. He's a grown ass man, he doesn't need to be told what to do with his own body.