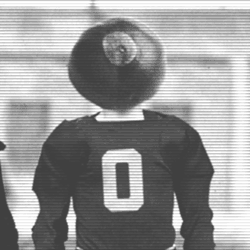 Natty Light
---
Member since 30 August 2010 | Blog
Recent Activity
impressed with the 5 mechanical engineering majors. big time commitment for either that or football. think 1 of them is a scholarship player...one class just decided they'd walk on to the team?
i love the description of Craft's "Norad-like defense" in the break down link in the 1st bullet point
why is Craft's butt so big in that picture?????????????? I feel like I should make the "dat ass" face
how much are these rings/pants worth aside from the sentimental value? are they actally made out of gold/silver/gems? we shouldnt be giving things like this to "amature" players anyway if they arent allowed to profit from their celebrity.
i think boom will go pro. he had a great season compared to what we all thought his talent merited, and he faces losing his starting spot next year. 3-5th round pick depending on his combine? hes not very fast or agile, but a smart runner with good vision.
i dont think pryor will take a mid round pick as an athlete when he has 1st round potential (a la tebow)
posey has had a poor season and a lot of drops, plus he will be a clear #1 reciever next year
think adams will not accept a mid round pick either, he has about 4 good games in 3 years of being a revolving door, but they have all been lately and he is a lot better than his body of work looks.
i think guiton beats out bauserman. maybe braxton. and we have a good shot at going 5-0. we won't notice losing boom, marcus hall and norwell are beasts and will do ok at LT, we will have a few new WRs with a new QB, and will just run 60 times a game. the D will have a chip on its shoulder and pull together trying to win the games themselves.
miami sucks, MSU won't be nearly as good
i loled. bball season now
everybody who now hates them, just remember that not everybody is as sentimental or as big a fan as you are.
playing football is life for these kids, not being an OSU fan. pryor's got OSU stuff tatted all over his arm, to show his fandom. when is he ever going to wear a giant ring around? and you are going to tell poor kids they can sell $1000 of "their" stuff they don't need? its nothing more than them being dumb, arrogant thinking they can get away with anything, as college kids are.
he didnt really say anything beyond what is already known,
there are reports in columbus (dispatch and abc) that something improper may have happened ... if these are true, it may be serious. what herbstriet said is all true if nothing wrong happened. we'd rather not have publicity at all but news places always want to be the 1st to break a story. even if the story is a rumor
the names of people who have recieved tatoos from the place have also been released. Terrelle Pryor,*Dan Herron,*DeVier Posey,*Chris Fields,*Nate Oliver,*Travis Howard, Mike Adams, Jonathan Newsome, Michael Brewster and Jordan Hall.
the rest of the buckeyes might not like it, but as a reported he has to acknowledge that during meyers 6 years in gainsville, he had the best team in CFB. 2 NC's, best winning % during that time even after a 7-5 season, players in the NFL, etc.
yeah, ever since we got lit up by florida's "team speed" I think Tress has been going after the more athletic linemen, including offense.
sad thing is there were probably 10 people on here posting how we needed to come out with heyward, larimore, hankins, simon as our front 4, with maybe williams on the edge too.
They had an extra tackle in a lot of the time, and had a huge size advantage on the inside.
408 bob (aknowledges dirty look from 407 dude)
Steve Miller is #4 DE on scout...the only site i trust to not be SEC homers. Clowney would give us the 1 and 4 DEs and 5, 10, and 32 DTs. plus braxton...sounds like a NC class to me.
no need to pray to the football gods. just tell tress to call plays with boren blocking him, the slobber-knocking is automatic.
I also want to see him in the flats more if the D is in zone...he can bulldoze a corner and run for 15 yards.
I think Boyd might have seen Braxton Miller and the QB from glennville- cardale jones- as both bucks leans threats to replace TP, and worried that he would always be number 2 if one of them passed him in the depth chart.
I think Boyd might have seen Braxton Miller and the QB from glennville- cardale jones- as both bucks leans threats to replace TP, and worried that he would always be number 2 if one of them passed him in the depth chart.
he'd at least play a lot of snaps as a #3 behind fellows/williams. look how much time Hankins is getting behind the beastly DT's we have. nobody ranked him higher than a 3*.
somebody smack kyle upside the head.
i think people looking at last years stats are overestimating wisky. they outgained us by a ton but had a few more possessions. Tress had a solid lead the 2nd half and a d line causing havoc in their backfield. -> classic tresselball. stay in deep cover 2 or 3 to keep them in front of you, run the ball up the gut 3 times in a row, punt. Tress had no reason to take more risks on O or D
with TP's passing development and ability to roll out, we can get by. it would definately help the game to throw in a reliable "Dave" like 5 times a game and a few fake Dave bootlegs. I think that has been TP's most successful play call so far over his career, because it makes the D worry about the power I run game, TP scrambling, and the PA pass all in 1 play. defenses normally just have the weakside LB or end stay off the play a little so they are in position to counter a bootleg...TP's ability to outrun that spy lets him stretch the corner and safety on that side into committing to the scramble or the pass.
re: Doug predicts gloom and doom for OSU in 2011
anyone else think we could be better next year...looking at the recruiting classes this year's juniors on paper are a lot stronger than this year's seniors. Rolle, Homan, Cam, Chekwa, Browning, Sanz, (+Boren) are a great sr class and have all probably overperformed their "expectations" coming in, but that doesn't mean anything worse about the guys backing them up.
especially given the offensive line, TP, younger recievers, another year to mature
at DB I'm hoping some of those young kids develop more, but we have very little highly rated talent in the sr class
i guess newsome is pretty good too if they want to keep sabino red shirted in a MNC contending year. wonder what happens if someone is out in a big game
yeah, he isn't perfect, but he is a 3 yr starter and the best we got. not bad for a 3* recruit considering the other people we have in the program.
Duron could be a very valuable addition next year. he does have some experience with pryor, and beat out a lot of other guys to be the 4th WR as a true frosh.
also there is no better place for a 2nd chance and getting on the right path than Tress and OSU. example: Tress reaching out to Clarett and having good things to say recently.
in b4 the richardson crew says he is better than ingram and will win the heisman this year