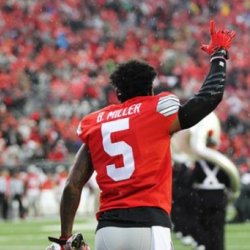 NationalChampions2014
---
MEMBER SINCE July 24, 2017
Favorites
SPORTS MOMENT: 85 yards through the heart of the south
Recent Activity
This is the correct take. Well done sir
Cannot wait to see him this season! He has all the potential in the world and I can't wait for OSU to show all the doubters wrong this year, this team could be one of the best in recent memory
I cannot wait for this season! He has all the physical tools and he sounds focused and determined to succeed
I would argue for Lejond being the class leader alongside Miller
If you watched Barrett play against any good defense besides PSU you could tell he was not a good thrower. All of Barrett's stats came against trash teams and screen passes/3 yard throws
Wasn't Proctor 33 last year? If so does anyone know what number he is now?
I would agree, but what about our running game? It was wayyyy worse than it should have been and penalties killed us all year
recruiting services ranked:
1.) 247 sports
2.) ESPN
3.) Rivals
Just wondering, what puts him ahead of Fields in your mind? Fields seems like the perfect qb and is said to be the best that many top level evaluators have ever seen
Having a pro style qb is a terrible excuse for an underwhelming run game
Yeah and Haskins was beaten out by JT Barrett. That argument isn't useful
Really doubt he would go to Okla, they got 5 star #1 qb recruit coming in, but he would be a great fit there
Fromm is a sophmore right now, so Mathis would have to wait 2 years max for him to leave
I feel bad for Martell due to these circumstances, but you cannot say no to Fields. It would look terrible for OSU in general but especially in recruiting. Fields' potential is limitless, he is literally the player you would create in NCAA football. True dual threat with size, speed, and a cannon. I refuse to get my hopes up too much but if we get him it would lessen the sting of Haskins leaving for NFL.
Are you sure? He may have unliked it because I do not see it in his likes
Steele is going to play rb. Not sure why people are still confused about it
I mean Barrett was the worse qb... it isn't even an argument...
Whats probably the most frustrating is the fact that the Purdue game was brought up as a trap game in the summer....and like every single week including during the week leading up to it and it was still a respectable game until the 4th quarter. I wonder if the score would have looked any different if brendon white was playing instead of pryor.
I agree, I would think it would be closer to Braxton-like
Malik Harrison maybe? Hopefully no lb is matched up against him in coverage though
He is amazingly shifty and explosive. Limit him to less than 75 total yards and have our safeties take good angles and I think we win by 20+, but if our defense doesn't improve...will be a long stressful night
I think it's only a matter of time until he sheds interim tag, I think he is a big boost to the wrs and has them playing the best they have been in a few years. Really hope he's here for many years.
Watson left the first year he could, but I don't blame him considering it worked out perfectly for him and he had nothing left to accomplish in cfb