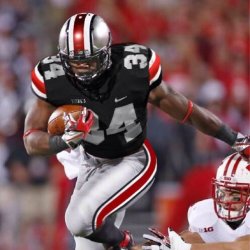 NatiBuck
---
Columbus (via Cincinnati)
Member since 05 June 2014 | Blog
Favorites
SPORTS MOMENT: Storming the field at the end of the 2012 season
COLLEGE FOOTBALL PLAYER: Carlos Hyde
NFL TEAM: Bengals
MLB TEAM: Reds
SOCCER TEAM: Manchester United
Recent Activity
I think most people would put the blame more on Thad than on Loving. Anyone that blames Marc for not being good enough should go one step further and blame the coaches for not developing his talent. That being said, as I referenced above, I think there are some things that were 100% in Loving's control for why his career has turned out to be underwhelming.
"Highs and Lows: A Discussion of Marc Lovings' Career Off and On the Court... repectfully"
Wonder if Trey Smith has read this? It would be a shame if someone were to tweet it at him...
Any explaination on the crystal ball, Ellis? Do you have info that no one else has or is it based on speculation of what everyone else in the industry has?
Any explaination on the crystal ball, Ellis? Do you have info that no one else has or is it based on speculation of what everyone else in the industry has?
A lot easier to get excited about a top 10 match up at night that a noon kick off against North Western. Either way I agree the stadium was as loud last night as it's been in a while
I agree with you to a point. It has happened a lot under Urban but not recently it happened all the god damned time when Kyle Clinton was doing kick offs but ever since he's been gone we've been doing pretty well with it I would say.
That might be the worst song ever written
To clarify, their issue isn't with the flag or the anthem itself, it is with a system that they percieve is set up against a lot of Americans. Protesting during the anthem is their way of drawing attention to the issues mentioned above.
Yeah, as someone who is around Zeke's age, I would be fucking mortified if my parents were out there saying this stuff in a place that my peers could see it.
I agree. I don't understand why his parents treat him like he's a child. Maybe there is a good reason, maybe there isn't. Either way it's kind of bizarre how involved in everything they are compared to other player's parents. They followed him to Columbus and anytime Zeke is in the press it seems like they are only one day behind him to expound upon or apologize for what Zeke said the day before, and then this whole thing happening yesterday. Not a big deal in the grand scheme of things but it seems to me like they need to let the dude grow up and stop trying to shelter him like he's 12 years old.
Khaled's early stuff was garbage with the exception of "I'm on one" which is a great song, and "All I do is win" which is probably just an okay song to be honest. Everything in between I'm on one and what he's pushing out now was pretty bad imo. His new stuff is his best stuff in terms of consistency I think.
All I do is Win, I'm on One, We Takin Over, For Free, I Got the Keys
Get educated.
Must be something in the water
I'd be fine if it wasn't I would rather the reps going to the younger guys, especially in the early season games
I thought it was interesting that when Meyer was listing off reciervers in the rotation today, he again didn't say Corey Smiths name after "forgetting" to say his name on monday doing the same thing.
Our own Andrew Lind just put in his CB for Jaylen to Ohio State. Andrew if you're out there, I'm skeptical that OSU has room for him in this recruiting class assuming we get Tyjon Lindsey and Trevon Grimes.
Probably going to be his last also
Yeah the 6th year of eligibility is what I was referring to. I was under the impression the Pridegon only had 1 year of eligibility with OSU. Is that not correct?
Is Malcom Pridgeon able to use a medical redshirt?
I agree that we aren't leaders for Harris anymore. It seems like he has made it known that he won't be in the class if Grimes is and it's looking like Grimes will be.
I don't get this comparison at all
why would you take a great running back and put him behind a garbage offensive line? He's just going to get hit 1000 times a game and probably get hurt. The safest pick the browns can make is Joey Bosa because he's obviously good and no Browns fans are going to complain about them taking an Ohio State player