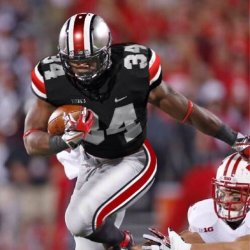 NatiBuck
---
Columbus (via Cincinnati)
MEMBER SINCE June 05, 2014
Favorites
SPORTS MOMENT: Storming the field at the end of the 2012 season
COLLEGE FOOTBALL PLAYER: Carlos Hyde
NFL TEAM: Bengals
MLB TEAM: Reds
SOCCER TEAM: Manchester United
Recent Activity
It's not a hyperbole. The NCAA would literally have to make the argument that someone calling him the n-word is not a big deal. There is no way they are going to do that. I think they would rather set the precedent that they think being subjected to racial abuse is grounds for a hardship waiver than set the precedent that it is not. That being said, I agree that the incident is probably not the primary reason for the transfer, but it is a good way to get the hardship waiver, because I think Fields knows the NCAA really isn't eager to fight this fight.
There is no way this waiver does not get granted. For the NCAA to deny the waiver would require them to publicly defend someone calling an african-american the n-word. I agree that the NCAA can at time be stupid, but there is no way they take that stance
Still wouldn't/shouldn't matter even if we did play them again. OU lost a close game to a very good team. The reason they got another crack at them was because Texas was so good. Ohio State got smoked by a garbage team. You've got to take care of your business. That's the rules of the game and Ohio State couldn't do it. Same as last year. Everyone is trying to make excuses or blame it on the global conspiracy, but it's as simple as Ohio State couldn't do what they needed to. It happened last year and it happened again this year. Win and your in.
Can we agree to call him inconsistent then?
I love Berry with the ball in his hands but he CANNOT block to save his life. There was a series of plays during the Oregon State game, (I think during the second quarter) where me and the buddy I went to the game with saw Berry whiffed on his blocks like 3 plays in a row. There were other plays where we noticed he missed his blocks too, on several instances his assignment stopped the run for a short gain. The dude puts his head down and tries to launch his shoulder into whoever he is trying to block. If he can get his blocking sorted out, he would be a much more useful TE
I graduated in 2016 and the events put on by the Alexander Hamilton Society were without a doubt someone of the highlights of my under graduate experience. The speakers they brought in were always top class and they were always very enlightening. I still try to make time for their events when I am able to.
First of all, I have never met anyone who is any of the things on that shirt.
Impressive that you've managed to go your entire life without meeting anyone
Just finished writing a 100+ page paper about this for law school. The whole case turns on what "opportunity" means. As people in this thread have speculated it could mean a compelled sale if someone makes a reasonable offer or it could mean an opportunity to negotiate. A compelled sale to the city or in state locals in unconstitutional for a litany of reasons. Having read through the complaint, the Attorney General's Office claims that Precourt violated the Modell by failing to give in-state individuals an opportunity to negotiate to buy the team. The paper I just finished up only focused on the law if the compelled sale of "opportunity" is adopted, as mentioned above, the law is unconstitutional under such a definition. I did not address the "opportunity to negotiate" definition, for several reasons. Firstly and most importantly, the "opportunity to negotiate" definition creates a law with no teeth. The opportunity to approach Precourt to buy the team already exists outside of the Modell Law. Anyone could make him an offer to buy the team even if the law had not been enacted. So to be brief, under the interpretation of the law that the Attorney General's Office seeks under the law, the law may or may not be constitutional (it is slightly more likely to be constitutional IMO), but in regards to whether or not the law can #SaveTheCrew, it doesn't matter. Even if the law does apply, the law doesn't really do anything because Precourt can just say "no" to all the offers he gets. I'm not an attorney yet, but if I'm Precourt, I don't fight this. I say "whatever, the law applies to me." Then I say "no" to all the offers I get for the next 6 months. That way he gets what he wants, but he doesn't have to pay for litigation.

tl;dr the Modell Law cannot save the Crew
Law school pigeon here, there are also statutes of limitations on civil claims. They will very from state to state, so without looking the answer is that it is possible her claim could be barred. Further, if the incident occurred 12 years ago, I would suspect that it would indeed be barred, but that is just a guess.
I started a thread on here yesterday asking if anyone had any specific examples of stories of Parson's being such a bad guy. Apparently one of the moderators deleted it for some reason.

So I will pose the question again here. Does anyone have any information about why he was untouchable for us from a recruiting standpoint? I am aware of the JT Tweet
I think most people would put the blame more on Thad than on Loving. Anyone that blames Marc for not being good enough should go one step further and blame the coaches for not developing his talent. That being said, as I referenced above, I think there are some things that were 100% in Loving's control for why his career has turned out to be underwhelming.
"Highs and Lows: A Discussion of Marc Lovings' Career Off and On the Court... repectfully"
Wonder if Trey Smith has read this? It would be a shame if someone were to tweet it at him...
Any explaination on the crystal ball, Ellis? Do you have info that no one else has or is it based on speculation of what everyone else in the industry has?
Any explaination on the crystal ball, Ellis? Do you have info that no one else has or is it based on speculation of what everyone else in the industry has?
A lot easier to get excited about a top 10 match up at night that a noon kick off against North Western. Either way I agree the stadium was as loud last night as it's been in a while
I agree with you to a point. It has happened a lot under Urban but not recently it happened all the god damned time when Kyle Clinton was doing kick offs but ever since he's been gone we've been doing pretty well with it I would say.
That might be the worst song ever written
To clarify, their issue isn't with the flag or the anthem itself, it is with a system that they percieve is set up against a lot of Americans. Protesting during the anthem is their way of drawing attention to the issues mentioned above.
Yeah, as someone who is around Zeke's age, I would be fucking mortified if my parents were out there saying this stuff in a place that my peers could see it.
I agree. I don't understand why his parents treat him like he's a child. Maybe there is a good reason, maybe there isn't. Either way it's kind of bizarre how involved in everything they are compared to other player's parents. They followed him to Columbus and anytime Zeke is in the press it seems like they are only one day behind him to expound upon or apologize for what Zeke said the day before, and then this whole thing happening yesterday. Not a big deal in the grand scheme of things but it seems to me like they need to let the dude grow up and stop trying to shelter him like he's 12 years old.