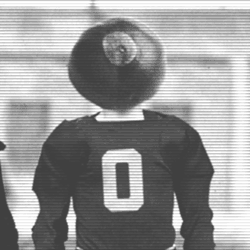 Nate4bucks
---
MEMBER SINCE July 30, 2015
Recent Activity
Why are we getting Wisconsin recruiting updates on an Ohio State recruiting board?
I actually think Michigan has some beautiful areas, especially northern Michigan and the Upper peninsula. I'm a fly fisherman and one of my favorite trout streams is the Au Sable River in Grayling. Also some of the prettiest white sand beaches sit right on Lake Michigan. We may hate Michigan's football program, but the state is actually beautiful. Also, some great craft breweries in the mitten (bells, founders, new holland, brewery vivant).
Not sure why you got downvoted for this, but I upvoted to counter some of that. I will say that Ed Warriner does have a pretty solid track record of developing O-linemen. However, looking at both programs, it's hard to argue with your post. One program clearly offers more than the other.
You pretty much nailed it. No comparison between the two institutions when looking at the entire package.
The thing is, why would Ohio State even need to negative recruit anyone to sell the program? THE Ohio State program sells itself. If you're a defensive back with NFL aspirations, there's not a program out there that does it better than BIA. It's a pretty easy choice to be honest, and Jordan Hancock followed through once his mom got a clean bill of health.
My post was mostly tongue in cheek, but it seemed as though this Alabama fan was trying to throw shade at our fan base by making it a point to let us know how "civil" they are on tidefans board.
So Tide fans are known to be civil. Umm, yeah, okay... Lol. I've watched enough episodes of the Paul Feinbaum show to know that's not exactly the case. The video footage of tide fans tea bagging a drunken LSU fan kind of goes against that theory. Oh, and Harvey Updike would love to have a word..
Comment removed for violating the site's commenting policy.
Saying "Ohio State's academics are not on the same level as UF's" is more than just correcting someone on the actual ranking of the schools. Ohio State is a great school and there isn't a big gap between the schools like Adeleye seems to suggest. I agree with AE that it seemed like he was taking a shot at Ohio State's academics and it wasn't a great look.
Yeah, but it was a strange tweet, because he said "Ohio State's academics aren't on the same level as UF's". I mean, let's be honest, if you go by US News rankings, UF is #7, while Ohio state is #17. It's not like there's a huge gap between the two schools.
Apparently Tunmise tweeted out that Ohio State's academics aren't on the same level as UF's. UF is a great school (#7), but Ohio State (#17 in US News) is a great school in its own right. Seems like a strange thing to tweet out about a school that he's rumored to be leaning toward.
Welcome to the Buckeye family, Evan Pryor!!!
Yeah, what's frustrating about Hancock is that Ohio State was in on him first and identified his talent earlier than other programs. His recruitment blew up after Ohio State offered, and then Clemson swoops in and nabs him. Really felt like he would have at least made one more visit out of respect for the coaching staff. Ohio State takes a backseat to no one when it comes to developing the defensive back position. Clemson, on the other hand, isn't known to produce stud DB's. I know they'll find three solid corners in this class, but this one hurts a bit.
We also beat them out for Julian Fleming and there's a good chance we beat them out for JK Johnson, Egbuka, and Stellato
Nice work, Zack. I gotta say, this piece had way more information and insight from Bellamy and Edwards than the post-visit article on one of the other free sites. I love that other site, but I was pretty underwhelmed with their write-up on Edwards after this huge visit.
Ohio State has a history of churning out first round draft picks at the DB position. Hancock will see three more DB's get drafted in the early rounds (one of which will be the first DB off the board). Hancock only needs to come in ready to work, and Coombs will get him that first round draft grade.
Exactly. There's only one BIA!
NC St insider puts in CB for Evan Pryor to UNC. Looks like momentum is building for their 2021 class.
That was my thought as well. I'm just thinking Anna Hickey is looking to generate clicks with this headline. I don't see Hancock making a decision until after he visits the good guys.
According to Anna Hickey, Hancock is "really close to a decision" and this coincides with his visit to Clemson. Also called Clemson his dream school.
Dan and Colin, you both do a great job and I just wanted to give you both a shout out. Also, Dan, I always feel like you ask the best questions for Coach Day's press conferences. Keep up the great work! Buckeye nation appreciates you both.
Do we know if Malaki Branham made it today?
Always appreciate your intel, AE!