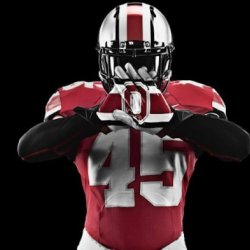 Myc24
Bloomington, IN (via Cape May, NJ by way of Baltimore, MD)
Member since 14 November 2012 | Blog
Mid-Atlantic guy living it up in the Midwest.
Folklorist, omnidisciplinary scholar, educator, business and cultural analyst, Indiana PhD student.
Father, husband, Ohio State (BA) and BGSU (MA, MBA) alum.

Favorites
SPORTS MOMENT: #1A: January 2003. 31-24 in double overtime.
#1B: 85 yards through the heart of the South.
COLLEGE FOOTBALL PLAYER: Currently: The Brooklyn Dagger; Of All Time: #10. In a pinch, #27 and #45 .
COLLEGE BASKETBALL PLAYER: Currently: TBD; Of All Time: Mike Conley
NFL TEAM: Baltimore Ravens
NHL TEAM: Columbus Blue Jackets
NBA TEAM: Boston Celtics
MLB TEAM: Baltimore Orioles
SOCCER TEAM: Columbus Crew
Recent Activity
The ability to extend his natural catch radius and make receptions that are near him.
Yeah, it's so much easier in the NFL...
You're assuming he gets drafted, though. Which isn't a given.
He has amazing range and good hands, but seemed to have trouble running routes and separating from DBs all year. I wish him all the luck in the world, but it's difficult to see how this doesn't cost him millions of dollars. I can't see him being drafted higher than the 7th round, if at all, based on what we've seen. Doesn't mean he can't ball out in the league though, so fingers crossed for him.
Rookie move, Stephen. If the professor is over 15 minutes late, you can leave without penalty.
As someone who taught at OSU, BGSU, and now IU, I can say that this is a popular misconception. Most universities don't have an official policy on this, and most syllabi don't explicitly cover it.
I don't know who came in with the DV, but +1 for sportsmanship.
Given US v Martinez-Fuerte, I think your portrayal of the legal world being shocked, even twenty-five years ago, is a bit of an exaggeration. My understanding is that most people expected the MI v Sitz decision to go exactly the way it did.
Thanks for the edit, Staff. Much appreciated.
[Post edited by staff - polite political explanations are still political and frowned upon. Do not even type the word "liberal" in a political context on Eleven Warriors.]
If you're so caught up in your political ideology that you see conspiracies everywhere, you should probably talk to a professional about that.
It's referring to this portion of the law:
"No person shall operate a motor vehicle so as willfully to elude or flee a police officer after receiving a visible or audible signal from a police officer to bring the person's motor vehicle to a stop."
Attempting to avoid a checkpoint (which is a visible signal from a police officer) counts as willfully eluding.
I actually liked your tax form thing. But this does make more sense.
This actually makes a lot of sense. Thanks, because I had no clue.
:Fire Emoji: :Fire Emoji: :Fire Emoji:
A couple of folks have said this must be an age thing. I'm 33, and I think these are pretty sweet.
Also, what's with people saying they're not intimidating? There are exactly zero football uniforms in the entirety of the world that are intimidating, so why would this one be any different?
Ohio State's greatest surfing quarterback approves.
I feel sick for NB. Hope he recovers soon.
A damn travesty. This makes a mockery of Halls of Fame everywhere.
Those specialists though.
people continue to treat Hoke as a serious football mind?
This team is so versatile and deep, it's incredible. I simply cannot wait until Labor Day!
Let's throw JT back there too and make it super insane quadruple speed option where any of them could receive the snap, the pitch, run, or throw.