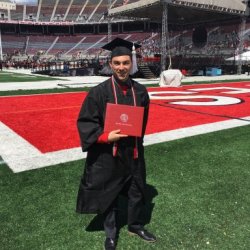 My Dad Is A Wolverine But I'm A Buckeye
---
Boston, Massachusetts (via Northville, MI)
MEMBER SINCE October 11, 2015
I love Buckeye Football, hating TTUN, and Pearl Jam.
Favorites
SPORTS MOMENT: Seeing #1 Ohio State beat #2 TTUN at The Horseshoe in 2006 for my first game in the stadium
The 2014 National Championship Run
COLLEGE FOOTBALL PLAYER: J.T. Barrett
NFL TEAM: Detroit Lions
NHL TEAM: Detroit Red Wings
NBA TEAM: Boston Celtics
MLB TEAM: Detroit Tigers
Recent Activity
Their streak of dickish behavior is frustratingly consistent
Certainly won't be an elite reaction
This is my new favorite sentence
I actually really enjoyed this. Always loved "When I needed you the most, you gave me your very best."
The Bdubs on the corner of Lane and High is one of the most profitable ones in the country...
Oh, yepp. This will end well...
I hope so...I think the biggest struggle will be mitigating our expectations this fall. We may not be the best for the first time in a long time, but the pieces are all still there. Just beat TTUN. Do that and the rest will come into focus.
My eyes popped out of my skull when I saw that he was the winningest QB in program history. For someone with such a terrible passing motion, that was surprising. Best of luck to him, regardless!
Man, I miss making fun of him. He blocked me on Twitter once and that achievement is going on my tombstone.
Methinks this is quite strange...
What? the guy just wants a hug
In the last two weeks, Ohio State athletic teams have won two B1G championships and one national championship. What a time to be a Buckeye.
The first of many for this year, I hope!
I see a serial downvoter is has entered the game
That on its own makes me love the atmosphere of American sporting events even more.
I'm a youngin, but I've also been to each version of The Game since 2005. '06 was awesome finishing under the lights, but I don't think the time should move. Noon is prime for this rivalry. I would be alright with 3:30 again if we were both ranked the top two.
Amen! I hope the beat down is even worse this year in their home stadium. Would be awesome to see Harbaugh's face.
Just doing my civic duty, Hove! Thanks for reading!
If he was my weird uncle, I might find him more charming. At the very least, he does evince a love for the sport that is a little cool. Besides that, not a big fan. His whining after the 2016 version of The Game was the first and last straw for me. It is easy to see how this schtick would wear out if he wasn't putting up results, however.
As long as we beat them, they could sit around and play jacks for all I care. However, taking a deeper look at their schedule, they might escape with a few wins and roll into The Game doing well again.
Army might surprise them.
Wisconsin will reload their OL and Camp Randall is very difficult to play at.
White Out at Penn State is formidable, but Franklin will probably screw that game up anyways.
If they were at Notre Dame, I would count that as a loss, but Michigan plays so much better at home than on the road. It's noticeable in a way that it isn't for other teams in the B1G.
MSU is a toss up each year, but with Dantonio not changing his offensive staff, I think TTUN wins for the second year in a row.
I think we beat them again in their house, however.
Because this is college football, I'll probably be proven wrong, which is great! As long as OSU wins in Ann Arbor, I do not care what happens regardless in TTUN's season.
That's about the only time when I didn't like Deace. Outside of that, he's one of the better Michigan commentators. Calls it like he sees it and holds TTUN to a high standard. He has been super critical of the team in the last few years.