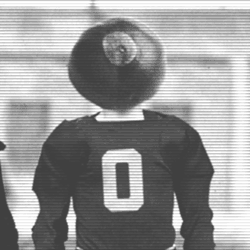 My buck
---
Member since 18 July 2014 | Blog
Recent Activity
Um, he was hurt all year.
Just out of curiosity, what "personal" issues happened between Urbz and Charlie?
Thank you! People sure have short memories.
Yep. Stoops was all class in that interview.
Exactly! If only conference champs get in, then we don't need a committee.
If we're just putting in conference champs, why have a committee at all?
Millionaires bickering with millionaires, SMDH.
Go win some football games so people like myself can celebrate our small triumphs while making our hourly wages. LOL
I think Wisky wins. That D is the real deal, even with a couple major injuries.
JT has been very frustrating to watch trying to throw the ball. But man, what a competitor he is. Braxton was so great at designed QB runs, but he never possessed the awareness to escape pressure like JT does, which is crucial this year because of our mediocre pass blocking this year. Don't think we've ever had a better leader on the field. My favorite QB was probably Joe Germain as far as throwing, maybe Hoying, but JT is right at the top of all time leader.
I'll probably get down voted to dearh, but I've never understood Krenzel even being near the conversation. I've always felt that we won in spite of him, not because of him. I like the guy and his toughness, but man, he was excruciating to watch play QB. Just my opinion... Doesn't mean I'm right.
Our O line has struggled pass protecting all year. I was terrified before UM, and I'm terrified going forward. To me, easily our weakest link. I'm dying to get redemption against Clemson, but their D line scares me. Hope we can somehow figure it out.
That was a dick move, but not assault. That word is thrown around way to easily these days. But yeah, couple years ago Hill got suspended from postseason for flipping off some fans in the heat of the moment. I think Peepers offense was at the very least, comparable.
Can't say I disagree that our offense is predictable, but man, I'd hate to hear us when we lose more than one game a year. LOL
Like I told my buddy yesterday.... They ruined our childhood, F-Michigan!!!!!!!
Without question, this game will be decided by our OL. Michigan has like 30 something sacks this season. MSU hadn't had a sack for like over a month.... until they played us. That terrifies me. Our pass blocking has been average this year, and well below average against capable defenses. Terrified.
Exactly what I expected with our record in bad weather. But..... Long way to go yet, guys. Weber is gonna break one!!!
Excuse or not, we have been very unimpressive in foul weather. Coaches seem to tighten up, and the play calling turns to crap. Get ready for a heavy dose of QB's draws. Crap!!!
I enjoy games at Brickhouse Tavern off of Hurstbourne. Good food, nice beer selection, lots of comfortable seating... Check it out!
I'm telling you.... The coaching staff is terrified of bad weather. When the weather is lovely, so is the play calling. When the weather is ugly....
Great game!
But our biggest opponent is weather... we are the best team in the country when the weather is pristine, but just average when it is foul. Let us pray for nice weather for scUM.
35-13... Unless it rains or is windy, then.... 21-20., hopefully
Urbans teams were made for southern weather, or a dome. I don't like it, but it's pretty obvious. For whatever reason, the staff doesn't seem to believe that we can play the ground and pound game with a few screens thrown in. Ugh!!!! Always gotta try to be so cute. Wish we could just out physical teams when we have too. No reason we can't, but we don't.
This sums up my feelings perfectly. Except I'm not willing to point any fingers at JT, unlike last week. He played his ass off.
Have to disagree. At this point in '14, we were calling for Hermans job. Not until the MSU game did our offense get rolling. Until then, we were winning ugly.
I'd be surprised. He's still going to make some noise up there. Don't think they'll ever be truly elite, but winning a couple of Rose Bowls... and being a pain in our ass, is not too far fetched.
First of all... enough of the "Tom Herman was God" talk. At this point in '14, we were all calling for his head and his job. A championship run apparently erased all of those foul memories forever.
I love JT. But, the last two weeks he has been really bad/slow at making decisions when throwing. He's been a half second slow to throw all season, but his receivers have generally bailed him out. His long ball looks really bad, minus the great throw to Dontre. He's a great leader and an excellent runner. And I'm glad he's on our team, but get the passing game going fellas!
What drives me mad are lack of sideline adjustments. Halftime adjustments are phenomenal and I cannot understand why they act all surprised when an opposing team throws a new wrinkle into their game plan and we can't adjust until halftime.
When Urbans offenses are clicking, they look unstoppable. But, when they're struggling, there is absolutely no flow to anything. They try to get too cute. Pound Weber up the middle more. Throw an occasional screen. Dontre looks like he's ready to go off at any moment. Why they can't get him more involved is beyond me. Where are the end-around plays at? Jazz was killing us last night... until we FINALLY made halftime adjustments.
Also, I'm a 45 year old guy who apparently doesn't know what a legal catch is anymore. Conley's INT was a damn catch in my book. As was Marshon's overturned INT earlier in the year... Sigh.
One last thing and I'll shut up. I think people forget how difficult it is to go undefeated. In nearly 40 years of watching football, I have never witnessed a team blowing through a season uncontested and doing it all while looking fabulous at the "eye test". We've got a great team and are going to be tough to beat. But it's going to be stressful at times. GO BUCKS!!!!
I don't really have a problem with Barnett or Saban here. Sure, Nicky wasn't very "PC", and he should know better, but times have certainly changed which is all I think he was trying to say.