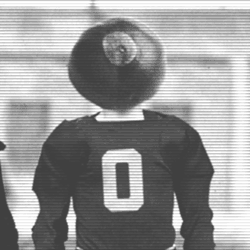 My buck
---
MEMBER SINCE July 18, 2014
Recent Activity
Someone said they were checking out his upper body when he went out.
We're all excited, but.... Day inherited one of the most talented teams in OSU history. Meyer is that good in recruiting. Urban's teams are legendary in the big time games. Day hasn't even coached one yet. Urban put us on top of the mountain, Day has to keep the bar up there. He's off to the best start possible, but let's not take for granted what a badass program Urban, literally, handed to Day! And NEVER underestimate how amazing 7-0 against TTUN is!!!
Irish. I hope Georgia is finally exposed as being a wannabe!
Don't really care, but why not jump Georgia too? Dunno why they get the benefit of the doubt. Alabama I get, but Georgia got beat by Texas in their bowl game. So what have they done to deserve being 3rd. Don't get it!!
The only way we lose.... turnovers!
I think Nick had so much potential and so much upside, that he kind of got some extra credit for being " The Better Bosa". But he wasn't. Joey was quickly forgotten, for how truly impactful he was, because his little bro. But Nick and his injuries were very unfortunate, because I think Nick could have been the best! Pray that he has a healthy career, because he is truly special. Love the Bosa's!
Shit happens!!! Go Bucks!!!
As a fan, and an old soul, I hate it.
But as a decent, moral, realistic human being, I agree with him.
Day would be a fool not to Utilize Urban. One of his greatest assets. Not for approval, but for advice/opinions and contacts.
Don't care. Won't watch. But Nickys going to win another one. We'd have scored a lot of points on Clemson this year. Truly think we'd have beaten those bastids!!
Sounds like "Dad knows best" to me. He certainly wouldn't be where he is right now if he'd gone to SC.
No holds barred competition. I like it!!!! May the best man win!!!
And the Rose Bowl victory over TTUN the year prior.
The overhead shot of the stadium showed an awful lot of UW fans streaming out in the 3rd after our last TD. Could have been much louder for them in the 4th. Lol
Man, I've been pulling for Prince as hard as I pulled for JT. Glad they both had good college careers, but also relieved it's finally over. If that makes sense.
Pridgeon tried so hard to keep up with Prince, poor guy. Lol
Well, you do know that Georgia lost to Bama twice, right? Texas was just the recipient. That's the narrative anyway. Barf.
He always reminds me of Billy Bob Thorton
If Texas wins, the narrative will be that Georgia lost twice to Bama. Can hear it already.
They sure love them some SEC Refs. Barf
James must be telling him that he could be one of the greatest decent players ever!
The only thing I miss about Ann Arbor.... Zingermans!
I'm 47 and my family moved to Michigan from Cleveland when I was in first grade. Graduated from HS there and even went to Eastern Michigan U. for 2 years. So, when I was younger, I HATED them. I was obviously the only OSU fan out of all of my friends. Was living in Ann Arbor during The Fab Five run when they beat our Jimmy Jackson led Basketbucks. So I don't hate UM fans, as some of my best friends are fans. But over the last decade and a half, our domination of them has taken some of the glamour out of rubbing it in. I admit, I'm a B1G fan, so the only game I don't mind them winning is the bowl games.
He should secretly be Brutus.
Spot on! I've been saying this as well!!