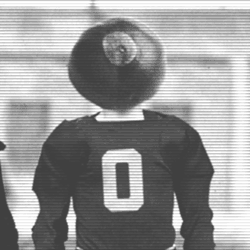 MudBuck
---
Akron (via Toledo)
MEMBER SINCE September 13, 2017
Favorites
SPORTS MOMENT: As a narcissist I will say the time I hit the cycle in a baseball game with my homerun being the game winning RBI... then again I got to see Hank Aaron hit two of his homeruns, what a beautiful swing; and Mark Fidirich tear up the majors on the way to tearing up his arm, the guy was dominant and then he wasn't.
NFL TEAM: Cleveland Browns
NHL TEAM: Detroit Red Wings
NBA TEAM: Cleveland Caveliers
MLB TEAM: Detroit Tigers
Recent Activity
But OSU can't grow grass in Ohio Stadium.
I'm sure someone has suggested this on here somewhere, but I'll put it out there again. Meyer's best trait possibly is his ability to motivate young men. A summer full of reasons to pull a team together and form a sense of us against the world is not the worst thing that could happen for a team that according to Eddie George may be the deepest and most talented group ever to don the scarlet and gray. I'm sure Meyer and company have been using that meme effectively. Go Bucks!
If nothing else, in summer league he showed the ability to be a quality 3 & D wing in the NBA. That alone, considering NBA trends, translates to a solid career. His game translates well and its seems he landed in a good situation. Best of luck KBD. Hopefully the steal is on par with Michael Redd's career after being a second rounder.
I still think he would have been a better middle linebacker than quarterback, but can't disagree, when you've had some of the QB's we've had, he was a blessing. Then again National Championships: Craig Krenzel=1; JT Barrett=0
Purdue's even named after a beer cocktail, start with a round.
I'd be curious what the numbers say about 5* recruits earning playing time as freshmen for Urban Meyer, off the top of my head, it seems like it is common - Okudah, Young last year. Guess when he said he didn't believe he would earn significant playing time as a freshman it meant he didn't believe in himself to earn playing time as a freshman at The OSU.
@ ElGato69, good to hear from a fellow freshman class member. Ellis was a heck of a player his first two years before knee injuries impacted his production. I used to run basketball games with him and guys like Bobby Olive and Tony Cupe at the South Campus Jesse Owens from 87-89. Always seemed like a good guy. Condolences to his family and friends.
Excellent, although I wouldn't hold Bazley against Matta considering his decision to go to the G league.
More frustrating than Mark Loving is saying something.
In my opinion he's as ready as he'll ever be for the draft. Another year of college ball will not prepare him any further for the NBA, only the challenge of playing at that level will take the game further... some games translate, some guys get better, and some ceilings get exposed... KBD has a lot of tools that can translate, his success at the next level will probably depend on where he lands. Good luck young man, been a joy to watch as a Buckeye.
Maybe because he has actually graduated already.
I think Holtman pointed to an issue with conditioning, he looks like he's put some weight on as the season progressed, and not the good weight from added muscle.
My freshman year at OSU, what a game. Always seemed like a class act. Happy birthday Earle.
Agreed, I like how he has always complemented Thad for building the base. It always seemed Thad ran a a good and proper program.
Worked for Michael Thomas.
I laughed out loud on that one. I'm too old for interwebs acronyms.
Why not Detroit as a venue or Cleveland or Pittsburgh? These would be good footprint cities. Saw the Bucks in Pitt against Gonzaga a while back. Great city and good venue.
It was what it was, not ready to think the sky has fallen... bright spots were the play of Potter and Young, both had energy and toughness, unfortunately it was probably the worst game of the year for KBD, that happens. Plus, the K. Wesson injury seemed to derail the early game plan which was working, by the time he came back it was a big deficit... It seems PSU thinks their road to redemption and legitimacy as an athletic department runs through beating OSU... as far as I'm concerned that institution has no redemption.
Isn't there usually a jump in star rating after the summer camps following the junior year (between junior and senior year)? So my thinking is three star juniors will often get a jump to four star seniors with a good summer of work-outs, I don't know this as fact, so I ask the better minds of the threadisphere..
The assist numbers surprised me a little bit. I think it would be interesting to apply hockey assist concepts to basketball to capture the idea of ball movement versus dribble drive defensive breakdown. It just seems subjectively this year the ball is moving by pass so much more than last year.
To that problem I'd add the influence of Lyle: dribble heavy, defensive liability, inconsistency, wilting flower.
Illinois ranks in the top 20 for forcing turnovers in NCAA mb. Maybe that had something to do with it. What I also saw from that Illinois team was a team that fouled and gave up easy buckets in their quest for prickly defense. We handled it and won. Purdue will be a new challenge, look forward to how this team deals with it. I think the key will be Kaleb Wesson's foul situation and Micah Potter providing solid minutes,
Jallow has a bright future, he's 17 and should be thinking about a prom date, but instead he's hit the freshman wall to some respects. I like the toughness of the kid though, he's plays solid D and is not afraid to mix it up in the lane. I think his slump also coincided with Kam Williams living up to the shooter label. Kam was playing good in the Big 10, took minutes away from Jallow, kid just needs to get back in the flow.
As a U Toledo and OSU alum, I've followed both programs. Issues I see with JT are similar to issues I saw with Bruce Gradkowski. Both were great leaders, managers of games , excellent distributors, and had excellent collegiate careers. In my opinion, if JT sticks in the league it will be because of his capacity for professionalism, game management, and his ability to win games as a solid back-up. Bruce had a solid career doing just that. I'll be pulling for the kid to make a life-changing living. The weaknesses are there and those weaknesses in many ways remind me of the Saints-Vikings game in which an aging Drew Brees no longer had the arm to make all the throws, it cost the Saints, a Ted Ginn touchdown resulted in an interception.