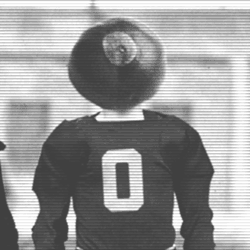 Muckfichigan
---
from Amanda,Oh
MEMBER SINCE March 15, 2015
I'm a pipe fitter in Columbus,Ohio. I live in Hocking hills. Lifelong buckeye fan and recently a huge fan of eleven warriors.
Favorites
SPORTS MOMENT: Ezekiel Elliott's run for 85 yards against Alabama in the Sugar Bowl.
COLLEGE FOOTBALL PLAYER: Eddie George
COLLEGE BASKETBALL PLAYER: Jim Jackson
NFL TEAM: Browns
NHL TEAM: Blue Jackets
NBA TEAM: Cavs
MLB TEAM: Reds
SOCCER TEAM: Crew
Recent Activity
Who is Archie GriffEn???
Just saw an article on 247 that said the family friend is a certified NFLPA agent. Could be a game changer. Rumors though
Just saw an article on 247 that said the family friend is a certified NFLPA agent. Could be a game changer. Rumors though
150
401. Barrett gets close to 300, Campbell doesn't have a huge receiving night, but has some decent kick returns.
The silver bullets shirt that Fickell wore on BTN training days. Awesome shirt. Not available to the general public. I have a hook up though. I will be the only non coach or player wearing one!
What's wrong with PBR? I'm not a beer snob. That's my everyday beer, but it's much more cost effective than paying $10 for a six pack of some craft beer that although delicious, has a ridiculous name. Also, not drunk, maybe half lit on a monday! Cheers fellow Buckeye!
Antoine Winfield is one of my favorite buckeyes of all time. I mean seriously, did the guy ever miss a tackle? Not to mention he was one hell of a cover corner. To quote Spielman, "the best pound for pound tackler I've ever seen ". That says a lot. I hope we offer his son. Sounds like he may be raw but has a ton of potential.
Hey Birm, I was wondering, how many receivers could you see the buckeyes getting this year? If Mack,NCM, Corley and Mitchell all want in do we take all four? If not, who is left out? I know this is really premature to even speculate on ( possibly just me dreaming ) , but I was wondering what you think.
I worked with one of Gerald's old coaches recently and he told me to remember that name. Said he was the best player he has ever seen at any position. I think he truly will do great things in his career. Sounds like a great young man too. Love the work ethic, toughness, and big heart comments. A lot of the same values I am instilling in my two sons.
I agree with several of you. Pass on Corley. Take Mitchell. Pursue Mack and NCM very hard. Can't go wrong with any combination of 2 or 3 of the three. Amazing job being done by Zach Smith also. Stocking the WR cupboard with loads of talent! Great time to be a Buckeye!
BROJIM hit the nail on the head. I mentioned in a previous post about how nervous he made me back there last year.
Beat me to it Tra!
This class is quickly becoming awesome! I may be way off base here but does anyone else here think that we may end up regretting the Wohlabaugh's and Felder's of this class because we could have done better? I know it sounds greedy but maybe we are getting to the point where we can afford to be selective.
Just wanted to add that this class is filling up really fast. Wondering if things might get very interesting when we get down to the last few spots. Possible over signing again? What's your thoughts on this Birm?
I read on 247 sports that his reason for choosing not to go to OSU was because they don't offer the major he wants. I for one am completely fine with that. It sounds like he is a very intelligent young man who realizes that his chances of playing on Sunday are very slim and is preparing for the future. Best of luck to him in football and in life.
Thank you for being a journalist with integrity. That is not often seen these days. I couldn't agree more that a lot of coaches ,media, fans, and even parents are putting way too much pressure on these kids. Let them enjoy being young!
Vonn Bell. How many TD saving tackles did he make. Future 1st round.
Couldn't agree more Bob G . We are truly blessed to get this much inside info every day. Thanks again Birm. Excellent as always. Nice tease on Ferns too. Will be checking 11w all day tomorrow waiting for the BOOM!
You may be right buckeye chick, but I for one have always had a hard time getting tickets for anything less than a c note. That being said I have promised my 8 year old son to take him to a game this year and looked online for tickets and the cheapest I have found is $135 a ticket for Hawaii! If you have any games this year you don't want to go to please contact me.