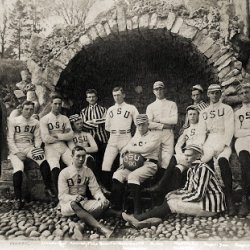 MtWashBuckeye
---
Los Angeles (via Cleveland)
MEMBER SINCE September 03, 2014
Raised in Ohio. Lifelong Ohio State football fan.
Recent Activity
I agree BBB. Why would we not want them undefeated every year coming into The Game?
Ohio State may offer Brand Management as a major next Fall
There was a semi-famous sax player named Stanley Turrentine and his name was pronounced "teen" at the end. For whatever that's worth...
Beat me to it Burgundy. What a good feeling to read that last sentence!
Clemson has not been hit with anything remotely as hard as what the Buckeyes are bringing their way. This spread should move up.
Based on the 2 games yesterday The Badgers would pound Georgia. They looked terrible yesterday. LSU is really good, but Georgia didn't do anything.
Anyone who doubted this team ought to be ashamed.
Current weather forecast seems to show high chance of rain at game-time. Interesting to think how this might affect the passing game for both teams. I'll take Dobbins and Teague with our Oline.
No matter what you think of the video as a whole, you have to admit Coach Day is really good at motivational speeches.
This really complicated process is going to be really interesting to watch unfold. But we should all keep in mind - there aren't too many examples of people (e.g student athletes) being worse off when they have more freedom.
This string summarizes the only real criticism one can make about the game Saturday. Four sacks is not good. Buy hey, Coach needs something to motivate them for November.
Definitely yes to the above. As long as Ohio State makes the playoff don't we want the other playoff teams to be over-rated?
What a glorious time to be a Buckeye fan!
So true Ibleed. This was a coaching master class.
Is Jump Around the official song of the State of Wisconsin?
Well well well. Down goes Wisconsin.
Tough Love
Well...
It is definitely not going to hurt us more than it hurts them.
Are we sure this change is happening nationwide? I've just called 2 bars in Los Angeles and both have the Yankees game 5 on one channel and the Buckeyes on another. Not BTN. Can anyone confirm?

Adding 2 cents - The Buckeyes have a real schedule. If any undefeated team should be left out it's Clemson. Their schedule is stupid.
The Werner hit was beautiful. The kind of pop that makes the running back rethink his goals in life.
It's tough to over-estimate the psychological effect of gang tackling. On the players getting gang tackled, and the players doing it. It is the closest a man can know to being part of a wolf pack taking down prey. It's having a pretty positive effect on Buckeye fans, too, it seems!
It'll be so much fun to watch Jonathon Cooper's energy tomorrow night. That kid Loves football.
I had the great pleasure of attending the last Ohio State game in Lincoln when we went up 35-0 at the half. All the pre-game explosions and Metallica theme music were quickly forgotten by that extra-nostalgic fan base. It would be great to see a repeat.
Time to hold your nose and root for Notre Dame, folks. Georgia doesn't have much competition for the rest of the season, and we need someone in the top 5 to lose.
Can't remember a game-week video that incorporated the gorgeous sound of the whole stadium chanting "O-H-I-O".

Loved that.