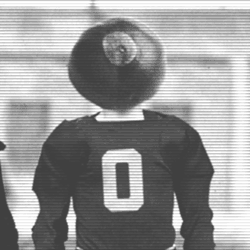 MTS
---
Modesto (via Modesto)
MEMBER SINCE August 28, 2018
California Born and Raised - Fell in Love with OSU football in early 2000's and have been following even since. I've only seen them live once a few years back when they cam out to Cal Berkeley, hoping to come back in a few years and watch them at the Shoe
Favorites
SPORTS MOMENT: Whenever Alabama loses
COLLEGE FOOTBALL PLAYER: Braxton Miller
COLLEGE BASKETBALL PLAYER: Aaron Craft
NFL TEAM: Don't really care
NHL TEAM: Hahaha
NBA TEAM: Don't really care
MLB TEAM: REALLY REALLY DONT CARE
SOCCER TEAM: same as baseball
Recent Activity
I'm really interested to see what the starting rotation looks like this up coming year.
You know what they say..."If you can't beat them, then join them"
I don't want to be a Debbie downer (sorry to all the Debbie's out there) but i was concerned in the second half with how lose we played. I think it was a combination of being up big but also fatigue. I think we were like 38% from three at the half and finished at 24%. Anyway if we are going to make much post season noise we'll need to be well rested. Great win, Go Bucks
LSU will drop like a rock, one season wonder.
does anybody record these and put them on youtube after? I get B1G network, but not B1G Plus
Ohio State played really well for about 2/3 of that game. They hit a slump for the last 7 min or so at the end of the first half. I'm not disagreeing with the idea that we played really good defense, but if you watched the game, you can see just how poorly UNC was shooting, also their starting big man went our early in the game. I think we can go far this year, but also understand that UNC is a shell of it's normal self.
Glad to see the boys get a big win. It could have been by another 10-15 points. We need to keep working on not making unforced turnovers and taking better shots. I think they really need to work on feeding the post more often as they move into B1G play. Go Bucks
10 bucks (pun intended) says that one of them transfer prior to playing each other
HAVE TO LIMIT THE TURNOVERS, if so...we win
I don't want to be an ass, but that was a very sloppy uninspired game by the gaurds. I expect more from a high school team than what they showed. I was suprised to see Chris not lay into them more, although that's not his style. It was just lazy play and the only thing that kept PSU i the game was their effort vs our effort.
If UM needs extra motivation for revenge after that drubbing in the Shoe, then i don't know if two coaching defections will do much more for them
Alabama should have dropped like a rock after that non competitive loss last night. This years playoffs were a joke.
This is a game where you game plan for a super aggressive defensive line. I'd throw some screens early. run a draw play or two (I've been waiting for this all year) and throw tunnel screens. We need to poen with short passes both inside and outside in the 10-15 yard range. runs need to be powers with extra blockers.
It's been said before, but putting the lkiniebackers up against the line of scrimmage to defend that RPO does not work if you don't A) have super talented Linebackers who can drop back into pass coverage quickly or B) play a zone coverage in the back end. Our linebackers have been largely ineffective because they are caught in the middle and are not helping much at either place. Keep them 5-6 yards off the the line of scrimmage and read and react. Currently they are making an easy read for opposing QB's. We need to make it a hard read.
Is it just me or does the Minnesota reporter seem kind of short and annoyed in answering the questions? I enjoy the "Across the Field" articles as i don't follow other teams and it's interesting to get the perspective of those who follow, but this guy? Seems like he just got out of bed.
Here's to LSU wining the SEC and playing OSU in the Natty :-)
I watched most of the game, then re-watched via "game in 40 minutes" on you tube. Unimpressed is about right. I expected more from the o-line because of the traitor coaching them. While i do expect to see improvement through out the year, i think the threat meter needs to drop even further. Normally after the season opener you chalk up proformances like that to first game blues, but the issues on display have been the same for years.