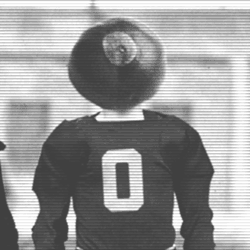 mtrotb
---
MEMBER SINCE July 03, 2013
Favorites
SPORTS MOMENT: Red Sox winning 2004 World Series and OSU winning 2002 Nat Championship.
COLLEGE FOOTBALL PLAYER: Braxton Miller
NFL TEAM: New England
NHL TEAM: Boston
MLB TEAM: Boston
Recent Activity
Yes as it has been 40 years now.
Great sense of time zones.
Oregon is good, but I get your point.
But you will wear your OSU Nike shirt made in China though, correct?? And good chance you have some Apple product made in China as well. Just want to ask.
Not the content, but more than timing. Right before the teams went to China for the games.
I am not sure if there is anyone who did not hear about it.
Which is what the Rockets GM did.
Remember what happened in BIG championship game 2 years ago?? We shut Taylor down and JK was player of the game as a frosh. I'm tired as well of all the hype Taylor gets.
Not many lineman leave early especially one that is essentially starting for the first time.(I know he started 2 games last year). He has 2 years left after this year. He needs reps.
Selfishly, I'd love to see Wade pull a Denzel Ward and come back again next season-What the hell are you talking about Kevin?? Ward left after his 3rd year.
We have had no problem playing UM and then Big Ten championship game back to back. I am more concerned about 3 tough games in a row this year.
But the question was conference play.
Great class except for the wide receiver group with Grimes leaving. Harris probably won't play much and Gardiner was a reach they were hoping might develop, but hasn't.
Half of those names you mentioned are 3rd year sophs.. I'm thinking McCall, Cupp, Wint, Jackson. Ones that have zero chance of starting.
Several 4th year players who will not get a 5th year. This will give the class some elasticity for 26-27.
I got a good laugh about Hunter Johnson being solid. He is prime example to remind everyone that not every 5* is great or even good.
Yes I have never heard of Derek Funderburk. Where is he from?
Williams is a true frosh and will letter this year. He is not left out. Will be a solid contributor next 3 years.
This is mostly because Miller is brittle having been injured 3 times in last 12 months.
Of course Wyatt Davis is a bully. Go to you tube and watch his father play Alvin Mack in the Program. Oh yeah his grandfather is in HOF in Canton.
This is a hard schedule. Why only 13 regular season games, seems light?
Stock down, McCall. From 2nd team RB and KO and PR to nothing now.