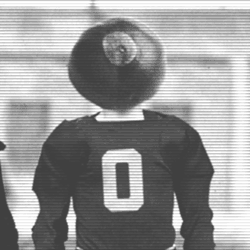 mtrotb
---
MEMBER SINCE July 03, 2013
Favorites
SPORTS MOMENT: Red Sox winning 2004 World Series and OSU winning 2002 Nat Championship.
COLLEGE FOOTBALL PLAYER: Braxton Miller
NFL TEAM: New England
NHL TEAM: Boston
MLB TEAM: Boston
Recent Activity
I think you are correct. Closer to 10.
I appreciate your enthusiasm, but I'm sure the fans at Bama, Clemson, and Georgia are all saying the same thing.
It is not so much him wanting a possible 6th year as much as the coaches willing to sacrifice a 4 or 5* in this recruiting class to save the scholarship for him knowing the is above a 50% chance he would be hurt again and not able to contribute. Congrats to Hilliard for graduating and doing nice internships to get ready to move on.
Didn't say it is easy. The point with Milton is we are not at a distance disadvantage. That is all I'm saying.
Comment removed for violating the site's commenting policy.
Milton's four visits are us LSU, UGA and Bama. So wherever he goes it is a long haul. Baton Rouge at 1993 miles is the closest. Columbus is a little over 2300. When you go that far away an extra 400 miles is irrelevant. Your point with him and distance is wrong.
And remove Lachey when you are at when updating the TE's.
So non-starters are almost like internal free agents and they may play for several teams during the year?
Did they sign him? Because if he was assigned like it says in two different places, then that means he was borrowed or lent from some other organization.
How cool is this for these guys. Another nice benefit.
The best players in NC leave the state so I agree with you.
I agree with you and obviously there is a lot more than speed to being a complete wide receiver. Otherwise we would just recruit sprinters and that is clearly not the case. Can he block, can he catch, can he run routes. That is what I want to know. Speed is last.
Wypler still has another year of high school. He doesn't need to get the memo.
You are crazy if you think LSU is even par with OSU. Compare records this century. You have 18 years of data.
The vast majority transfer down to lesser quality. Rare are the Fields who transfers to even level school. Even Burrow transferred down as LSU isn't as good as OSU. All these other guys-Tathan, Blue Smith, Baldwin new schools are much lower than us. So my point is rare will be the guy who turns us down who comes back down the road.
Great year by the little red wings. They have the first pick in the draft this year?
Joe Royer talks his top-8 schools.
Actually it was 6 not 8
How did your hockey team do this year? Their players been on the couch last couple of months??
Yeah you sort of can. You only have x # of scholarships for lineman. No more than 17 if that.
Let's hope not. He has had his time.
He beat Harbaugh more and 3 of the 4 were blowouts and Hoke's teams kept game more than close, so you should re-think naming of toilet.
Any word on how the Bogey went this year for Kirk during the tournament?
Oh no! His pattern lately is to only have good year in last year of contract and he gets extension.
They can do now more than they did in the past. 10 years ago there was none of this allowed with coaches.
You guys keep spelling his name wrong, it is LOSEROVICH.