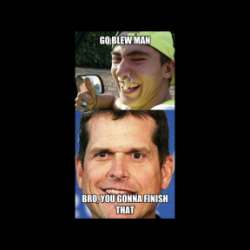 mt10277
---
MEMBER SINCE July 22, 2013
Favorites
SPORTS MOMENT: Every win over TTUN
Recent Activity
Read we may be kicking the tires on Lorenzo Lingard
Couldn't agree more. I don't wanna get ahead of myself but Day's changes seem very plausible and can't wait to see how they impact our team. Happy that Day made the changes he did. Urban is a legend so the shoes are huge, but thus far I like what I've seen. The future continues to be bright
More than likely Tate is sitting out this year and wouldn't have to compete against Hurts
I remember reading about Williams being available but am unsure if he had any reason personally to be granted a waiver. I am guilty of assuming he won't play in '19 but since this broke less than 2 hrs ago everything on here is an assumation until more facts come out
I hadn't seen that but I don't have a lot of faith even when it's publicly announced one way or another.
I forgot about that, making Lewerke look good is a tough job for sure. Al Washington will be a dynamite hire and judging by his twitter account he's a big fan of coach Day.
Defensive stats have gotten worse each year Schiano has been on staff. Grinch is younger and less proven but the 2 coaching styles aren't congruent, especially if they're butting heads Instead of figuring out how to not give up 600yds to Maryland.
Question is, can Bill Davis provide high quality H2O?
This presser makes me wanna go back to 2012 and watch our first game vs Miami Oh all the way through the 2018 B1G championship. This has been 7 years of football bliss, THANK YOU COACH MEYER
"Kick anyone in the knee who compliments you, unless she's a lady over 80"
~Woody Hayes
Any word from Dezi Howard?
Pelini would already be in jail for murdering Mcmurphster
YES!
It begs the question that if our skilled players are really that, why aren't they making the plays that makes our coaches label them as such. All we read and heard in the off-season was how unblockable this guy is or how much progress the young guys are making. Urban did say the field safety is a position of concern and that's true only bc our LBs are consistently lost. By the time a player gets to that part of your defense he's already going full steam.
Absolutely the motivation should be there, but with a game of this magnitude a pregame pep talk is inevitable.
He actually thought of Jacob before I did, and he mentioned posing it to 11W forum.
One would think our defense practicing against our skill players on offense would be better at tackling skill players. Anyone hear (or count) how many missed tackles we had yesterday?
Everything good or bad till now doesn't matter. We've seen far superior teams go into this weekend and play horribly. This game is it's own entity.
OSU 31
scum 30
the defense is what it is, we get what we want with the win, we get what we deserve by being left out of the CFP even after beating NW.