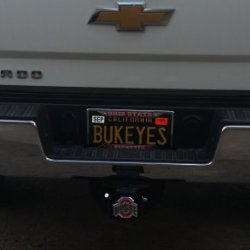 mshaf
---
Member since 02 December 2011 | Blog
Recent Activity
I just bought them. I will be sporting these out here in Cali
I live in Bakersfield and agree with our ranking but add Modesto Ca to that list. Modesto has the worst drivers in California
Alabama, Clemson Florida State, USC,and Texas would be my top 5
I`m surprised this writer went into journalism instead of a head coaching job going up against Urban and Saban since he knows so much
Harbaugh looks like one of the White Walkers on Game of Thrones
I live in Bakersfield. Merle and Buck Owens were icons here for years and still are. I know there will be a party in Bakersfield tonight to celebrate his life.
Been drinking coffee since I was 8. I used to have to pour it for my mom and dad. Dad liked his black,mom was cream and sugar. I always preferred mom`s. As far as coffee, Kona is tops but since it`s not available all the time,7-eleven is my go to every day and Mrs.Mshaf orders Cracker Barrel for me on the net.
Been with mine 37 years. Let me know how that is when you hit that number.
No matter what they do to the game. It still beats working,going to weddings,birthday parties,or hanging with the wife on weekends
As a long time Dolphin fan, getting Zeke would be up there right when Miami drafted Marino. I seen Marino play a few times in college and was really happy when they got him. Zeke would be a big time get for the Fins. Hopefully the coaching change in Miami will use him to his full potential and also draft some OLine to help him out.
I was working at a nuclear power plant in Waynesboro GA. when this happened. It was almost to hard to believe because of all the successful shuttle missions.
Not sure if any of you guys remember Bob Butts that played for the Buckeyes in the early 60`s. I had him for a teacher in high school in the 70`s. Biggest forearms I ever seen on a human being at that time.
Congrats RBuck. I have 36 years in myself. Most marriages never see the golden years anymore. I`m not saying it has been a smooth ride as you or anyone can understand thats been married a long time but after so many years the arguments go away and you just relax. Nothing is worth arguing over at our age. Now that menopause has invaded our house, the wife spends most of her time watching tv in the bedroom and I pretty much have the rest of the house to myself. None of you young fellows are dealing with the menopause monster yet,just ask your dad. And good luck when it comes.
I`m 56, 5'-11" 225 lbs. run the 40 in 8 flat if I don`t run out of gas half way. Is there a spot for me?
" Evicted from the womb " lol
Maybe if we had a schedule like this last year the team would have remained a little more focused. I can see one,maybe two in state small school games a year to help these schools out financially but 3 or 4 is to much.
I`m with you Truck. 56 years old and I still have to crank it up when they come on the XM.
It seems strange to me that none of these parents seem to think this is crazy. I can tell you right now that there is no way in hell my mom would have let this sleepover happen. She would have probably knocked him on his ass just for bringing it up
NorCal, your comment has to be one of the funniest things I have ever seen on this website, Reefer.com. AWESOME
Another in the long line of musicians and people who made my life on this planet a joy. RIP David Bowie. You will be missed but your music will live forever.
When you are pulling your dick out in public with kids around, then I can see where they would come from on that charge
Sorry,double post. Football game, beer
Union, unfortunately in today's world, you really need to have credit cards. If you are financially responsible then you can accumulate many freebies off these cards. Hotels,airfares,etc. We used our card points this past Christmas for our kids and grandkids. So basically,we didnt spend a dime out of pocket .Mrs Mshaf was very happy. If mama is happy then it's all good