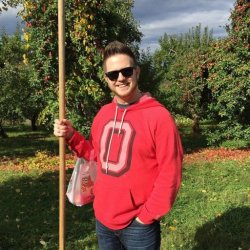 mrspray
Centreville, VA
MEMBER SINCE December 09, 2013
Favorites
SPORTS MOMENT: Ohio State win over Alabama - 1/1/15
COLLEGE FOOTBALL PLAYER: Braxton Miller
NBA TEAM: Washington Wizards
MLB TEAM: Cincinnati Reds
Recent Activity
It's a perfectly cromulent word...
Clemson will inevitably slip in the playoff committee's rankings unless they start winning 70-0. Their SoS isn't going to kill them, but unlike the polls, other teams that start having better wins will ultimately start to leapfrog them in the CFP rankings.
I think being a good/nice/cool person and being really terrible at your job at the same time is entirely possible. Glad to hear he's not such an asshat IRL though.
Man, that 2012 team perplexes me. I had built up for the tournament all year the previous year only for the team to get dropped in the sweet sixteen, then comes out and makes it to the final four in 2012. I vividly remember Amir Williams' performance and how surprised I was that they beat Syracuse.
Honestly though, even if they had pulled out the W against Kansas, there was no way they were beating UK in the championship...
Going through shoulder troubles myself right now, I literally feel (at least a part of) his pain. Hopeful for a quick recovery for him!
Gonna be a mouthful for Paul Keels
The week after Maryland will also be an acceptable use of that hate - you're right
Hey guys, we play Maryland this weekend.

— Mike Weber (@mikeweberjr) November 13, 2018
I thought 10 would have been appropriate - glad I wasn't too off base
Kudos to the team for still being able to put this horrific montage together...
I don't feel too terrible for the response Minnesota got for the refs not measuring, considering it was the same response they gave Urban last year when Denzel Ward was EJECTED from the game...
While I certainly enjoy watching that, I'm reminded that if MSU doesn't win that and the rest of the games in the B1G play out like they did, that 2015 OSU team goes to the B1G championship and probably the playoffs...
I believe you are correct... Following that logic (the NCAA's, not yours), they shouldn't even be going out onto the field.
So much rattling around in my brain regarding the targeting call against Pryor. That play unfolded nearly identically to the way that Trevor Lawrence just got hurt (offensive player's helmet to the defensive player's shoulder pad). I didn't see anyone say that should be targeting, but haven't looked either. If by the rules that should be targeting, then fine, but then explain to me how Joey Bosa was ejected for what happened in the Fiesta Bowl...
Could definitely watch that brotherhood video all day...
If OSU runs the table (including the B1G championship), there should be plenty on that resume to get in. Lose 1 along the way and there will obviously be questions. Can't lose more than 1...
I feel privileged to have seen his first game @ Navy in person. Who could have guessed that day what would be to come...
In one breath, the guy says both "I have evidence" and "I don't have evidence". His credibility seems to be lacking at this point...
This was my thought exactly...
The amount of double digit deficits this team gets into makes it hard for me to imagine much past a sweet 16 run. It's just not sustainable long term to battle back from 10-15 down against tournament teams.
however, anyone can lose on any given night - if #s 1 & 3 can lose on a random Wednesday in february, OSU has a chance to make a run.
I'll bet Haas wishes he made that dunk now...
The charge call on Tate (where the guy was both leaning and falling without contact) totally killed any momentum - I wanna say immediately following that PSU took a double digit lead.
Not without a bigger Mike Weber injury (God forbid) early on is this happening...
You're not the first to ask - check the line beneath my posts ;)