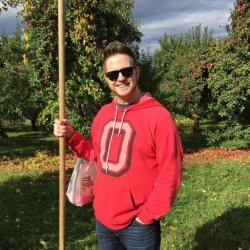 mrspray
Centreville, VA
Member since 09 December 2013 | Blog
Favorites
SPORTS MOMENT: Ohio State win over Alabama - 1/1/15
COLLEGE FOOTBALL PLAYER: Braxton Miller
NBA TEAM: Washington Wizards
MLB TEAM: Cincinnati Reds
Recent Activity
You're not the first to ask - check the line beneath my posts ;)
I don't disagree - but basically all he's ever seen is garbage from TSUN
For all intents and purposes, for the entirety of his life it hasn't been...
Having attended JMU when they won their first championship in 2004, I'll be paying far more attention to this championship game than the one on Monday.
Really glad to see good news coming out of this. Situation looked pretty bleak as he was wheeled off the field...
I'd be more than happy to be on board with that, but the committee has been so inconsistent with it that it's impossible to follow.
This might be the best thing I've read since the rankings came out today. Thank you.
I ordered it after the win against TTUN.
Glad to see him making plays - really enjoyed watching him during his time in Columbus.
Even Heather Dinich at ESPN says she thinks the committee would pick OSU over Alabama.
So, you're saying by the time my kids graduate from high school (they're 5 now), we could lead the series? :)
While I agree that it's best not to overlook any team, Iowa had shown hints of being good this year (see them vs PSU), and was even ranked after they beat OSU.
Illinois isn't even sniffing that, and this game is in the Shoe.
No one's beating that team.
Based on the comments here and on Twitter, I feel like there ought to be a lot of money on MSU...
I can see that for the CFP poll...
Would love to see him stay, but he clearly sees a stacked QB room at OSU with an opportunity to play for another top tier team. Can't blame him for being interested.
Love the pic of he and Jamarco after the game on Saturday.
A co-worker of mine keeps throwing cheap shots like this and there's a disturbing but true comeback against PSU for every one of them. Just have to keep biting my tongue...
I'm quasi-annoyed that people were all worked up over the retail version of the jersey. Are there any retail versions that accurately represent what is actually worn on the field?
I think people are right to dismiss the retail versions as not as cool, but these uniforms are pretty freakin sweet. Could I go for a few more scarlet accents? Sure. I could probably stand to do some tinkering to any uniform they wear at this point though.
Maybe I was up to something when I was skipping class... Trying to maintain some NCAA eligibility...
Ugh, that throwing motion from Taylor Martinez...
I figured since it was listed right after the comment about Burrow that it meant QB.