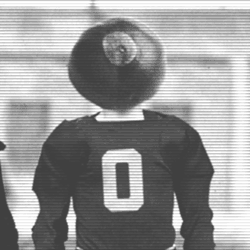 mrinder83
---
MEMBER SINCE January 25, 2012
Recent Activity
I don't think he can be considered until he gets his black stripe removed
At first I thought the Apple had a subpar game and then I realized we barely saw him at all.....I can only remember like 3 passes going to his side and then his fumble recovery. I think he did what the number one corner is suppose to do and that is barely see him because he has his receiver locked down

There is another aspect of this game everyone is forgetting.....yes foster is a great DC and his defense is stacked.....but I will take those 8 guys with miller/gibson, plus zeke, plus the oline, plus the tight ends, and don't forget our 2 veteran QBs still against that defense before I would take the VA tech offense against our defense. Last year during the 3 post season games our defense circled the wagon after the adversity facing the team going into those games. I see the same thing now for this game, the defense needs things to hang their hat on and they just got it and I va tech is no alabama or oregon and wisky is basically one of the best if not the best power run teams in the country. It might take our receivers a minute to get their emotions in check after the game starts and might take a minute or 2 for the offense to figure out what foster is running, but they will and I don't see va tech putting up significant points against our defense at all and I just see our offense having more chances and their defense wearing down because their offense will have a hard time staying on the field against our defense.
Clark is 82.....I am thinking 88 must be Baugh, but don't quote me on that

correction looks like 88 is freshman alexander....85 is baugh
I normally do not believe in a 2 qb system because I can show you countless times where it does not work. However, I am under the assumption that both guys will play significant minutes in most games, not because we are running a 2 qb system but because we will dismantle most teams on our schedule rather easily and the other guys will get quality minutes. If he does go with a 2 qb system, I would like to see him do it slightly differently. I would like to see him rotate them on a game to game basis rather series to series or 2 series to 2 series. Basically one of them gets the odd games and starts va tech, the other gets the even games and starts the following week. This still goes on the assumption that both will play most games because of a$$ whoopings, it still allows meyer to pull that current game starter if he is being ineffective, and still allows to switch them out in spot duty within a game if he feels a particular situation calls for ones skills more than the other. I think this allows who ever starts that game to get into rhythm without being taken out every few series until the game is in hand, it also allows each guy to know going into that week of practice who is getting the first team reps and who isn't. I say do this until one takes the job from the other unless it can be decided in camp easily, and if both succeed in this system for the entire season then keep it up for all 12 games, and try something different once we get into post season to keep the teams we play off guard. I have complete confidence in both guys, but am scared with continuing to rotate guys within a game because it screws in game rhythm and continuity, but if you do it game to game then each guy gets fair shot in season and as stated I have complete faith both guys can win every game on our schedule.

I have read different things that this could be the best defense foster has ever had on paper going into a season. Obviously being on paper and playing the season are two different things, but he is smart and they have good talent on that side of the ball. The problem for them is that I just don't see how their offense scores on our defense.....I see their defense given us a full headaches early but without them scoring and eventually we will figure it out and then it will be a blow out in my opinion. We have to much depth and are to fast paced we will gas their defense unless their offense can get a good ball control game plan going. I could see 17/21 to 7 at the half for us and between 42-52 to 14-17 for the game.
I don't think the game will be easy by any standards but I do think we will win and end up pulling away as the game goes on. There was way to many advantages that VT had last time that they won't this time. Regardless of who starts at qb, they are going to be seasoned which was not last year plus we have legit backups regardless who starts that just in case that starter does not have his game going that we can move to just in case. We have an established oline which we did not have last year and an established running back. Our biggest question mark coming into this year is at receiver, but I like currently where we are at with marshall/wilson/thomas/smith, and I think the potential of dixon/brown/mclauren is high. I think the biggest difference is going to be defensively though. We have an established secondary and linebackers now which we did not have last year. I think out dline is going to be better than some, last year we did not have a second outside rush guy on the other side of bosa, I mean I like miller but I think we will have a much better rush game with lewis or hubbard to go with bosa. I also feel that one of our other tackles will finally step up and we will not only be nasty with the starters but will have solid depth behind them. Foster might have a whole summer to prepare for meyer, but honestly he did last year to. We had to prepare for a unique navy team, not the case this year. Meyer and our staff will have the same time as them to prepare for them, yes foster will throw in new wrinkles but so will we. Their d and our O will be fun to watch, but Im sorry I don't think their O can compare to our D and that will end up being the difference. Our D will allow our O to go into whatever growing pains it needs to be able to adjust to fosters defense and when it does we will start scoring but I just don't see them able to score much on us, and thats the difference
I was worried about the 02 team being in awe of Miami, because they had never been in that situation before. The minute we hit them in the mouth for the first I knew as did the canes that they were going to be in for a street fight. A lot of the things Meyer said on saturday are the same things he said in 06 before playing us. He will use a two step approach just like he did then. To the media he will play up how great bama is and then privately with his team he will use the "us against the world" approach. He used that approach with both Sparty and Wisconsin. He proved on those two occasions that he can get the most out of his guys when he gets them feeling disrespected. This team is the tightest group of players I have seen in a long time and he knows how to get them to feed off of that. After this team lost Miller and then lost to Va Tech, I did not know if they could rebound, with a young team that in itself has the makings of getting out of control and becoming a 3-4 loss season. They rebounded, played in two hard road venues and put themselves on the door step of this playoff. Then you lose your replacement qb who became a heisman candidate himself and a member of your team passes on and you just think, can this young team really deal with this stress.....and yet again not only do they win but when no other team lost in front of them they played themselves into the playoff. This team both coaches and players loves each other and it is obvious, Urban Meyer will use the disrespect the outside world is giving us and turn all of this love that they have for each other into anger and hate for bama just like they did for wisconsin. I am not worried about being in awe, if I was the bama faithful I would be worried about how their team responds when the team that they have heard for three weeks that they would kill punches them in the mouth and then does it again and again.
When wisconsin beat us in 2010, I felt like a big reason for it was that we played several spread teams prior to that game and never really had to practice against a power offense and were not ready to play them. The big thing we have in our favor this year is that sparty has power running as part of their offense, same with penn state, minny is basically all power running. Both indiana and ttun will employ power running against as well, more from indiana but ttun will also in packages. It should prepare us, I mean gordon is going to get 100 yards if we play them, probably 150......he starts to border 200 is where we will truely be in trouble in my opinion
I might be over thinking it but I do think they want the buckeyes in. Its why I felt they put minny in to begin with and why they have kept them in. It was also funny how close they moved Wisconsin to nebraska in last weeks poll. What I took from that is that regardless of who won that game would be in position to give the buckeyes a quality win come the title game. Before that poll was released many of us felt that we absolutely needed nebraska to win to give us a one loss opponent at the end of the season, when they put those two so close, it gave wisconsin the ability to jump into the top 15 eventually with a win, and they could push the top 10 now. Michigan state looked like crap against us, the score was a lot of closer then the game was actually. They did not crush them when they moved them down, it will give them the opportunity to move back into the top 10, giving us at the end of the year that not only did we beat a top 10 team but they were able to climb back in making that win still look good. I felt we would jump one if not both big 12 schools this week, because I feel the committee wants us in so they would need to start moving us. It would be to much explaining on their part if we only went up to 7 and then if we beat wisconsin then they have us jump all the way to 4. They need to start moving us now to make it look appear us jumping into the top 4 is a reality a head of time. I predict as long as we handle our business and look the way we should and if all other teams continue winning in front of us, that we will still jump to 5th after the michigan game and then if we win the conference championship game then we will jump to 4.
I think the biggest quote of what he said is
But "competition brings out the best," Meyer said.
I know he is being politically correct to miller and not trying to give a big head to barrett, but that quote said it all. It has went that miller is the qb next year to without him directly saying it that they will have to compete.....and I think that is for our benefit. He can't remove barrett now barring injury.
to be fair, dontres fumble did not lead to points, they missed the field goal.....it was the fumble on the punt return that led to points, and that was not dontre
he got hurt in camp....they said it would be a few weeks until he is back
on the #2 I think it was already said that this defense with both lee and worley was only unique to this game, because they were rotating grant and perry at middle. I think the defense from here on out is how the depth chart lists it....grant and kwon in the middle, perry with booker on one side and lee with worley on the other
I have so much respect for these guys and all that they do for us as americans and all service members as well, it is the reason why I hate playing them. I think it affects the way you coach and play in a game. It almost cost tressel a few years ago, he got up on them but did not want to embarrass them and it ended up taking our guys out of the flow of the game when they started making their comeback. I am not saying this will be the same as meyer like larger leads but I just don't see him going out to embarrass them like how he did to penn state. I could see this game being a lot like buffalo last year, where he gets to 40 and then coasts to the finish
That's what I was thinking. First of all, I think Meyer should be able to keep this team focused easier now because no one on the national side expects big things from them. They will be hungry and play with a chip on their shoulder. Before Miller went down, we were still going to be favorite in every game with maybe a push or slight Spartan favorite at east lansing.....now they will def be a favorite over us unless they have a complete meltdown.....penn state might be a favorite over us as well in some peoples eyes. We will be able to play the underdog role in some games which has been a long time since that has happened
first of all, I suggest if you are not following tornadomanatwork on youtube....you should be. He has tons of full ohio state games on his page. Just the other day even before millers injury happened, I was watching Guitons game against Cal. I love Miller, but that game shows how much better Guiton was at reading defenses in the passing game. If you don't want to watch the whole game that's fine, you don't need to go far, just through ohio states first touchdown to see my point of this response. They were pinned with in their 5 yard line and the first play was a receiver screen for like 5-6 yards. It was a good call, but what it set up was even better. On the next play they ran the same call, with the inside slot receiver running the screen route, the corner jumped the route to try and stay in front of the outside receiver from blocking him, but the outside receiver never tried to block him, devin smith just ran right by him and guiton hit the 90 yard touchdown.
The point is, I am not concerned as of now about arm strength going down the field. If this kid can successfully establish the read zone running game with the short/intermediate passing game then we will be fine with deep throws. Once the secondary has to pay too much attention what is going on underneath them with the shorter passing and the running game, that is when we use our receivers speed to kill them deep. Who knows maybe we can run a little more of the complex running plays like the triple option that meyer used at florida that we really have not seen much as, and this might even be a better offense then anything he has yet in columbus