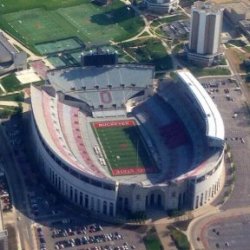 motobuckeye
---
from Kettering, Ohio
Member since 09 May 2014 | Blog
Born in Ohio by the grace of God. Lived in Alabama most of my life unfortunately. Currently live in Arizona, graduated from Motorcycle Mechanics Institute, now a service advisor at a motorcycle dealership in Chandler Az. LOVING life!!! Eat, sleep, breath, sh!t Ohio State football.
Favorites
SPORTS MOMENT: Winning the Alabama high school football state championship my senior year (2000)/Ohio State beating Miami in the national championship game ( I literally hyperventilated with my face on the floor screeming)
COLLEGE FOOTBALL PLAYER: Anyone who proudly wears the scarlet and grey
NFL TEAM: Cincinnati Bengals
Recent Activity
Let's go for the Super Bowl!!
So if he comes back to the B1G does that mean he has to lose the fake southern accent he's acquired?
That video gave me chills and damn near tears. What a leader. So lucky he was/ is a Buckeye.
What are your expectations for your first year? So far they have named starters at left and right tackle. Do you feel you can win one of those job during fall camp?
So Battle is now considered a corner?
That 2019 schedule needs to get fixed. Keep Cincy, but drop one of the other two and add a power 5 team. Running out of time to do it.
Lmao Nick Bosa!!!! Way to lighten the mood.
C'mon Gene. Work your magic and get bama on the schedule.
So I'm just going to cut to the chase, is Bryson Shaw's commitment going to stick. Everyone, including recruiting experts, seems very surprised and confused by the staff accepting his commitment. Can you elaborate on that a little?
KaaaBOOOOOOOOMMMMMMMMM!!!!!!!!! GO BUCKS!
Something about this seems odd, but I fully trust in the coaching staff. So, welcome aboard Bryson! Bring the pain as a Buckeye! Go Bucks!
I will now be referring to LJ as the "man of men".
I like Pryor. Intense dude.
Proud of him. Wish him nothing but the best. GO BUCKS!
Although it doesn't matter what I think, I really hope Okudah starts over Arnette. And to that point, I hope Wade passes Arnette on the depth chart.
Who is the next freshman or sophomore Ohio kid that is just "different" or "special" talent that is coming up, e.g. Braxton Miller, Jaelen Gill, Zach Harrison? There's always those guys you hear about for several years that people say "wait till you see this kid".
1) We've been hearing about your talent and smarts for several years now, I remember the same kind of buzz when Braxton was coming up through high school. How do you stay humble and continue to improve?
2) Hback, RB, and WR are all fairly crowed position groups right now, are you planning on playing this year and what are you doing to prepare?
Looks like you're going to be called upon to play this year, are you going to be ready? What are you doing to prepare? Good luck, and thanks for choosing the Buckeyes!
I'll admit, I'm ignorant to some of the details in this story, but why is the FBI involved and why might people go to jail? Yes it's the biggest violation of the NCAA rules and the program should be punished accordingly, but what about giving a kid or his family money to come to your school is a federal offense?
Big shoes to fill. 5 first rounders. Keep that trend alive!
Whoa, Paris Johnson is gigantic! And is a sophomore in high school!? Hope we can snag him.
Damn that stings. Gonna miss this one. Good luck, coach! Does this mean I have to root for the Titans now?
Wow. Guess I didn't look that close. I suppose the defense to that would be "we didn't get to make as accurate of an assessment like as other kids". Going strictly off tape and 1 all star game. 247 composite is the best gauge by far...until that's also VIP.
I read rivals analysis of the Ford kid and they mentioned he was "clearly" better than Ruckert. It just amazes me how vastly different these recruiting sites opinions are. How can there be this wide of a gap between them (web sites)?? What is the agenda?