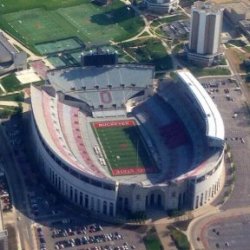 motobuckeye
---
from Kettering, Ohio
MEMBER SINCE May 09, 2014
Born in Ohio by the grace of God. Lived in Alabama most of my life unfortunately. Currently live in Arizona, graduated from Motorcycle Mechanics Institute, now a service advisor at a motorcycle dealership in Chandler Az. LOVING life!!! Eat, sleep, breath, sh!t Ohio State football.
Favorites
SPORTS MOMENT: Winning the Alabama high school football state championship my senior year (2000)/Ohio State beating Miami in the national championship game ( I literally hyperventilated with my face on the floor screeming)
COLLEGE FOOTBALL PLAYER: Anyone who proudly wears the scarlet and grey
NFL TEAM: Cincinnati Bengals
Recent Activity
Don't want to be #1 until the final poll. Just keep winning Bucks.
I was thinking the exact same thing. Was speaking with my family about it and I believe 1000% Espn has an agenda against OSU and it's very obvious. I don't want to believe that and have a hard time understanding why.
Espn has already determined the answer to this question...either Tua or Trevor. Nobody else has a chance no matter what as long as those 2 don't get hurt.
I've said it before here, but I watched Miller's first game last year and he is absolutely 5star talent. The kid looked like a college QB as Junior.
That's complete garbage Jack Miller dropped that far. I watched that kid play last year in person and if he's not a high 4 star or 5 star, then I'd love to see what those look like. If a kid is injured and can't compete in these camps, his rating should stay what it was.
I'm on board with this scenario.
Welcome young man. Sounds like he knows and is embracing his role. Love that last statement.
Please let Dwayne fall to the Bengals. Please please please...
Good luck, Blue. Just don't go to blue!
Damn I love those black uni's.
3:30pm kick (which is 1:30 where I live) please. I don't like finishing my bowl of cereal and immediately starting drinking beer.
Ryan Day is a really really impressive guy. He has "it".
Lmao I hope to see this gif for years to come.
Please don't do it, Urbs! I get jealous easy.
K mf'n J!!! This decision will pay off. This a big piece coming back for next year.
Really need to keep this kid (Nester) and looks like we're going to add Dawand Jones. Jones is a monstrous 6-8 360. Not highly rated, but has offers from everyone across the country, so that says much more than his 247 composite score.
Well, Bama clearly learned a lesson from Auburn and Cam Newton. Pay the dad through some non profit and claim ignorance. Easy.
Good move dude cause we sure won't going to pay anywhere close to that after the worst buckeye defense in history.
Honestly, good riddance to Grinch. He never really seemed like he fit. I can't put my finger on it, but it never seemed natural.
Congrats Mr. Wilson!
Lets got get that 5star corner!
I've definitely noticed this as well. I've been yelled at to "sit down and shut up" in the shoe. Not sure why we think proper etiquette is to be quite during college football games, but it is and they're very passionate about It. #shhhhhh.
Welcome aboard. Prepare to kick ass! GO BUCKS!!!
That was a lazy article. "The best 4 teams" is so subjective, you'll never get that right. Teams are always a little different in the bowl games than they were during the regular season. It's always been that way and always will be. They playoff needs to expand. Simple as that. And for all the jawing I saw our players do on twitter last night, they better go out there and smash Washington or they're going to look like fools.
Whoa, he's got Sly on his side! Left, right BOOM!